This story makes more sense if you know a little about the mechanics of riding a mountain bike.
Think of a catcher getting set for a pitch, or a tennis player preparing to receive a serve. Picture their posture. Knees bent, elbows bent, hinged at the waist, maybe swaying a bit. They are loose, mobile, ready to move in whatever direction is required. That is what my mountain bike coach calls "the basic athletic position of the human body."
Riding a mountain bike over challenging terrain, or over drops and jumps and along steep, chunky, rooty trails, the rider adopts the same basic position, standing on the pedals, limbs serving as shock absorbers in both compression and extension. The bike can move under you while your body stays stable. Your head does not get bounced around and so your vision of the trail ahead remains clear.
One thing you NEVER do is sit down. If you do that, you get tossed around with the bike. You lose your sight picture. You panic. Disaster soon follows.
Our dear friend Stacy died in October of 2020. The day of her funeral was clear and cold. I stood with my wife and the assembled friends (no family, sadly, but that is another story) as the rabbi read the service, talking eloquently of Stacy and our love for her. I was insulated from my own grief by my basic fatalism, by the Nordic stoicism my Mom instilled in me ever since I could talk, and by the need to support my wife, who is decidedly NOT Nordic and NOT stoic. The loss of Stacy, who was in essence her third sister, still claws at her soul.
I had never before been to a Jewish funeral. I hope I never again am.
The coffin – Stacy – was lowered into the earth. Next to the grave was a small pile of dirt from Israel, and a  trowel. The rabbi said that any who wished could come up and toss three trowels  of this earth onto the flower covered mahogany casket. I did it. Stacy's husband managed it, but Stacy had been so sick for so long, I think he was essentially numb. Gina did it, which was hard beyond measure, but sometimes life comes down to doing what you must. Three small shovelfuls of earth.
I was curious. After the ceremony I asked the rabbi why three portions of earth. He told me that in the Jewish tradition, doing something three times indicated that you were doing it with purpose. Once might be an accident, Twice you might be doing it offhandedly, or be very careless. But three times meant you were doing the thing deliberately, with understanding.
For some reason that concept stuck in my mind. Three times and you meant it. Three times was real. Three times was important.
In the Spring of 2022 I was taking an advanced mountain biking skills workshop. We were working on drops, which means riding off high places onto lower places. Many people find this frightening. With my acrophobia, I find it terrifying. The smallest drop, a mere foot, was no problem. Then we moved on to the second one. This was a bit over two feet tall, but the landing was downhill, so you were really dropping three feet, maybe more. At fairly high speed, and immediately after into a banked turn. On my first try, I suddenly froze, sure that I  was moving too slowly, and hit the brakes. Damn my fear of heights. On my second attempt, again I felt uncertain, so I took the last minute go-around.
As I rode away and around to the beginning I cursed myself and my cowardice, my phobias, my lack of confidence. I KNEW how to do this. The technique is identical at any height. I wanted to quit and I wanted to go again.
I went again.
Another technical detail is that high-level riding is best done with your seat all the way down. I have a hydraulic seat post that lets me lower my seat on the fly. Very useful.
Speed is good. I went fast. As I reached the lip of the drop, I lowered my seat, assumed the correct position and soared off the edge –  and down to a perfect landing. I rode away screaming in triumph. My fellow students cheered as well. And then I remembered; three times makes it real.
I circled around. I headed for the drop. If anything, a bit faster. Speed is good here. I got to the edge. I dropped my seat. And just as I sailed over the edge, my thumb hit the dropper post lever and popped the damned seat right back up under my ass….
I could not do a thing about it. You lower the seat by sitting down on it, and I was already airborne. I was going to hit the ground with my seat all the way up, in pretty much a sitting position. And with my weight too high, I started to rotate forward. I was going to nose in.
The bike hit hard, but the fact that I was doing everything else right saved me. I didn't crash. I rode away unscathed, to the cheers of those who had seen what had happened. In fact, I think that my being able to make a major mistake and still ride it out was more of a confidence boost than merely another uneventful success would have been.
I did, however, forego the third attempt that day. Better part of valor and all that.
Addendum: I hope that those of the Jewish faith who read this story do not think that I intend to or am trivializing the tradition of the three times by linking it to my mountain biking. Nothing could be further from my intent. I found the concept –  indeed the entire set of Jewish funeral customs – beautiful and comforting. The truth is, mountain biking is extremely important to me. It is far more than a recreational activity. It is a light in my inner darkness, Prozac with spokes. I spend a lot of time thinking about it. Mountain biking is very much an exercise in practical psychology, in fighting fear and finding the strength to persevere. It has changed me for the better.
The "rule of three" as described by the rabbi that day touched something inside me. I think about it frequently. MTB is hard. The rule of three to me is a touchstone. It encourages me to go back and try again. I also hope I am remembering his explanation correctly!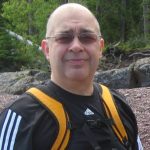 Dave Ventre
A hyper-annuated wannabee scientist with a lovely wife and a mountain biking problem.
Characterizations: moving, well written