The  song "Who Wants to Be a Millionaire" was written by Cole Porter for the musical High Society in 1956. I suggest listening to this youtube video of the song while reading my story. Unless you want to watch Frank Sinatra and Celeste Holm flirt with each other while singing it, which they do quite adorably.
Cole Porter wrote the song "Who Wants to Be a Millionaire" for the musical High Society. This story is NOT about that game show.
More than four decades later, in 1999, Who Wants to Be a Millionaire became the title of a popular game show that started in Britain, came to the US, and had many international versions. American audiences became aware of the Indian version as a result of the 2008 Oscar-winning movie Slumdog Millionaire. However, this story is not about that game show. I only wanted to use the song.
The first game show I remember watching was Queen for a Day. It aired from 1956 to 1964, which for me would be age five to age thirteen, so I'm not actually sure at what age I watched it, but probably more towards the end of its run. The contestants had to tell a sob story about their lives, and the one who sounded the most pathetic would win. Generally she got a refrigerator or a washing machine, which probably wasn't going to solve her problems, and a year's supply of Jungle Gardenia by Tuvaché. This perfume was so imbued in our culture that when I turned thirty, my best friend Janet gave me a bottle of Jungle Gardenia as an "over the hill" joke present (along with a bottle of Geritol), and I may still have it.
G.E. College Bowl was a show my whole family loved. It was on the air from 1959 to 1970. Allen Ludden was the host for the first three years, and I do remember seeing him, and being disappointed when he left, but I continued watching anyway. Each week there were teams of four students from two different colleges. The way the game was played was that there would be a toss-up question for both teams, and whoever rang in first got to answer. If they gave an incorrect answer, the other team had a chance to answer. However, if the player from the first team rang in before the host finished asking the question and then got it wrong, there was a five-point penalty and the question was repeated for the other team. A team that answered the toss-up correctly then got a bonus question just for them. Because of this show, the phrase "five-point penalty and I'll repeat the entire question for [someone's name]" became a common saying in my family. Some of the teams on the show were from colleges we had never heard of, and others were from colleges we knew and loved.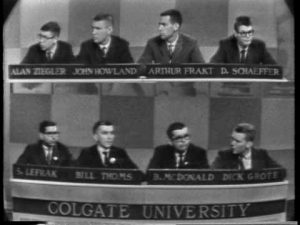 We always rooted for the teams that had at least one woman on them, which not very many of them did. When they wanted to show both teams at once, they generally did it like the image at right, and I always thought that's how they were on the set, with one team above the other, presumably climbing a ladder to get to the upper seats. It's only now that I realize that wasn't the case.
Another show I enjoyed, and watched with my mother, was Password. This was where Allen Ludden went when he left College Bowl. It aired on weekday afternoons between 1961 and 1967, and one evening a week between 1962 and '67. The game was played by two teams, each composed of a celebrity player and a regular person, who tried to get each other to guess mystery words using only single-word clues. My most vivid memory of that show was an episode where Betty White (who was married to Allen Ludden) was one of the celebrity contestants.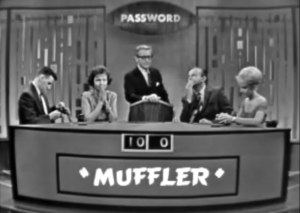 The "password" was thrill, and on her first clue to her partner she said "chill" and the partner said "thrill"! It was amazing, because of course the words don't mean the same thing at all, but somehow in the way she said it, Betty conveyed the right answer to her partner. Here's Betty on Password, although in this image the word was muffler rather than thrill. She is the guesser in this round and her partner is looking in the little envelope to see what the password is
When I was in college I watched no television at all, and in the ensuing years I watched very little. I didn't even own a TV until after law school. But I did have one more game show that I watched, and it was my favorite of all.
Name That Tune had many incarnations, but I mainly remember one season, which was 1977-78, the only year that Kathie Lee Johnson (who later married Frank Gifford and became Kathie Lee Gifford) sang the clues.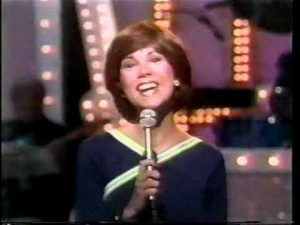 This was in the portion of the show called Sing-a-Tune, where both contestants wrote down the title of the song being sung by Kathie Lee, who replaced any instance of its title in the lyrics with "la-las." I could always answer these, because hearing some of the lyrics made it easy to hear the title words in my head. A more difficult round was called Bid-a-Note. Here, after being given a clue about the song, the contestants alternated bidding how few notes it would take them to identify it, starting at seven. If one contestant didn't want to go any lower than the other person's last bid, they would say "Name that tune!" Otherwise they could keep going until they got to one. Obviously it would only be possible to identify a tune in one note if you already knew from the clue what the song was, but that did happen sometimes. I was pretty good at this round too. The final round was the Golden Medley, where the contestant had 30 seconds to identify seven tunes. Usually I could get all seven, but not always. I wanted to go on this show, because I did so well when I watched it at home. But I never even made the effort to find out how to become a contestant. I regret that now – it would have made a much better story!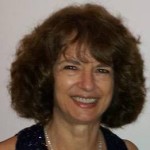 Suzy
Characterizations: well written