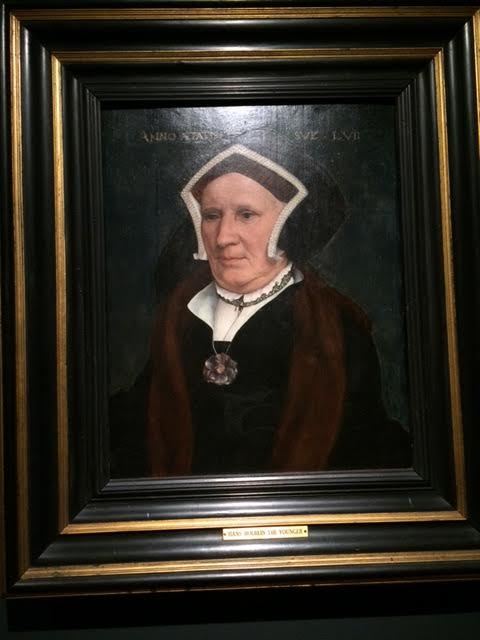 I took a course on Northern Renaissance painting with Professor Ludovico Borgo in my last semester at Brandeis. For our final project, we had to write a research paper on a painting from that era that we could visit in person. We had to analyze the provenance of the work, history of restorations, and research other scholarly information. It was much more than just a discussion of the surface qualities of the painting itself. This required real determination and I was truly jazzed about the assignment.
As a life-long fan-girl of Tudor England, I chose to write about either of two Holbeins at the Gardner Museum in Boston. At the time, the Gardner was a beautiful, but sleepy institution on the Fenway, close to the Museum of Fine Arts, with an incomparable collection of just about anything that Mrs. Gardner had chosen to assemble on her many trips to Europe and bring to the Italian palazzo she built in Boston. Similar to the Frick in New York City, this was also once a private home and collection. However, she had always planned to open it to the public.
Hans Holbein the Younger was the court painter to Henry VIII. Mrs. Gardner owned portraits of Dr. William Butts, Henry's court physician, and his wife Margaret Bacon, Lady Butts. They flanked one of the entrances to the Dutch room, home to some of the most extraordinary and valuable paintings in the museum.
I began my research at the Brandeis library. That got me only so far. Finally, I had to go into Boston. I called the Gardner and spoke with their curator. It was a Friday and a week before my paper was due. She was annoyed. "Oh no! Not ANOTHER one of you Brandeis students!" I assured her that I would be the last to bother her, as the paper was due soon. She let me come over that afternoon.
I was 21 years old. She wasn't much older. No one else was around. I was polite. I told her my topic and how excited I was to be investigating the subject, as I was really a theater major. I took art history for fun. She perked up. Did I know Gil Schwartz? He was a recent Brandeis theater grad who was working at an improv club in Boston. She'd met him at a party the previous weekend. (Gil was a very handsome, whip-smart guy. He went on to a successful career at CBS, retiring not too long ago as VP of Communications. He wrote smart, funny business books under the pen name Stanley Bing. I googled him recently and was stunned to see that he had dropped dead of a heart attack shortly after retiring. He was a year ahead of me. We had been in several shows together.) When I assured her that we were friends, the mood in the room changed considerably and I was given access to EVERYTHING!
I spent hours reading Bernard Berenson's letters to Mrs. Jack (as she was informally known), detailing when he first found the paintings in England, what kind of shape they were in, advising her on how much she should pay for them, how quickly she should buy them. These were the REAL letters (I wore white gloves and the letters were in a protective sleeve); not microfilm or reproductions, but the REAL letters, as I sat, reading in a Gothic alcove of this incredible space. I was transfixed. It was a "you are there" moment. It gave me so much of the information I sought.
After soaking all this up (and taking copious notes), I gratefully returned the folders to the curator and went up to the solitude of the magnificent gallery. I sat, cross-legged on the floor and contemplated the two stern faces in the paintings. Ultimately, I decided to write about Lady Butts (painted about 1541-1543) because she had had less restoration done through the years. The room was all mine, and is forever linked to that special day. More than 46 years later, I have a personal affinity with that room.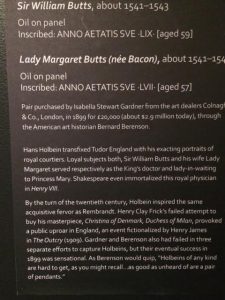 So I was stunned when the news broke that two men, dressed like police men, had broken into the poorly protected jewel of a museum in the early hours of March 18, 1990 and stolen incredibly valuable works of art, including three works from that room: a Vermeer – "The Concert" (and there are SO few in the entire world) and two Rembrandts, including the only known seascape he ever painted: "Storm on the Sea of Galilee". I had a 10 month old baby at the time, but I cried unconsolably myself. It was unthinkable. I took the theft personally. That was MY room, MY space that had been violated.
30 years later, the works have never been recovered. I don't believe they ever will be, as they are fragile and wherever they were hidden, (they were slashed right out of their frames) they most likely have not been in proper climate-controlled conditions, and have deteriorated beyond repair. It is also possible that anyone with any knowledge of the theft has died by now.
My voice trembles and I can barely keep it together when I take friends through the museum and show them my room. It reminds me of a transcendent afternoon I spent there in May, 1974.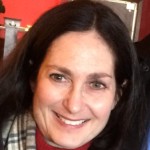 Betsy Pfau
Retired from software sales long ago, two grown children. Theater major in college. Singer still, arts lover, involved in art museums locally (Greater Boston area). Originally from Detroit area.
Characterizations: moving, well written