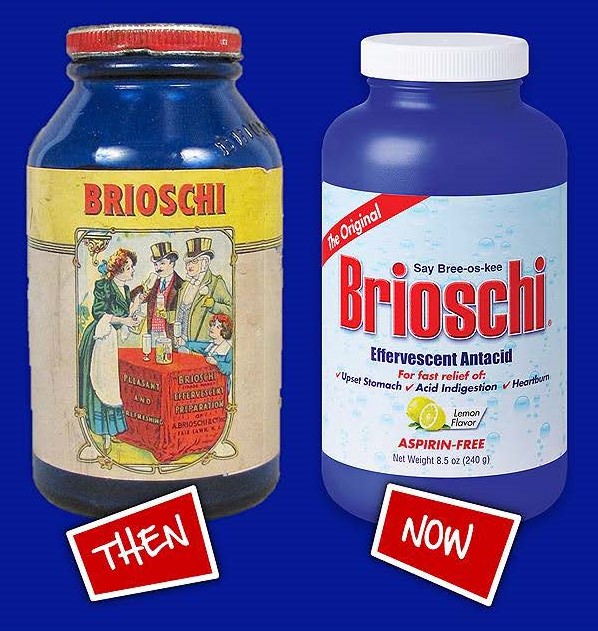 This little jingle (with the final line, "Take Brioschi") is my first recollection of an advertising jingle. It probably was from the mid-1950s. I'm not sure if it was from the radio or television, but I am guessing radio because I have no visual memory of an ad. Imagine my surprise when I Googled the brand and found it still existed, although I haven't seen it in stores. You can order the stuff online. This jingle led me to recall the famous "Plop, plop, fizz, fizz." I do remember taking Alka-Seltzer as a kid and not having relief at all, but a more upset stomach because of the aspirin in it.
Although there are jingles and slogans in advertising today, I don't believe they are as memorable as the ones from our younger years.
I remember a lot of fashion and beauty ads, and when I went to Google again, found an entire category for sexist ads. Most of us women could write a book, and many have been written, about the sexist ads of the 1950s and 1960s, so not much need to go there, except for a couple of nuggets I remember from one of my first jobs, in an advertising agency, in 1976.
When companies bought radio commercials, they could specify the time of day the ads would run. There was "morning drive time" and "evening drive time," presumably when people were commuting in their cars, and "housewife time," which was from about 10 AM to 3 PM. At a meeting of San Francisco Women in Advertising, a rare (for that time) woman owner of an ad agency recounted her struggles with a client in trying to make the messages more congruent with the changing roles of women. Despite her pleas, the men wanted to animate a tampon. 'Nuff said.
Rather than list more jingles and slogans, I'd like to use my years in the industry to reflect on what's changed. Although there are jingles and slogans in advertising today, I don't believe they are as memorable as the ones from our younger years. This could be because most are not aimed at our demographic, and also because everything in advertising is shorter and faster. Commercials have gone from a minute to 15 seconds, to accommodate shrinking attention spans and inflated media costs. With internet ads targeted to you as an individual, there are fewer opportunities for jingles and slogans with general appeal, and less need for them.
In 1950s and 1960s, advertising had a major artistic component to it. People had to write, draw, photograph, design, and print, or in the case of radio and TV, narrate, act, and film. That's what attracted me to the field. Today, advertising is largely data driven and quantitative, with research, analytics, and algorithms determining the messages, headlines, and even the colors used. Probably less "waste," but fewer breakthrough ideas and memorable slogans.
In 1978 I left consumer advertising to work in business-to-business and scientific advertising and communications, which has been my field ever since. The contrast between then and now isn't as great as the consumer world, because there are fewer slogans and no jingles to come up with. But every once in a while I miss the challenge of writing to fit a page, the rush of bicycle messengers delivering physical art boards, the smell of ink while checking proofs on the printing press, and the pride of holding a printed brochure in my hand–and those quaint jingles from childhood.
Marian
I have recently retired from a marketing and technical writing and editing career and am thoroughly enjoying writing for myself and others.
Characterizations: funny, moving, well written