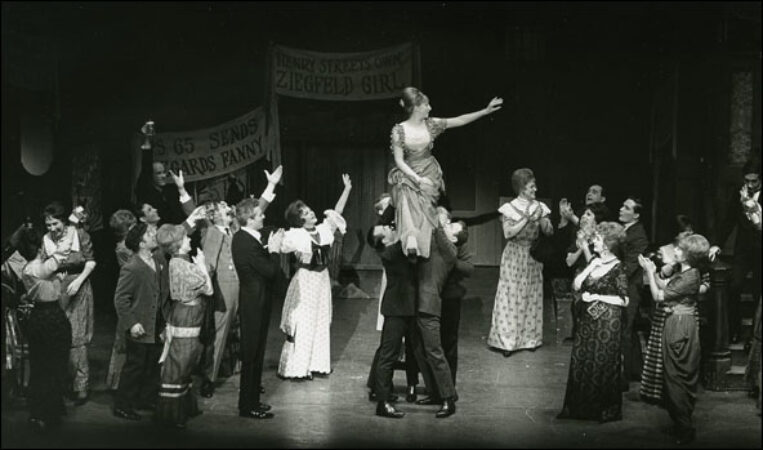 Before I turn to my Broadway memories, I must mention a memorable performance by pianist Van Cliburn, who played at National Music Camp, Interlochen, in the summer of '61, my first year there. He had just turned 27 (July birthday), and I was about to turn 10 (August birthday). This was three years after he had stunned the music world by winning the International Tchaikovsky Competition in Moscow – an American winning in the USSR at the height of the Cold War. (Apparently the judges had to ask Khruschev's permission to award the prize to an American.)
We lived a half hour from Manhattan, and theatre tickets were cheap in those days - less than a movie costs now!
If I remember correctly, when the whole camp went to a concert, we were seated by cabin, starting with the youngest at the front. Since I was in the Junior Division (the youngest division), and in Cabin 3 (the third youngest cabin), I must have been sitting right up close to the stage. I have no idea what he played, but I know he was phenomenal. His fingers danced over the keys. The piano prodigies sitting around me were melting in their seats.
I saw him perform again at Symphony Hall in Newark, near my home, a couple of years later. I think my parents were hoping this would inspire me to work harder at my piano lessons, but in fact it had just the opposite effect. I knew there was no way I could be as good as he was, no matter how much I practiced, so why even bother? I quit taking piano lessons shortly afterwards.
Broadway
We lived in New Jersey, but only a half hour car ride from Manhattan, and theatre tickets were cheap in those days (less than a movie costs now!), so I got to see a lot of plays and musicals on Broadway when I was growing up. Most of them were memorable and I can't possibly pick just one, but I will limit myself to four.
In 1964 I saw Richard Burton as Hamlet, and he was breathtaking. He had just become super-famous because of the whole Cleopatra-Elizabeth Taylor scandal, but he had been well-known as a Shakespearean actor before that. The play was great, and then afterwards my mother and I waited at the stage door and saw him come out with Liz at his side. Very exciting!
Anthony Newley had two incredible musicals on Broadway, which I not only saw, but memorized all the songs. Stop the World – I Want to Get Off in 1962, and The Roar of the Greasepaint, the Smell of the Crowd in 1965. He wrote and starred in both of them, and they were a little offbeat and quirky, but I loved them so much, and still do. We waited at the stage door at least once, maybe both times, and I'm pretty sure I got his autograph on my Playbill. I wonder where it is now.
Perhaps the most unforgettable performance of all was by a young, relatively unknown singer-actress in a show called Funny Girl. This would have been some time in 1964 or '65. She was twenty-two years old, and had a powerful voice that could belt out songs (which was a good thing, because in those days performers weren't miked). She was Jewish, and from Brooklyn, just like Fanny Brice, the character she was playing. Best of all, from my thirteen-year-old point of view, she was not beautiful, she was not sexy, and she was not blonde. She was just a fabulous singer and actress, maybe something I could aspire to. When she sang "I'm the greatest star, I am by far, but no one knows it," I could see that she really was the greatest star, and in fact everyone came to know it.
Here is her biography in the Playbill for Funny Girl, which I think is hilarious. In case you can't read it, here are my favorite parts:
–"A top recording star, a talented interior decorator, dress designer and portrait painter, she also plays field hockey."
–"Barbra is a follower of Eastern philosophy and cooking but also favors TV dinners on occasion."
–"Her favorite day of the week is Tuesday, since she devotes part of each Tuesday throughout the year to stringing crystal beads which are sold in a Vermont general store."
–And finally, "For more personal information write to her mother."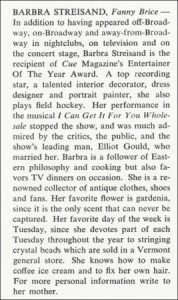 So she had a great sense of humor in addition to all of her other talents! The show was so wonderful, the songs, the dances, the costumes, the romance between Fanny and Nicky Arnstein. I was totally captivated. I didn't know much about the real Fanny Brice, but came to know her through Barbra's interpretation. And at the end of the show, when Fanny and Nicky split up, I was crying as if it were my heart that was broken. My father said to me, "Don't worry, everything turns out okay, she marries Billy Rose and lives happily ever after." Which is an interesting memory for me, for two reasons: first, on reading Fanny's Wikipedia entry, it turns out that her marriage to Billy Rose also ended in divorce, after nine years (although my father may not have known that), and second, it's the only specific memory I have of my father going to the theatre with us, although I'm sure he did frequently. For the most part, though, I can only remember going to the theatre with my mother, and certainly the times we waited at the stage door it was only the two of us.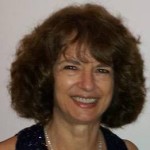 Suzy
Characterizations: right on!, well written