Growing up, our daily paper was the New York Daily News ("America's Picture Newspaper"). Its logo was an old Speed Graphic camera, which I right away noticed was the same one that was carried by Jimmy Olsen or Lois Lane on the old "Superman" TV show. But it was the Sunday paper that was special.
And then back home, me and Dad, under spooky tracks and past dangerous dogs, to warmth, maybe a snack, and my friends Dick Tracy, Moon Mullins and Rick O'Shay.
Our Sunday paper was the New York Journal-American. It was a Hearst paper, although had I known it, that fact would have meant nothing to me. I wasn't a big reader of newspapers, but I loved the comics section and the glossy magazine insert.
The big thing about the Sunday paper was the getting.
For one thing, the Sunday papers were available on Saturday night! As a kid, I found this a bit confusing, yet fascinating. It was as if I were dealing in a bit of time travel, a touch of wizardry. I wondered, how did they know what was going to happen tomorrow? When you don't read the actual news, you miss any time cues.
But the best part was, we didn't get this one delivered. On Saturday night, we had to go get it. The nearest newsstand was a few blocks away, on Broadway in front of the Bayonne Diner. Going to get the paper thus combined a host of my interests at once; the night, the diner, people who worked at night, people with solitary jobs and crowds of strangers doing things that seemed mysterious. My father would ask if I wanted to "go get the paper" and I'd jump at the chance.
In my memory these trips are always in the winter. We'd don our coats, gloves and hats and trudge down slippery sidewalks, through the falling snow. Up Silver St. and a right onto Broadway, past the closed Gulf station whose big German Shepherd guard dogs barked frantically at passers-by, and under the scary, dimly-lit railroad underpass, where you might "get jumped." Dad had at various times been a dock worker, a construction worker, a light-heavyweight boxer and a collector for a loan shark, so walking with him at night was pretty safe.
Beyond the underpass the lights of the Diner shone like a beacon, a mirage seen through the falling snow, at first faintly, then in more detail as we approached and then traversed the underpass.
The Diner was located at a big intersection where three streets converged at odd angles. Crossing Eighth St., we had to be careful of the slippery asphalt and cars making turns from three directions. The news stand was simply a few wooden benches with stacks of the various papers on them, each covered by a plastic sheet and weighted with a red housebrick. The Bayonne Times, the New York Times, the Daily News, maybe a couple of out-of-town papers, and our Journal-American. The newsie had no seat. He stood bundled against the cold, handing the requested newspapers to people in cars and on foot, noisily making change with one of those belt-mounted coin dispensers like bus drivers used.
There was always a crowd in front of the Diner at night, teenagers seeking amusement, a cop or two drinking coffee from take-out cups printed in Greek-flag blue and white with the classic meander pattern and the message "It's Been a Pleasure to Serve You!" There was often a neighbor whom we knew and greeted, sometimes a friend of mine out with one of his parents to get The Paper. The snowflakes glistened and melted, white, then wet, then gone, on the watch caps and flat caps and police caps and gloves and shoulders of the people gathered in front of the Diner. I might get to have a hot chocolate, or sometimes, although he didn't like coffee, Dad would get one ("don't tell your Mother!") with milk and sugar and let me have a few sips of the warm and mysterious adult beverage before tossing the rest into a trash bin.
And then back home, me and Dad, under spooky tracks and past dangerous dogs, to warmth, maybe a snack, and my friends Dick Tracy, Moon Mullins and Rick O'Shay.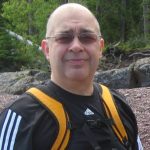 Dave Ventre
A hyper-annuated wannabee scientist with a lovely wife and a mountain biking problem.
Tags: newspapers, childhood, new jersey, bayonne
Characterizations: moving, right on!, well written