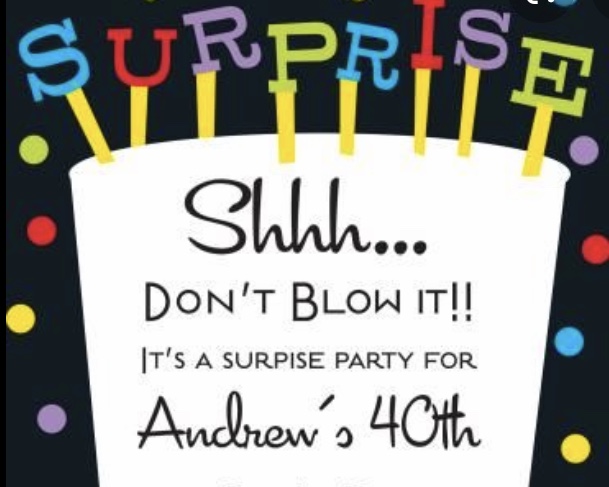 When her husband Andrew was about to turn 40,   my friend Simi decided to throw him a big surprise party and she asked for my help.
We were both stay-at-home moms then with plenty of free time on our hands for surprise party planning.  In fact for weeks before the party we must have had dozens of daily phone calls back and forth.
We drew up the guest list, planned the menu, and assigned each of our friends a dish to make.    Since I wasn't much of a cook, I was to make four dozen deviled eggs.   We told the others that whatever dishes could be prepared in advance we'd put in Simi's freezer.  She was a good cook herself and always had a stocked freezer,  so we were sure Andrew wouldn't notice anything awry.
And Simi asked everyone to give her their birthday gifts for Andrew,  and she'd hide them in a back closet they seldom used.
Then we sent out the invitations,  ordered balloons,  a big cake,  and tee-shirts printed for all the guests that read WE SURPRISED ANDREW AT THIS 40th!
When the big day arrived, Simi sent Andrew out on several time-consuming errands to give us time to set up.  He was to come back later,  supposedly to take her out for a romantic dinner for two.  Then when he walked in we'd all be lying in wait to yell,  SURPRISE!
But when he did walk in,  the surprise was on us.  Andrew was wearing a tee-shirt that read,  I SURPRISED MY WIFE AT MY 40th!
We all laughed,  but Simi didn't think it was funny. She was mad – something or someone had spoiled the surprise she had so carefully planned.
"How did you know? "   she demanded of her husband,  "Did you see the food in the freezer or  the gifts in the closet,  or did someone tell you?"
"Actually I didn't notice the food or the gifts,"  Andrew said, "what tipped me off was all those phone calls you were getting day and night from Dana."
Well,  I may have spilled the beans,  but at least everyone liked my deviled eggs.
Dana Susan Lehrman
Dana Susan Lehrman
This retired librarian loves big city bustle and cozy country weekends, friends and family, good books and theatre, movies and jazz, travel, tennis, Yankee baseball, and writing about life as she sees it on her blog World Thru Brown Eyes!
www.WorldThruBrownEyes.com
Tags: Birthdays, Surprise Parties