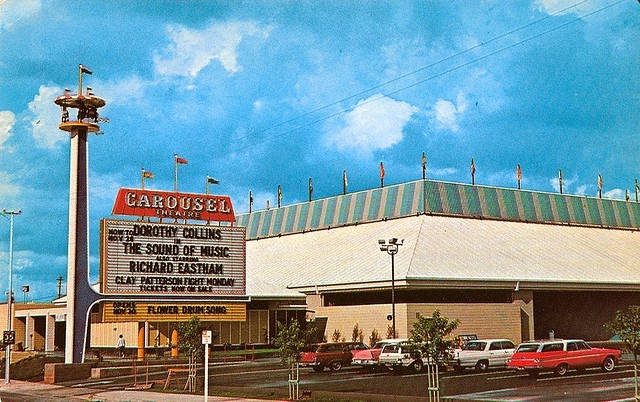 Starting around age 7, I dreamed of being an actor. I was mad for movies and nothing seemed more wondrous to me than to be a motion picture star. When I'd play alone, my fantasies were always framed by a movie screen and accompanied by the thumping drumbeat of a Hollywood soundtrack.
With a beginner's naïveté, I wrote a letter to the producer Danny Dare and told him why he should cast me: "Dear Mr. Dare, I live in West Covina and I'm a talented actor. I can do an excellent English accent and I can sing. You should cast me in Oliver!"
I remember running through the weeds and mustard greens of an open field near my house, pretending I was dodging enemy fire in an action movie called "Rifles of Revenge." I fantasized the plaudits I'd earn as a child actor of remarkable skill. Stardom, acclaim, Academy Awards – I could taste them.
None of this came true, but when I was 15 and living in West Covina, Calif. my chutzpah landed me a job on the professional stage. The Carousel Theater, a newly opened theater-in-the-round, was staging a season of Broadway revivals. Oliver!, the musical adaptation of Dickens' Oliver Twist, was on the card and Georgia Brown, star of the original London and Broadway productions, was repeating her role as Nancy, the spunky slattern who saves Oliver Twist.
With a beginner's naïveté, I wrote a letter to Danny Dare, one of the Carousel's two producers and co-owners: "Dear Mr. Dare, I live in West Covina and I'm a talented actor. I can do an excellent English accent and I can sing. You should cast me in Oliver!" I didn't tell him I had no formal training in acting, singing or dancing, and no stage experience apart from school assemblies and a freshman-year acting class.  
Amazingly, Danny Dare called me a couple of days later and invited me to his office at the Carousel Theatre. I'm sure my mother drove me — West Covina had no bus service — and dropped me off with a dime and instructions to call when my big meeting was finished. I stepped into Mr. Dare's office, and although I don't remember what he asked or what I said to sell myself, the conversation ended with him saying, "Well, let's go inside the theater and see how you move on stage."
A minute later, Dare introduced me to the director David Tihmar and instructed him to incorporate me into one of the crowd scenes – maybe the one in which the villain Bill Sykes clubs Nancy to death on the London Bridge as she's delivering Oliver Twist to his freedom. I guess something went right, because the next thing I knew I was in the costume department being fitted as a working-class Londoner of the Edwardian era.
At 15, I was too old and too tall to play one of Fagin's orphans, so there went my chance to sing "Food, Glorious Food!" and "It's a Fine Life" or to lark about with a fake Cockney accent. Instead, I became a member of the chorus. I was in "Oom-Pah-Pah!," the upbeat musical number in a tavern that opens Act Two, and I was a generic Londoner in "Who Will Buy?"
For "Consider Yourself," I had to learn some simple dance steps– but with no experience and no assistance I was lost. Zoya Leporska, our bottle-blonde Russian choreographer, made exactly one appearance during that week of rehearsals. Since several cast members had played Oliver! at the Melodyland Theatre in Anaheim the previous season, she ran them through it once and didn't bother to take me aside and show me the steps. Poof!, she was gone.
So I learned by doing. I cringe remembering the mistakes I made in "Consider Yourself" during rehearsal and even in performance. In retrospect I wonder why they kept me in the show, but I guess I was cute and enthusiastic. Mr. Tihmar must've thought I was okay; or maybe Moose Peting, the amiable assistant director, put in a good word for me.
Moose, who contrary to his name was small in stature, was one of several colorful characters in our company. Alan "Boomie" DeWitt was the first flamboyant queen I'd ever met and he would sashay backstage cooing "Moose, Darling!" to his best buddy. Boomie was very tall and wore glasses, and according to Moose he once decked a nasty stagehand for mocking his effeminate gestures. If you look closely at  A Star is Born with Judy Garland, Boomie plays one of the make-up artists who perform a bad makeover on Judy's Esther Blodgett character. Which makes me just two degrees separated from Judy Garland, theatrically speaking.
Mr. Tihmar was also gay, but of a different variety than Boomie. He dressed impeccably, had a quasi-aristocratic air and, having been a hoofer on Broadway in Oklahoma!, he moved with a dancer's grace. He wasn't a bit overt in his sexuality – few were at that time – but one of my cast mates swore he padded his crotch with "plastic fruit."
Victor Stiles, who appeared in the movie Santa Claus Conquers The Martians with Pia Zadora, had the title role of Oliver Twist. He was 14 and his voice had dropped, so it was agonizing to hear him battle the tender high notes on "Where Is Love?" Leo Fuchs, a Yiddish theater veteran and a total mensch, played Fagin, den father to the tribe of pickpockets. Mr. Fuchs (pronounced "Fyooks") was beloved by all and an absolute contrast to Georgia Brown, an icy diva who acted as if this down-market gig was beneath her. I get that: Lionel Bart, the composer of Oliver!, had created the part of Nancy expressly for Georgia, so our suburban theater-in-the round probably felt like chicken feed after Broadway and the West End of London.
Oliver! was also my introduction to the catty, envy-fueled gossip that thrives in dressing rooms among lesser players and chorus members. A lot of the buzz centered on male celebrities who were secretly "queer." Rock Hudson was mentioned – that turned out to be true – but some of my cast members claimed that Kirk Douglas, Burt Lancaster and Elvis Presley were also members of the lavender league. Even at 15, that sounded like hooey to me.
I loved my time with Oliver! I adored being part of a company and hearing their gypsy tales of theaters they'd played and stars they'd performed with. I loved hearing Georgia Brown's gutsy delivery of "As Long As He Needs Me" each night, and to this day I remember the lyrics to most of the songs. I felt a special frisson of excitement when friends came to see the show; when I recognized teachers and the West Covina High School librarian in the audience; when my mother attended a matinee with her friend Edwina Tisch.
Oliver! closed its two-week run in July 1966, and I slipped into a kind of withdrawal. Show business was my dream, and now that I had my foot in the door I wanted more. A production of Peter Weiss's intense drama Marat/Sade was set to open at the Carousel in a couple of months, and when I asked Moose Peting how I might get cast, he smiled indulgently and said there wasn't a chance in hell. Marat/Sade was a touring company and had already been cast in London and New York.
Oliver! was a feather in my cap and now that I'd scored my first professional stage credit I was eligible to join Actors Equity, the stage actors' union. I don't remember what it cost to join, but I have a sharp recollection of sobbing in the kitchen when my parents refused to pay the Equity membership fee. I'd been so lucky to get cast in Oliver! – a fluke, really — and now my dream was ending. Maybe this was my parents' way of sparing me the torments of a cutthroat business.
After Oliver! I hungered for another break. I wrote to the producers of A Separate Peace and Mr. and Mrs. Bo Jo Jones, two prospective movies with adolescent characters, but didn't hear back. I acted in occasional student productions in high school and college, but looking back I wasn't all that great. I had comic timing and I was good with accents and dialogue, but physically I was self-conscious and constricted — a big liability for an actor.
Moving to San Francisco after college, I still dreamed of being a theater professional. But auditions were traumatizing, and aside from small parts in two independent movies and a few months with a children's theater company that performed in malls and county fairs — I was the Big Bad Wolf — I didn't book any gigs.
Instead I focused on journalism, initially as a freelancer and then as an arts reporter and movie critic at the San Francisco Chronicle. I'm not sorry I didn't pursue acting more diligently. I can't afford those regrets, and I doubt I would have survived the disappointments and rejection of a professional actor. My hide isn't thick enough.
So I sustain my love for movies and theater as a journalist and a devoted fan — not caught up in the business, but enjoying it from a comfortable distance. Acting and writing aren't so different, really: they're both about storytelling and they're both fueled by a fascination with the funny, sad, surprising vagaries of human behavior.
Edward Guthmann
Characterizations: been there, right on!, well written