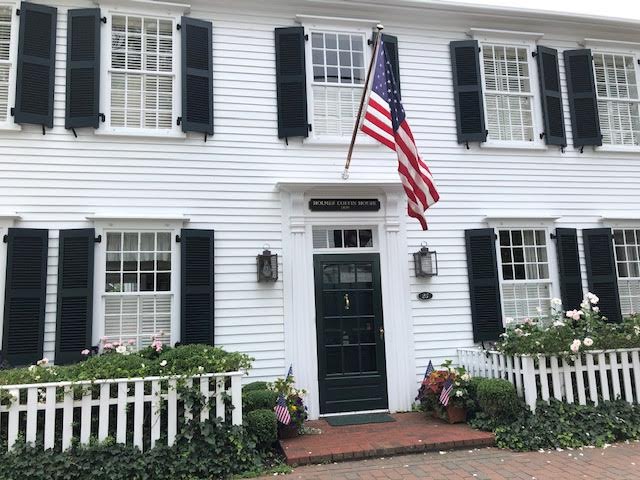 As I wrote about two years ago in Checkbook Gardener, we have a beautiful little garden oasis on a busy street in the heart of Edgartown, on Martha's Vineyard. This summer, between the pandemic, four months of drought and a less-than-diligent landscaper (not to be confused with Teresa, who continues to take wonderful care of flower beds and boxes; a true artist; below is an invitation to her recent gallery show), we decided change was necessary.
Dan always comes early in the spring, before my arrival, to check things out. Since (as noted in my last pandemic update), he decided it was going to be "the summer of the backyard", he looked for new furniture which had a fire element, so we could sit with friends and be warm as the days grew cooler. We purchased six chairs, though only have four around the table. Eventually the pandemic will pass and we'll be able to sit closer together again. We also rearranged the furniture by the pool to allow another couple to come and still be socially distant.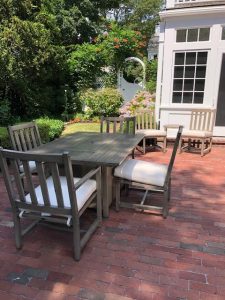 We have already had several pleasant evenings, sitting with the fire lit, talking with friends well past sunset.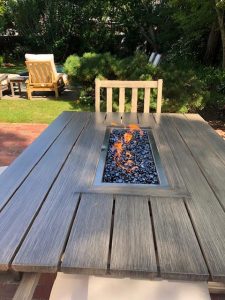 The front of the house, with flower boxes and climbing rose vines, were at peak in late June. These roses will bloom twice during the season. The flower boxes need to be cared for constantly, but add so much to the street-side of the house, where island visitors pass daily. After a scorching summer last summer, which burnt the flowers in the boxes by the door, Teresa solved the problem by planting hearty Coleus, colorful and fast-growing. I remember cultivating one from a cutting in 5th grade Science. This brought back memories.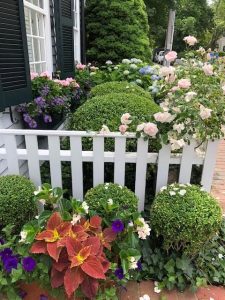 By mid-August, our new landscaper was onboard. He came in with a large crew and immediately began to implement the clean-up and changes we envisioned. He gave the yard the TLC it had lacked for the past several years, pruning all the shrubbery back significantly. One "shrub" had gotten out of hand. It now obscured the entrance to the garage and the walkway beside it. It couldn't just be trimmed, as it was all wood inside. It got pulled out entirely and was just replaced with two hydrangeas that will grow large, but can be pruned into shape. Now there is space where there had been a huge bush, but we don't feel like we are in a jungle.
Slowly, we are coming back into stasis. Next year, everything will be better maintained and we will have our garden back. We were supposed to be on The Garden Conservancy Tour again this year, but it was postponed due to COIVD. We will look better by next year.
I hope everything, particularly our country, is in better shape by next year.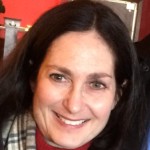 Betsy Pfau
Retired from software sales long ago, two grown children. Theater major in college. Singer still, arts lover, involved in art museums locally (Greater Boston area). Originally from Detroit area.
Tags: new furniture, landscaper, fire pit
Characterizations: right on!, well written