During most of my life, people would stay in touch with friends and family by something now considered practically ancient: writing letters on stationary.  I loved writing and receiving letters.  In  junior high  I  was so excited to become a "pen pal"!  For several years I wrote to teens  in Belgium, England & South Korea.  (I had one short term pal from Chile, because I thought it would improve my Spanish, but that did not last long.)  I had numerous boxes of lovely stationary that I would fill with compositions of what I thought a foreigner would like to know about an American girl. And when the postman brought me their letters,  I was thrilled. And I  loved the stamps on these letters.
Nostalgia for letter writing in the old fashioned way.
Letter writing was central to a relationship with my college boyfriend, Sandy.  During summer breaks and when I was traveling, we would exchange great letters. We lost touch for many years, but  I saved his letters.  Counterintuitively, the letters were not "mash letters",  full of affection and sentiment, but were well written, with very humorous descriptions of people, places and things. Forty years after we graduated and went our separate ways, we reconnected, of course, through letter writing!  (Sandy had seen my name and address in the University alumni directory.). And he had saved my letters! At some point, we exchanged the sizable stacks we had accumulated when we were young.    How delightful it was to read my own letters so many years later.
Today most of my serious writing is directed to my children and grandkids. My essays  are about  childhood memories and descriptions of family members and events.  Of course, this writing is  not written on my lovely, carefully selected stationary, but  on a computer and sent via  e-mail. But although I am nostalgic for old fashioned letter writing, I have to admit, my writing is  greatly improved by using a computer.  But I do miss the variety of stamps I used to acquire.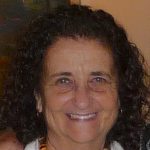 Sara Gootblatt
Characterizations: been there, funny, right on!, well written