I can only remember going to one auction of the type you see in movies, where there is a fast-talking auctioneer and everybody sits very still if they are not bidding, lest a scratch of the nose leads to having bought some expensive antique. It was somewhere in Sacramento, but I can't remember where, or even who I went with. I was in my twenties, had just bought my first house, and was looking for furnishings for it. I actually did buy a piece of furniture that was a series of connected shelves at different levels, some of which were exactly the right height to hold record albums, with a place in the middle for a turntable and amplifier. Sort of a primitive, '70s-style entertainment center.
In a Basket Raffle, you deposit your raffle tickets only in the baskets of the items you want to win.
Silent auctions are a different story. I have participated in many of these over the years, with varying amounts of success. At my office, they used to hold a silent auction once a month on Fridays in one of the conference rooms. It was similar to a garage sale, because everyone brought in items that they didn't want, for other people to bid on (in the spirit of "one person's junk is another person's treasure"). They were all small things, and generally went for no more than a few dollars, but it was a fun event. There were usually brownies and cookies for sale as well (you didn't have to bid for those!). It took me a while to figure out that the best strategy was generally NOT to write down a bid at the beginning, and certainly not to put in additional bids if someone else outbid me, but to wait until the bidding was about to close and then pounce. Sometimes, of course, there are other bidders also waiting to pounce, and it can be difficult to make sure you are the last one.
eBay is similar to silent auctions, in that you might or might not make an opening bid when you find an item you want, and then you wait to see what happens. These auctions last several days, so you have to be patient, and keep coming back to check on your item. It does have a nice feature that you can put in the maximum that you are willing to pay, which the other bidders don't see. Then if the price hasn't reached or exceeded your maximum at the time the auction ends, you win the item.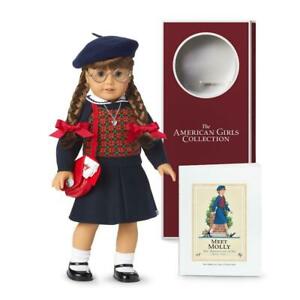 I spent a huge amount of time on eBay about fifteen years ago, primarily buying American Girl paraphernalia for my daughter Molly, who was ten at the time. One of the American Girl dolls is named Molly, so of course that was the one she wanted. In addition to the doll itself, there were many different outfits for her, as well as a bed, a desk, a trunk, and a set of books telling about all her adventures and showing her wearing the various outfits you could buy. There were also some girl-sized outfits so that the girl and the doll could be dressed alike. (Got some very cute matching girl and doll pajamas that both Mollys liked to wear!) I bought almost everything I could find on eBay, where, while expensive, the items were a lot cheaper than they were at the American Girl store. During that eBay phase I bought a few things for myself as well – of these, some Wedgwood soup bowls and a cut glass pitcher were the most memorable.
Finally, we come to raffles.This is something I have a lot of experience with, both as a ticket buyer and ticket seller. I can remember situations where I donated something to a raffle fundraiser, like at my kids' school, and bought raffle tickets too, and then the terrible suspense when they are picking the winning ticket for the item I donated. I would just sit there thinking "please don't pick my ticket!" I can't remember if I ever won back something I had donated, but I have certainly won things that I didn't particularly want.
The solution to that problem of winning something you don't want is to have a Basket Raffle. These used to be called Chinese Raffles, but I think that name is no longer used in most places. In this type of raffle, each item has a basket or bag adjacent to it. You deposit your raffle tickets only in the bags of the items you want. If you buy ten tickets, you can put them in ten different bags, or you can put all ten of them in the same bag to increase the chances of winning that item.
Before the pandemic, my Sisterhood mah jongg group used to hold a Mah Jongg Fun Day every year as a fundraiser for temple programs. We would also have a raffle of donated items, and we made most of our money on the raffle tickets. For several years I was in charge of the raffle table. The featured image is a panoramic shot of the whole raffle table.
To give you a closer look, here's the lefthand side of the table: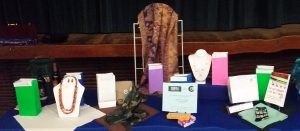 And here's the righthand side:

You can see that in front of or behind each item there was a little paper bag, in green, white, lavender, pink, turquoise, or royal blue, in which people could drop their tickets if they wanted to win that item.
We held this Fun Day and raffle every year in April. Of course it was cancelled in 2020 and hasn't been revived yet. I still have all the raffle items we collected in 2020, ready to put out whenever we next are permitted to hold our Fun Day. I haven't looked in the bags and boxes in a long time, so it will be a surprise to see what we have. Maybe there will even be something I want to try to win with my raffle tickets.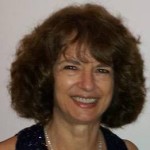 Suzy
Characterizations: funny, well written