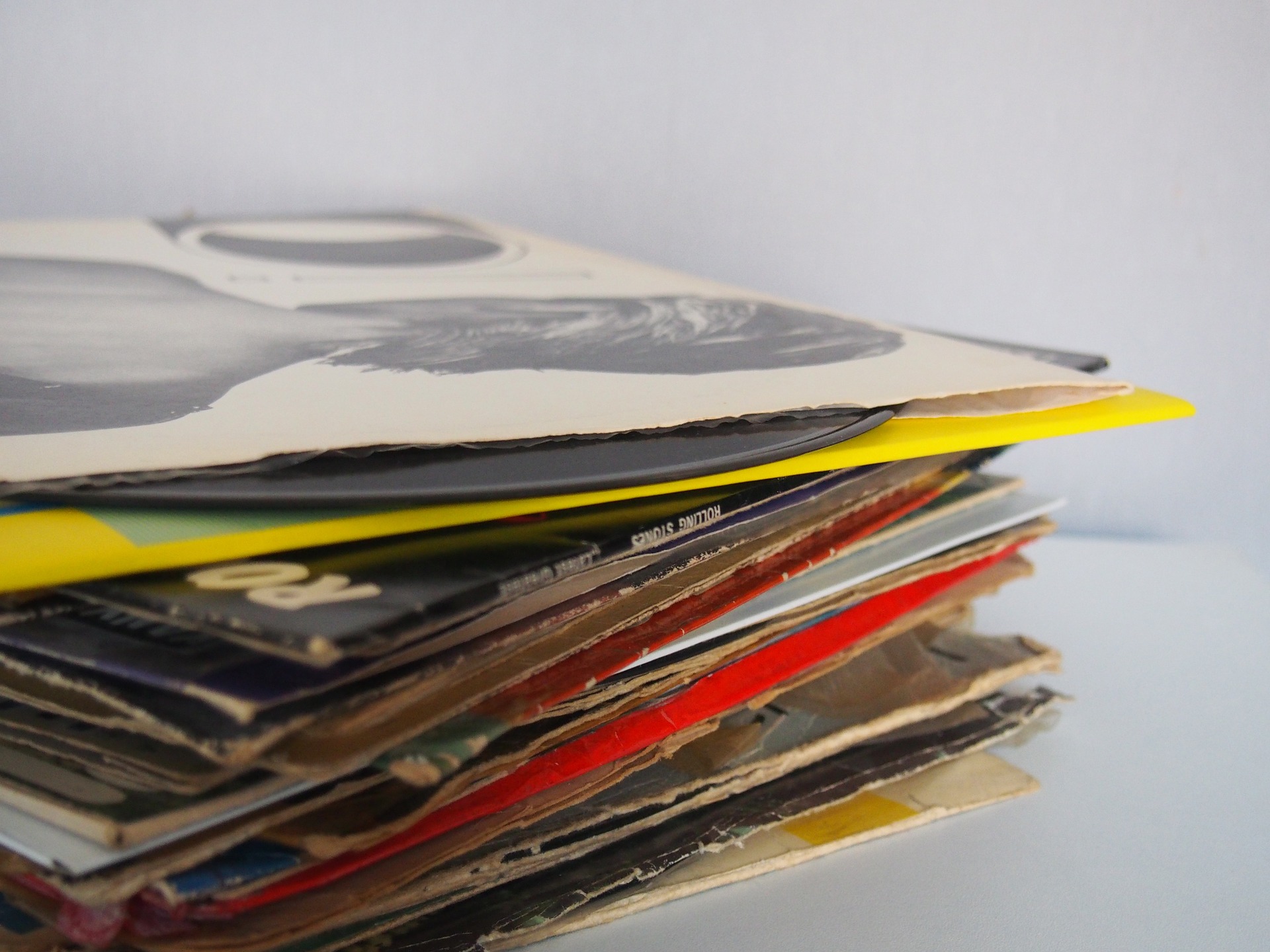 I've never been one to make yard sales a destination, but I did have one, once.  On a June day in the late 1990s, my neighbors Courtney, Kathy, and Candace came up with the idea of having a joint sale. We lived on a quiet street in Menlo Park, California, where the yards were unusually big. My yard was almost 1/3 acre, huge by California standards, and a large portion of it extended to the street from my set-back house, so this made the perfect area for us to set up the yard sale, which we scheduled for two weeks out.
The little girl stared and asked, "Daddy, what are those?" "These are records," he replied, "they play music."
Now, what to sell? This was during my "broke" era, and I didn't have a lot of possessions, although there were many small items I considered junk that people would like. Mostly I had clothing that needed to go. Then I looked in my living room and noticed my LP collection. The records were all relatively old and very much played, with the expected pops and scratches. My turntable hadn't worked for a number of years. It was time to sell my vinyl.
In the few days before the Saturday sale, our little group priced our items. Mine had yellow Avery circles with numbers. For my records, I asked 25 cents each or five for a dollar. At 7 AM the day of the sale, we carted out all our stuff to my yard. Kathy and Candace brought pastries and coffee to keep up our energy. Even before 8, the serious "yardies" started arriving, and the next few hours were mostly a blur as we haggled, took cash, and made change.
About mid-morning a quiet man came by with a little girl. He began looking through my collection of records very seriously and picking up one, then a second, then a third, and so on. The little girl stared and asked, "Daddy, what are those?" "These are records," he replied, "they play music."
For a few moments I wondered if I should be selling the vinyl and if any of the records the man selected were really valuable, but I let out my breath and decided, even if I had some unknown treasures, the era of vinyl for the masses was over, and the records would get another home.
By 2 PM I had made about $200, which was nice money for me then. I still had some clothing left, but the visitors were gone, so I would have bags for Goodwill. There wasn't a single record left, though. However, I did keep one record behind, which I still have. It's a very early Beatles album that was only released in the U.K. My uncle brought it back when he was on a business trip.
I'm glad to have it as my vinyl reminder, and if needed, to show children what a record looked like. I have to smile now, thinking how vinyl has evolved into an elite product for audiophiles. Bottom line, though, I don't regret having given up my record collection.
Marian
I have recently retired from a marketing and technical writing and editing career and am thoroughly enjoying writing for myself and others.
Characterizations: funny, well written