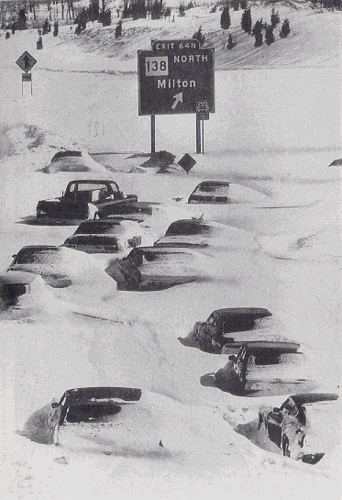 Some of our friends here are classmates, so they may have already shared their stories…
In the Spring of 1978, I was a student at Harvard Business School, commuting to the campus in Boston (right – not Cambridge!) from our house in Billerica, Massachusetts. On this Monday, there was a serious snow storm forecast. This storm turned out to be the Perfect Storm of the book, where two storms joined and stoped over Massachusetts Bay. It brought hurricane-force winds and tons of snow.
I drove into class as usual on Monday morning. On our break between classes mid-morning, I went out to my car and listened to the updated forecast on the radio – no cells phone then, never mind smart phones! It had gotten much worse, and the snow started falling as I was out in the car. I made my decision, went back inside and told my classmates that I was going home, and set out. The snow came down so hard and fast that the normal 35- to 40-minute drive to Billerica took four hours. During the drive, I could not call my wife to update her on my plan and progress, unless I stopped at a pay phone, which didn't seem prudent!
It snowed all night. When we went to let the dog out upon arising in the morning, the storm door out of the kitchen, at the top of a 5-step stoop, was snowed-in to its top! Solid white!! I was able to muscle the door out just enough to make an open wedge just big enough to stand in. Then I took the snow shovel and, started over my head, dig a hole to the bottom of the stoop. This took a hour of frozen work. The dog then (gratefully?) went down to the ground, looked up at About ten feet of snow, and relieved himself.
Monday, as the snow continued, the town first sent a pick-up truck to plow our streets. It made one pass and disappeared. It continued to snow all day. The town then sent a dump truck with a plow. It literally dropped its transmission on the road right in front of our house. The next day the town sent a front-end loader, which took most of the day to clear a path so they could remove the dump truck.
Tuesday morning, after the snow had stopped, we learned that Billerica had received a full four feet of snow – the most of any town in Eastern Mass. The Governor declared a total state of emergency, which closed Harvard University for the first time since its founding in 1636! Emergency services were delivering prescriptions and supplies to emergency cases as the area gradually plowed out. Many houses in beach towns were blown into the ocean, and a number of fatalities occurred. There was no place to put all of the snow, so much was dumped in the ocean.
Digging out four feet of snow off our double driveway looked impossible, but all of the men in the neighborhood ganged-up with a couple of men who had big snow blowers and we dug everybody out as a team. That took two full days. By Thursday, the emergency was loosened so you could take essential trips, but only within your own town's borders. On Friday, limited travel was opened up. That evening, I was able to drive on almost empty roads to Maine (which got almost no snow!) for my weekend Navy Reserve drill.
How's that for a whopper of a snow story?
Oh – the pile of snow on our front yard from plowing the corner intersection was so high it didn't melt away until MAY!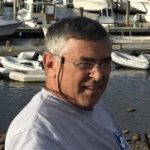 Joe Worth
Characterizations: right on!, well written