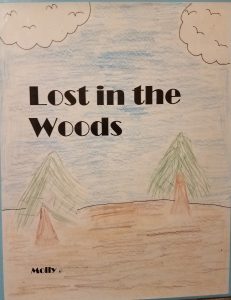 It was probably the most traumatic event of my life, and certainly the most traumatic event of Molly's.
This story was originally published on April 6, 2020, on the prompt Close Calls. It was probably the most traumatic event of my life, and certainly the most traumatic event of Molly's.
In August 2007 we gathered from far and near for a joyous occasion, the wedding of my niece to her Israeli singing partner. We were at a resort called Gold Lake, in Ward, Colorado, which is about 30 miles up the side of a mountain from Boulder, at an elevation of 9,450 feet. All of us who were not Coloradans were feeling the effects of the altitude a bit, but I don't think I can blame what happened on that.
My youngest child, Molly, who was eleven years old, was the flower girl / junior bridesmaid for her cousin. My niece's nineteen-year-old stepsister, Devi, was the only bridesmaid. If you think it is odd that I refer to Devi as my niece's stepsister and not my step-niece, let me explain. My former brother-in-law, long after he and my sister divorced, married a woman who had previously adopted a daughter from India. At the time of their marriage, Devi was already an adolescent, and my niece was in college. So they had not grown up together, and my family had never even met Devi or her mother before we got to Gold Lake.
We arrived at Gold Lake a couple of days before the wedding. There were lots of fun things to do, with two outdoor hot pools as well as the eponymous lake, and beautiful wooded grounds. The accommodations consisted of about ten rustic but charming cabins each with one or more bedrooms and a spa-quality bathroom. There was a main lodge where the restaurant/dining hall and other common areas were located. My husband and I, and our three kids, were all in one cabin, and the rest of the cabins were occupied by the other members of the bride's and groom's families.
The wedding ceremony was going to be outdoors, down by the lake. On the day before the wedding, the members of the wedding party and some staff from the resort went to the site in the late afternoon for a rehearsal. My husband and I wondered if one of us should go with Molly, but we were assured that there was no need, and that she would be returned to us after the rehearsal was over.
Although it was August, it was fairly chilly. Molly was wearing a sweater, but we told her she should bring her hooded sweatshirt with her in case it got even colder down by the lake or as it got later. She resisted at first, but eventually complied and took her sweatshirt with her.
While they were having the rehearsal, the rest of us were hanging out in the lodge, having drinks and singing songs. I can't remember if we had a piano or a guitar, or if we were just singing a cappella. When my family gets together, there is always singing of some sort.
Devi and Molly were told they could leave the rehearsal once they had their instructions about where they should walk for the processional and where they would stand during the ceremony. While the others stayed at the lake to continue figuring out wedding logistics, the two of them walked back on the long path that led to the cabins. They got to a fork in the path where Devi's cabin was in one direction and Molly's was in another, and Devi said, okay, I'm going to my cabin now, you know where yours is, right? Molly presumably said yes. But she didn't.
At some later point either Devi or someone else from the rehearsal showed up at the lodge, so we knew the rehearsal was over. We assumed that Molly had decided to hang out at the cabin instead of coming to the lodge. She doesn't enjoy the family singing as much as the rest of us do. So we continued singing. But then one of my other kids went back to our cabin to get something, and quickly returned to report that Molly wasn't there.
We rushed out to look for her. It was just beginning to drizzle, so we dashed over to the cabin to get rain jackets and umbrellas and flashlights (because it was also starting to get dark), and to satisfy ourselves that Molly really wasn't there. She wasn't. Everyone fanned out over the grounds to look for her, including resort staff. She was nowhere to be found. I was pretty close to hysterical at this point, thinking that she might be at the bottom of the lake, or have fallen down and hurt herself, or worse! It was cold and raining and getting darker by the minute. If she wasn't anywhere in the resort, we were going to have to get the car and start driving towards town looking for her. My husband and I headed towards the parking lot where our rental car had been sitting ever since we arrived at the resort. Just before we got into our car, another car drove up and a young man wearing a Gold Lake shirt said "I've got Molly here."
His name was River, and he was barely more than a teenager himself. He worked at Gold Lake, had finished his shift, and was driving home when he saw Molly by the side of the road. He asked her what her name was and where she was supposed to be. She was unsure whether to talk to him or run away from him, because she had been well trained about not talking to strangers and especially not getting into cars with strangers. She said later that what made her decide that she could trust him was the song that was playing on his car radio. Unfortunately, we can no longer remember what that song was. It must have been a song she associated with our family, like classic rock or Beatles, and that's why she felt safe.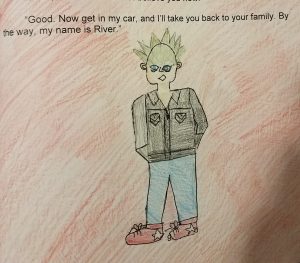 I think under hypnosis, Molly or I might be able to get it back. At school the following year, when the sixth grade students had to write a book for the Young Authors program, Molly wrote a somewhat fictionalized account of this experience. The Featured Image is her book cover. I have also included here part of the page with her drawing of River. I was sure that I would find the name of the song in the book, but unfortunately she left that out.
River had discovered her, cold and wet, about two miles from Gold Lake. Apparently when she and Devi parted ways, she went in completely the wrong direction, but when she didn't see the cabin, she just kept walking and walking, believing it would turn up, never thinking she was going the wrong way. (I did the same thing once in Amsterdam, because I misread a map.) When it started raining, she was very glad she had her hooded sweatshirt. In her Young Authors story she says that just before River found the fictional heroine, "she was now getting desperate, hiding under a rock for shelter. She was freezing, and she thought she might die." I don't know if Molly was really hiding under a rock, but the rest of it is probably pretty accurate.
That close call was certainly the worst half hour of my life, and the worst couple of hours of hers. She did tell me later that she was so-o-o-o glad that I made her take that hooded sweatshirt with her, and that she would never argue with me about what to wear again. Well, not for a while, anyway.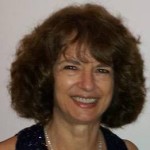 Suzy
Characterizations: been there, funny, moving, well written