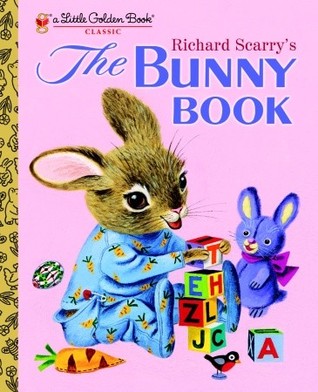 The library in the town where I grew up had an enormous room full of children's books. At least it seemed enormous when I was a little girl. I loved going in that room with its scaled down tables and chairs, wandering through the shelves and looking for books to bring home. I began to read at an early age, and can still remember the excitement I felt when I could look at a billboard or a sign from the back seat of the car and read it as we zoomed along the freeway. Once I unlocked the secret of letters and how they came together, there was no stopping me. One of my favorite things to do when I was a kid: Grab a book and climb a tree and read until someone came looking for me.
One of my favorite things to do when I was a kid: Grab a book and climb a tree and read until someone came looking for me.
I fell in love with The Bunny Book by Richard Scarry. So many possibilities for the baby bunny. And to think he just wanted to grow up to be a daddy bunny! (I gave a copy of this book to my son when he and his wife were expecting their first child. He didn't even seem to mind. He knew how much I loved this story from all the times I'd read it to him when he was little.)
Among my earliest favorites, typical for girls my age: Little Women and Jo's Boys, which inspired me to become a writer and to raise a bunch of boys.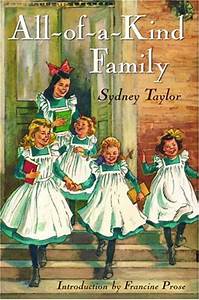 I loved the All-of-a-Kind Family series, chronicling the lives of that wonderful Jewish family. I really hoped I would have the chance to dye something white (like a borrowed dress) with tea, as one of the sisters did, to create that fascinating color: ecru. And I loved reading about the tricks of a clever Mama who got her girls to do a thorough job of dusting by hiding buttons in hard-to-reach places. Those girls would sometimes be able to trade in the found buttons for pennies. (Would that such tricks worked with my own children years later. And this reminds me of a more recent favorite: The Blessings of a Skinned Knee, which every parent of young children ought to read, along with TheThree Martini Playdate.)
I also read every single Nancy Drew book,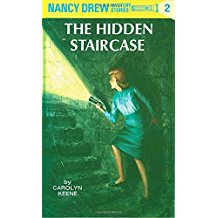 and a series of books about a group of unsupervised children who stumbled upon the most unlikely scenarios involving magic spells.  It turns out that my husband also read all of the Edward Eager books in this series, a coincidence we discovered when we started dating in high school.
And in later years, I read A Tree Grows in Brooklyn and Marjorie Morningstar which may have been a little over my head, but my parents never edited my choices, even when I checked Naked Lunch out of the library when I was in middle school.
So, yes, I read a bunch of really good books. But I would be less than candid if I neglected to mention an early passion of mine: comic books. I was that kid who disappeared from the birthday party or the family dinner at someone else's house to rummage through a kid's room looking for comics to read. I'd go for anything: Archie, Katy Keene, Superman, even Classic Comics if that was all the kid had to offer. David Copperfield was especially cool. So, yes, I secretly rooted for Betty over the stuck-up Veronica and hoped that the pudgy little girl with freckles and braids would grow up one day to wear cool clothes like Katy. When someone at the party asked, "Where's Risa?" my mom or dad would say, "Oh, she's probably reading." And I would be–off in a corner somewhere, nose in a book.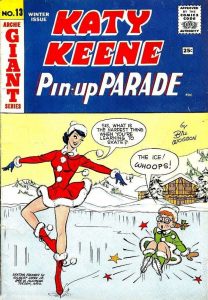 One other book I cannot leave out here is a big book of poetry we had when I was growing up: Favorite Poems Old and New. My dad would take requests from my sister and me, but he sometimes chose  "Barbara Frietchie" or "The Charge of the Light Brigade," or some classics by Robert Louis Stevenson. We usually whined until he read a few short and funny ones by Edward Lear or Ogden Nash. But we really scored when we convinced him to read "Jabberwocky."
Who could pass up the chance to hear this masterpiece?
"Beware the Jabberwock, my son!
      The jaws that bite, the claws that catch!
Beware the Jubjub bird, and shun
      The frumious Bandersnatch!"
And even better: "Come to my arms, my beamish boy! O frabjous day! Callooh! Callay!"
These days I read not only for my own pleasure, but for the pleasure of the little beamish boys who want to cuddle up and hear a silly story or a poem. It's pure joy. Callooh! Callay!
Risa Nye
Characterizations: been there, well written