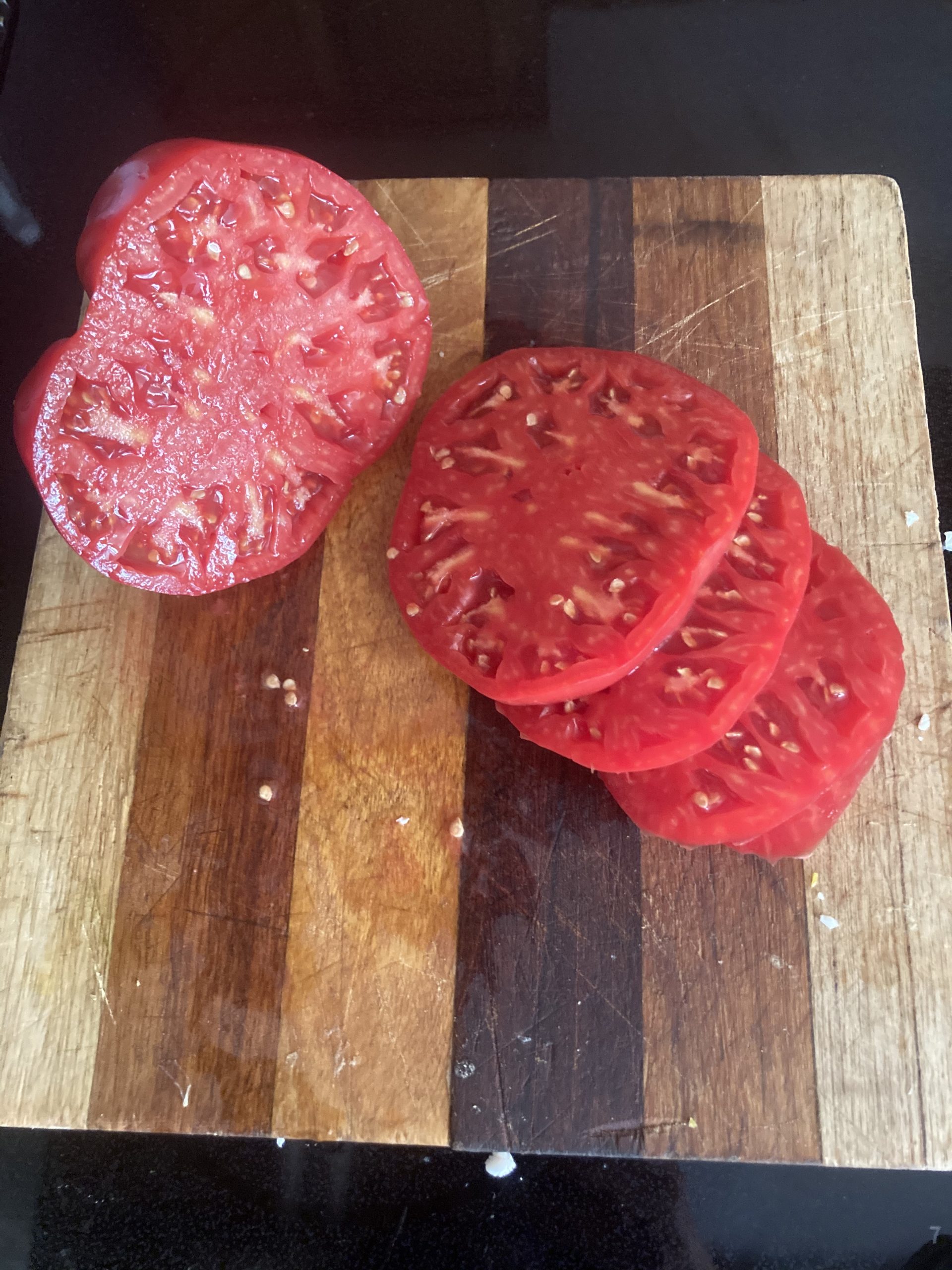 Calling it a garden gives it (or me) far more credit than is due. Rather, we have a few spots bordering a swimming pool where my lazy inner farmer takes over.  When we moved into the house in 1992, the eastern edge of the back yard had overgrown rose bushes that hadn't been pruned for years. I tore them out, and replaced them with citrus trees, primarily grapefruit, with a blood orange, a tangerine and a lemon tree added to the mix.
The lemon tree keeps us in lemons most of the year, as long as we don't overdo it making lemonade. There's plenty for squeezing on fish and an occasional lemon zest where called for. I favor grapefruit over oranges because I find oranges too sweet. The grapefruit have grown to the extent we now have fresh juice for breakfast about eight months of the year. We've got yellow, which the marketers call gold; pink, which are sold as ruby; and light pink, which we find in the market as just pink. The best visual presentation – crucial when impressing east coast guests — is adding the juice of a single blood orange to the grapefruit which gives a wonderful dark red color that doesn't alter the taste at all. Regrettably, we planted only a dwarf blood orange, which is far less prolific than the regular trees, so we run out early and most of the juice we drink lacks the added dramatic dark color.
The other feature of our so-called garden is tomatoes, principally in a crescent area between the garage and the swimming pool. Originally occupied primarily by a large and unruly hedge which I tore out, leaving a bare patch of soil, I pull out the weeds that grow over the winter and plant tomatoes in the spring. On rare occasion, I've grown them from seed, but mostly I get small plants and set them within cages. Like the grapefruit, I don't do much upkeep; so there's a fair amount of weeds, and not much beauty. The beauty comes in the red, yellow, and orange orbs that grow in summer to mid-fall. The utilitarian nature of the plants makes me want to think of it as a farm, but farms are serious business and require lots of labor, which I'm unwilling to put in. I did enough of that in high school, picking beans, planting lettuce, and thinning Brussels sprouts with a short handled hoe.
Centuries of flooding from the Sacramento and American Rivers brought lots of minerals and great soil to our neighborhood, which, until about 100 years ago was deemed an undevelopable swamp. So not much fertilizer is required – although I add a bit of tomato food at irregular intervals.
The biggest help is the summer hot sun. Until this year, we never had any trouble getting hundreds of cherry tomatoes and an ample crop of larger fruit. Every year I'd pick a featured heirloom at the nursery, yielding large and tasty fruit. Or is it a vegetable? This year, for some reason, the cherry tomatoes, usually sweet, like popping bits of candy into the mouth, didn't set very well, and the crop was disappointing. It wasn't until mid-summer when the larger tomatoes made it all worthwhile – a tasty and beautiful crop.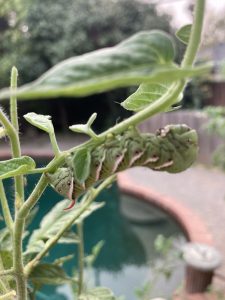 Speaking of beautiful, we often have tomato hornworms that dine on the tender new leaves and can completely strip a plant.  The moth (or butterfly) is unremarkable, but the spiral pattern and spots on the caterpillar is, to my eye, beautiful. (You can draw your own conclusion – perhaps the photo will help.) With a horn-looking appendage, however, it looks a bit sinister and alien. It took me years to overcome my squeamishness and realize I could pull them off easily without being attacked. Yesterday, I realized I had an ally in my fight to save the plants. While looking for hornworms, I spotted a praying mantis on a plant,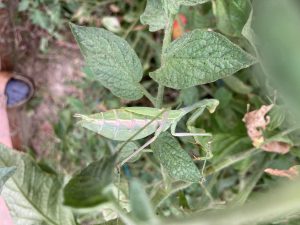 and upon closer inspection, realized it had the proverbial "half a worm" within its grasp, and, after puncturing it, was slowly lapping up the remaining half.I understand there's a type of wasp that lays its eggs in the hornworm, but I've never seen any evidence of that here.
So … garden or not, pretty or not, in late summer the tomatoes beat anything I can buy in the grocery store, and a glass of truly fresh grapefruit juice most mornings is a great way to start the day.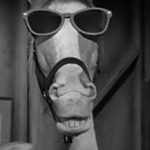 Mister Ed
Characterizations: right on!, well written