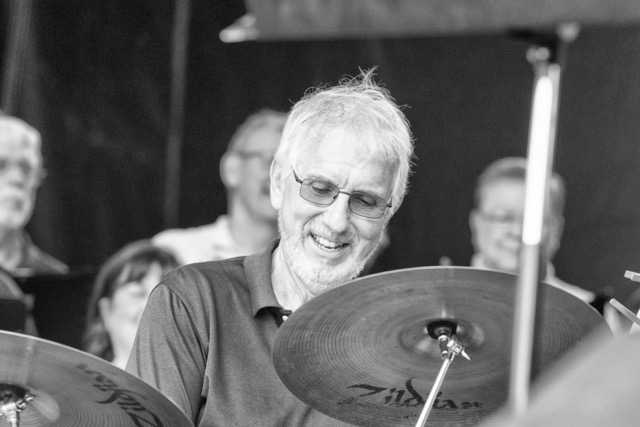 "See that Burger King? I played there once, before it was a Burger King."
In just one trip to the Giant Eagle grocery store I hear about a drunken host with a mynah bird that spewed racial insults, a greedy nightclub owner with a drawer full of stolen watches, and a girl singer with balloon boobs who would always blank out when trying to remember the words to "Accentuate the Positive."
I'm in the car with my musician father and he's pointing out places where he used to perform. "The Burger King used to be a Moose Club. Before it was a Moose Club it was a Masonic Lodge. I played there, too. And down the highway, over by the Southland Shopping Mall? That used to be the Ankara. Big night club. Six nights a week, live music, different acts all the time. I was in the house band in the sixties. Mr. Cenemie was the manager. Called him Mr. Centipede. He hated me. I'm telling you, beautiful dancers from the Philippines in that place. Made no sense since it was called the Ankara, but whatever. And up on the hill? That nursing home? I played there for about two years, when it was still a hotel. They had great shrimp cocktail."
"Was that the place with the singer of small stature and the Desi Arnaz look-alike?" I ask.
"What? The singing dwarf? No, that place was across from the nursing home. And the dwarf worked with the stripper, not with Desi. The Desi impersonator usually worked with the ice skater, but sometimes with a ventriloquist."
"Wait, the nightclub had an ice skating rink?"
"Back in the day they spared no expense."
"Jesus."
"I worked for him, too. That Catholic Church over by Wendy's? Al Dilernia was extremely popular at that church. I used to play with his band for church events. The priest liked jazz. Al used to listen to Pirate games on his transistor radio during prayers. He once yelled 'Goddamnit, you assholes' during the blessing when the Cleveland Indians hit a homerun. He usually had spaghetti stains on his shirt."
"I remember Al," I say. "And the spaghetti sauce. He tried to kiss me on the lips once when I was, like, sixteen."
"Which Dilernia was that? Albert or Alfred? There were two brothers, both named Al. Both great players. Both liked spaghetti. Either one would have tried to kiss you."
"The guitar player."
"That would be Al. I always said they should start a band with Edmond and Edward Manganelli. Al and Al and Ed and Ed."
Driving anywhere in the greater Pittsburgh area with my dad, eighty-two year old drummer Bob Rawsthorne, means listening to dozens of stories pulled from over six decades of gigs in vanished venues. We can hardly cross a strip-malled intersection without him pointing at a corner and blurting out a tale that involves skullduggery, musical madness, or management idiocy.
"Ah, there's the VFW, Post 5111," Dad says as we drive on Pittsburgh's Mt. Washington. "I hated playing there. Rotten piano. Rotten manager—that guy actually snapped off the TV during the moon landing. We had taken a break to watch it. The damn moon landing! 'I ain't payin' you guys to watch television,' he said. I'll never forget the bartender's reaction. He went outside and looked up at the stars, hoping to see Neil Armstrong live. Sad. So sad."
In just one trip to the Giant Eagle grocery store I hear about a drunken host with a mynah bird that spewed racial insults, a greedy nightclub owner with a drawer full of stolen watches, and a girl singer with balloon boobs who would always blank out when trying to remember the words to "Accentuate the Positive." Dad's stream-of-consciousness tales of smoky nightclubs, Burlesque palaces, concert halls, and after-hours dives would make one think the live music culture of the sixties and seventies offered a non-stop, sophisticated—and often silly—soundtrack to our unencumbered, simple lives. Maybe it did.
"I used to work there! And there, too. I think I played across the street too, but it looks different now with the Tiki-Tiki torch on the outside. Sometimes I get inside a joint I think I've never been in before and I see something that triggers my memory—and, bam!—I remember a gig I thought I had forgotten. Nice."
***
My father was, and is, an accomplished musician, a big fish in Pittsburgh's smallish pond of high-quality players. He stayed in Pittsburgh because the city's many nightlife outlets once rewarded good musicians with plenty of work. For most of his career he stayed busy. Crazy busy.
We've often talked about the roller coaster lives of working musicians—the way a five-star gig on Tuesday turns into a dumpster-dive engagement on Wednesday. Here's an actual conversation from 1986:
"Hey, Robin, guess where I'm playing this week? The White House."
"Great, Dad. Is that the new restaurant in Bloomfield?"
"No, man." (Jazz musicians often call their wives and daughters "man," which manages to be slightly insulting and endearing all at once). "No, no, man. The White House. Like where President Reagan lives. I'm going with the Johnny Costa Trio from the Mister Rogers show to play for Nancy Reagan. Dig that."
He went. The trio played "Nancy with the Laughing Face," but the First Lady didn't recognize it. A little jazz goes a long way—I guess Costa didn't hammer out the melody enough. The next night Dad was back in town, playing for a drunken sing-a-long at the Swissvale Moose Club.
The day after that, he returned to the television studio. Dad held on to that Mister Rogers gig for over thirty years.
My father also had a thirteen-year steady engagement in a popular pizza and beer joint called Bimbo's, a warehouse-sized restaurant that catered to gaggles of fun-loving folks celebrating life with oily pepperoni slices and mugs of watery swill. "Don't eat there on an empty stomach," he used to tell us. Dangerous food, fun music—an unbeatable combination. Dad also subbed occasionally in the percussion sections of the Pittsburgh Symphony, Opera, and Ballet orchestras, often racing from the beer hall to the concert stage and back in one evening.
Bob Rawsthorne has played a lot of notes in his life. "You know how many times I have to hit those drums to pay for a semester of college?" he used to ask me.
Now that I have my own college-age kids, I can guess it was quite a few.
Dad recounts an endless number of stories in locations that ranged from seedy to suave. Remember the time the chimpanzee in the Burlesque show slapped Red French (the pit drummer) on the forehead and left a palm-shaped welt that took days to fade? I listen and try to catalog and edit his words for my selfish, writerly purposes. But the dime store philosopher in me—the halfway serious woman who occasionally questions the meaning of a life in the arts—starts to wonder about the music itself.
Where did all the notes go? Where does the magic of any live performance go? Perhaps that's the attraction of real, live music—that it fleets and falls exactly where it's welcomed or needed—in a dancer's happy feet, in the heavy heart of a jilted woman, in the romantic soul of an aging poet, in the noisy mind of a student hoping to restore order to a chaotic life.
Or maybe the notes land on the beer hall floor, and that's that.
Talking around the music feels easier than talking about the music itself. To do that a player must talk about musical technique. Or beauty. Or love. And that gets personal. So instead, musicians like my father reminisce about nasty nightclub owners or foolish F&B managers or knackered brides who insisted on singing "Summertime" in a key that was way too high. Or a drummer with a chimp paw print on his forehead. Or the White House, man.
After four decades in the music business, I have my own stories, my own list of vanishing venues and lost gigs, my own kind-of-funny, slightly sad narratives that prove I am part of an era that seems to be slipping away. Where have all the notes gone? I played here, I played there. Does live music fill the world with light and optimism? I don't know for sure. But I don't think anyone would argue that we're better off without it.
Today we're in Cranberry Township, near Pittsburgh. As my father's drummer-friendly SUV reaches the top of a rise and descends into the valley, we pass an Olive Garden, a Starbuck's, a Wal-Mart, and a KFC. At the bottom of the hill is a scrappy field, the last vacant lot on a congested strip of potholed concrete. Grass grows. Wild flowers stretch their faded heads toward the blazing sky.
"There!" my father says, pointing to the empty lot. "I played there once. On that very corner."
"Nothing there now," I say.
"No. But there used to be," he says. "I'm telling you, man, there used to be."
***
Robin Meloy Goldsby is a Steinway Artist. She is the author of Piano Girl; Waltz of the Asparagus People: The Further Adventures of Piano Girl; and Rhythm: A Novel.  
New: Manhattan Road Trip, a collection of short stories about (what else?) musicians. Go here to buy Manhattan Road Trip!

Sign up here to receive Robin's monthly newsletter. A new essay every month!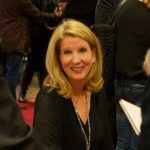 robingoldsby-de
Robin Meloy Goldsby is the author of Piano Girl; Waltz of the Asparagus People; Rhythm; and Manhattan Road Trip. She has appeared on National Public Radio's All Things Considered and Piano Jazz with Marian McPartland. Robin is a Grammy-nominated lyricist and has received a Publishers Weekly Starred Review for her book, Piano Girl.. A Steinway Artist and cultural ambassador with artistic ties to both Europe and the USA, Robin has presented her reading/concert program for numerous women's organizations and embassies worldwide.
Characterizations: funny, well written