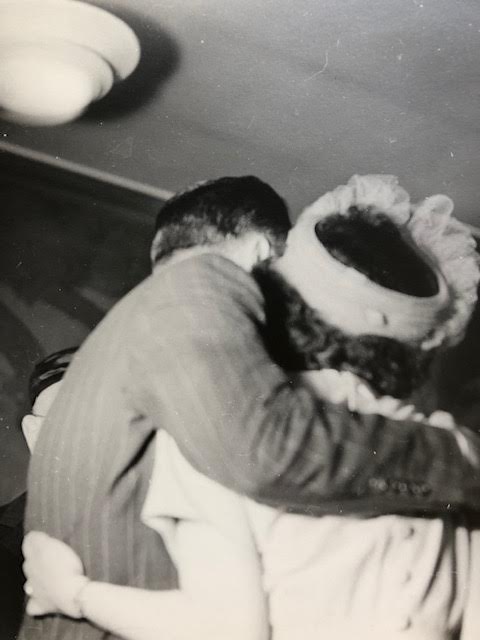 As an officer of our temple, Dad set my wedding day as June 16, 1974. "Really?" I queried, " That will be your 28th anniversary. Do you want to share yours with me?" He responded affirmatively and the date was set.
My parents were a post-war couple. They barely knew one another and married in a small ceremony at a hotel in Toledo, OH, with only their immediate family present (with so many brothers and sisters, even that numbered in the dozens). Mother wore a pretty white dress, which she wore later that year to Dad's niece's wedding with a big hat.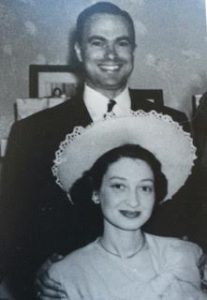 They did have an elaborate cake. I just found these two wedding photos recently for the first time. I shared them with my brother recently, who had also never seen them. The things our mother hid from us…
Twenty-six years later, Dan and I were married at my childhood temple, with my rabbi and my newly-ordained brother officiating. We did not have a sit-down dinner, but passed bites of food, sweets and also a lovely cake. My father told us his budget and gave us a choice; as two kids just starting out, I chose to have the small but nice wedding and take a nice starter check from him. It was a good trade-off.
Because Dan and I share the same taste in cakes, the buttercream frosting covered a chocolate cake. But of course, it was also my parent's anniversary, so a charming portrait was taken of them as well.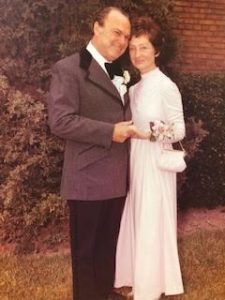 One might be fooled into thinking they were happy, but the marriage was inexorably crumbling, though in my search through my mother's boxes, I found another anniversary portrait of another sort that I'd also never seen.
This photo was taken after I was married and had left home. I think it may be the nicest photo ever taken of my smiling parents. I am thrilled I found it.
They divorced in 1981 after 34 years of marriage. My father (who had moved to Laguna Hills, CA) died in 1990 at the age of 76; my mother, who had moved to a retirement community close to me 15 years earlier, died in 2010, three days shy of her 97th birthday. Neither remarried and are buried side-by-side with all their family in Detroit. It is the Jewish custom to remember those anniversaries or yahrzeit, as well, and I always light a candle and say "Kaddish" for my parents (and Dan's).
Dan and I have never been big into celebrating anniversaries. We save our big celebrations for birthdays. Yet, our first was memorable. My close friend Christie Hefner lived in Boston that year after graduating from Brandeis and we spent a lot of time together every week. She insisted on taking us out to celebrate that important milestone. At the time, there was still a Playboy Club in Park Square. Since this is a writing site for baby boomers, perhaps some of us remember that the membership card was a key. Christie's key belonged to her father (he supplemented her freelance writing income during her year in Boston before she moved back to Chicago and went to work for Playboy full time in November, 1975); it said "Hugh M. Hefner" on it. Believe me, it attracted a lot of attention as we entered the club on June 16, 1975.
We sat at the best table and the bunnies did their best bunny dips as they waited on us. We had a fun evening and Christie remains a gracious, dear friend. She is the most articulate and loyal person I know.
No other anniversaries really stand out until this year, our 47th (gasp)! This year, our son David, with his partner, Anna flew in from London the day before. They got their second Pfizer vaccination on June 15th (to make their vaccine supplies stretch, the UK is giving second shots after three months) and Anna is early in her second trimester, pregnant with our first grandchild. She has had a tough time, very nauseous and the combination of jet-lag, sun and vaccination really wiped her out that evening. Yet, we sat outside at a nice Newton café and celebrated our anniversary and being with family for the first time in 18 months. We spent 9 glorious days with them before they went off to visit her 95 year old American grandmother in Atlanta and various other relatives as well (her mother is an ex-pat American, which is how she could enter the U.S. and get her shot). It was the best anniversary ever.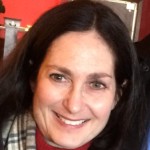 Betsy Pfau
Retired from software sales long ago, two grown children. Theater major in college. Singer still, arts lover, involved in art museums locally (Greater Boston area). Originally from Detroit area.
Characterizations: moving, right on!, well written