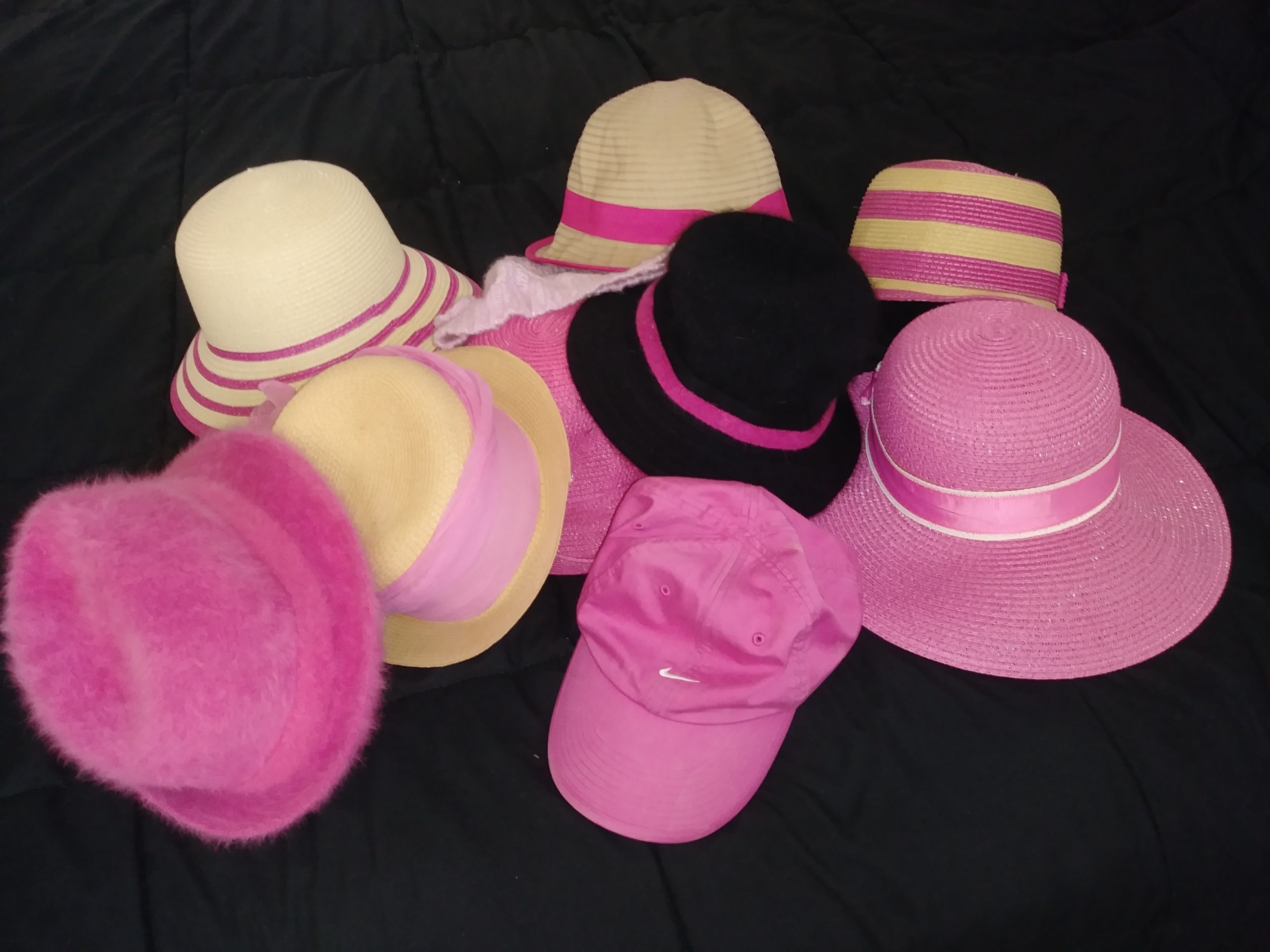 OK, I confess. I am a hat fanatic. To write this story, I counted the hats in my closet: 58. There are several reasons that I collect hats. An important one is, because of an unusual foot problem, I can't collect shoes and have very few pairs, and hats are a fashion substitute. (See my story about shoes for details.) Second, I've made a virtue of necessity. Being fair skinned, and now that my hair isn't as thick as it used to be (yes, gentlemen, that happens to women, too), I need a lot of protection from the sun. My many hats guarantee I don't have an excuse not to wear one when I go out, although in these COVID times, a baseball cap often suffices. And finally, I have the good fortune to look good in many different types of hats. Just luck.
We all dressed carefully, and most of us wore hats. We had a lovely time, and the hats in many styles and colors added to the ambiance.
None of the hats I own stand out, although two memories do. In the 1980s, when I started my business, a group of my women friends, all self employed, would meet quarterly in San Francisco to have afternoon tea at the Fairmont Hotel. We all dressed carefully, and most of us wore hats. We had a lovely time, and the hats in many styles and colors added to the ambiance. It might have been retro even back then, but what fun! I miss those days and dressing up for the afternoon.
The second incident happened in the late 1990s, after the release of the movie "Titanic." One sunny weekend afternoon I was walking through an arts and crafts fair in Palo Alto (wearing a hat, of course), when I saw a booth featuring an amazing array of custom made hats. Many were huge, inspired by the look in "Titantic." I admired an enormous white hat with a curved brim and feather, and the hat maker took notice and urged me to try it on. "You look like someone who appreciates hats," she said.
At first I hesitated, especially when I saw that the price tag said $150. But then, I removed my (smaller) hat, placed the large hat on my head, and moved to the outside edge of the booth to look in a mirror. What I saw was amazing–I was transformed into an elegant woman of 1912! Others in the area must have thought so, too, because the next thing I knew, the people who had been walking by stopped, were silent, and stared in admiration. After a few minutes, the illusion passed, people moved on, and I replaced the hat on its hook.
Divorced and house poor at the time, I couldn't bring myself to buy the hat, but every once in a while I wish I had. I do smile at the memories this hat created, and I enjoy all the pretty but more modest hats I have today.
Marian
I have recently retired from a marketing and technical writing and editing career and am thoroughly enjoying writing for myself and others.
Characterizations: funny, moving, well written