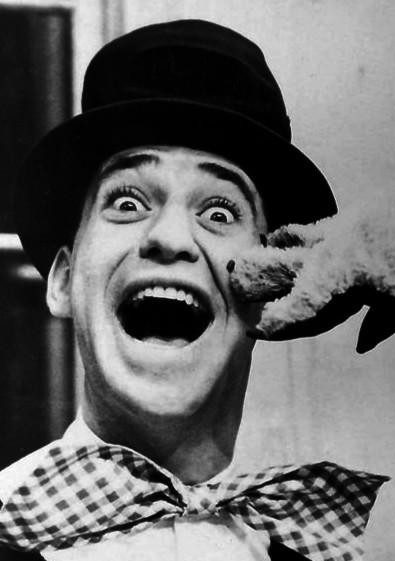 The best of children's TV for me includes a streak of anarchy. Maybe because I grew up in a household filled with noise, instability, and drama, I found most of the shows featuring "normal" characters unrealistic and treacly. Howdy Doody, Captain Kangaroo, and the sweet characters just didn't cut it.
While we ate tuna fish and Soupy hawked Jello, all kinds of chaos would happen.
When I was three, we got a television the size of a twin bed, consisting of a tiny screen surrounded by furniture. I would watch cartoons in the afternoon, and the odder they were, the more I liked them. I sat through the Mickey Mouse Club to see the cartoons (sorry, couldn't stand Spin and Marty). Chuck Jones cartoons are still my favorite–think Roadrunner and Wile E. Coyote. As adults, my friends and I often speculated what kind of drugs the animators were on. Of course, some cartoons would be considered too politically incorrect for today's kids, and likely rightfully so. What's really funny about Mr. Magoo? All those characters with some sort of speech impediment, like Elmer Fudd and Porky Pig, would require disclaimers.
For live character shows, Ding Dong School (remember Miss Frances, anyone?) was tolerable because I learned something. There was another preschool show called Romper Room, with Miss Joan. I thought most of it was silly (do be a do-bee, really!), but watched the episode when my second cousin Russell, who by then was four, made an appearance (the fact that his dad worked for NBC might have had something to do with it).
The one show I wouldn't miss was "Lunch with Soupy Sales." While we ate tuna fish and Soupy hawked Jello, all kinds of chaos would happen. Strange people would show up at the door. Special guests would come on to get a shaving cream pie in the face. This must have provided some acceptable emotional release for me. Of course, female characters (except for an infamous off-camera stripper incident) were notably missing, but that was on a par with much TV at the time. And, a lot of the jokes went over my head as a child. While his "Mouse" song and dance number hasn't worn well, parts of the show still are laugh-out-loud funny today, if the YouTube sampling I watched is any indication.
And, the puppets, White Fang, Black Tooth, Pookie, and Hippy, operated by a gifted puppeteer named Frank Nastasi! They were outstanding and started my love for puppetry. This was reinforced by my mother's cousin, Lee Wallace, who was a wonderful puppeteer and teacher. Name drop, cousin Lee taught Julie Taymor, director of The Lion King and creator of that show's puppetry.
Not having had kids, I missed out on in-depth watching of Sesame Street, but really love the Muppets and the educational aspect. I like that today's kids TV is much more inclusive and realistic than what we experienced, in that it shows kids and families with imperfect lives.
Marian
I have recently retired from a marketing and technical writing and editing career and am thoroughly enjoying writing for myself and others.
Characterizations: moving, well written