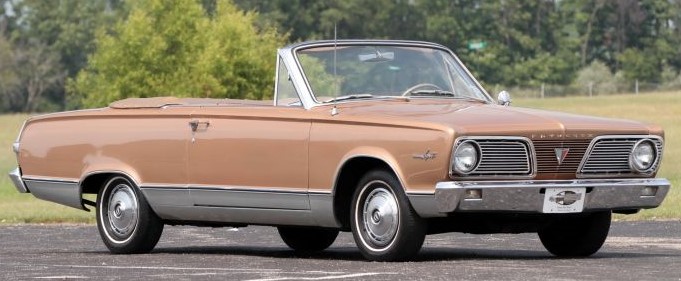 The driving age in New Jersey, where I grew up, was seventeen for some reason, even though in almost every other state in the union it was sixteen. Not only that, you had to be seventeen before you could even get your learner's permit. I turned seventeen on August 30, 1968, and two weeks later I was off to Cambridge to start college. No time to learn how to drive then. The summer after freshman year I spent in Washington, D.C. working for Planned Parenthood, and the summer after sophomore year in Boston, working for Houghton Mifflin Publishers. Never more than a week at a time in New Jersey, so still no opportunity to learn how to drive. People were starting to make bets on which I would get first, my bachelor's degree or my driver's license, and I think bachelor's degree was winning.
The summer after my junior year we took a family trip to Scandinavia, so I didn't make any other plans. The trip lasted only about three weeks, and the rest of the summer I hung out at home and finally learned how to drive. The car I learned on, a Valiant convertible, had been designated "my" car from the time my parents bought it, as explained in My First Car. It was easy to drive, with smooth power steering, responsive power brakes, and great visibility when the top was down, which it almost always was. My father was the one who taught me to drive, and while he generally was not a patient man, and often lost his temper for little or no reason, I don't remember any yelling while he was giving me driving lessons. He did a particularly good job of teaching me how to parallel park, with very precise directions about when and how much to turn the wheel, and I am still one of the best parallel parkers I know.
While I was still on my permit,  I drove my car to Cambridge with David, my college boyfriend, who conveniently also lived in New Jersey. (He appears in several of my other Retrospect stories.) One of my best friends since childhood had just graduated from Jackson (now Tufts) and had an apartment in Cambridge with two other girls, so we went up to visit her. Well, not exactly to visit her, they were all going to be away, and she invited us to use their empty apartment. We didn't feel the need to mention that to either set of parents. So we set off in my Valiant, and I think it might have been the first time I did any highway driving. David had already been driving for a few years, and he was a good teacher and very calm. He taught me useful things I have never forgotten, like don't try to pass a big rig going downhill, because they go really fast then, whereas they are easy to pass going uphill. Also, if you are in the middle lane and you suddenly see your exit, it's safer to wait for the next exit and double back, rather than whipping across a couple of lanes to get to the exit ramp. (He taught me that one with a slight quaver in his voice after I successfully executed the whipping across a couple of lanes maneuver.)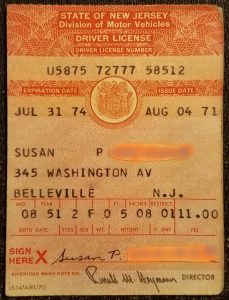 On August 4, 1971, just a few weeks before I turned twenty, I took my driving test and passed the first time. This is what my first driver's license looked like. No picture, flimsy cardboard, distinctive orange color. My eyes are listed as "2" which means brown (the key is on the back: 1-black, 2-brown, 3-gray, 4-blue, 5-hazel, 6-green). My weight is listed as "0" which means under 121 lbs. (Then the numbers go up in increments of 20 pounds, ending at 6 which means over 220 lbs.) I renewed it several times by mail, even after I was living in California, because it never hurts to have an extra driver's license. In the mid-eighties they added a photo to the license, so I couldn't renew it by mail any more, and that was the end of that.
A month after getting that beautiful orange license, I went back to college where I had no need or opportunity to drive. A year later, when I graduated, the Valiant officially became mine, and my parents got a new car to replace it. I drove around Cambridge for the next two years perfecting my driving skills, and then took the ultimate highway test — driving cross-country to California.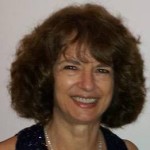 Suzy
Characterizations: well written