There used to be a dairy company called Sealtest. Sealtest was big in northern New Jersey when I was a kid. Sealtest is still around, but after being bought and sold a few times, it is much less prominent and harder to find unless you are in Canada. One of Sealtest's products was "Light n' Lively Ice Milk" (ice milk is now just called low-fat ice cream) and we loved it. There was nearly always a big tub of vanilla Light n'Lively in our freezer, no matter the season.
Summertime ambrosia.
One of the the delights of a hot summer day was to come in, scoop myself a big serving of Light n'Lively, inhale the strong scent of vanilla that wafted up from the bowl and chow down. Summertime ambrosia. I ate a lot of Light n'Lively back in the days when I had to struggle mightily to gain weight. And then….
One day, when I was in my mid-teens, I came in and went for the L n'L as usual. As I raised the bowl, I caught that sweet vanilla scent. And I gagged. For no reason I have ever known, it was suddenly disgusting.  Stomach turning. I put the bowl down and just stared. I tried again and…nope. Horrible. It might as well have been a bowl of anaerobic Newark Bay mud, replete with oil sheen and maybe a Hackensack River whitefish on top, for all the appeal it held.
Into the sink it went. I never again ate another bowl of it.
It seems that I had finally overdosed on Light n'Lively.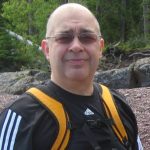 Dave Ventre
A hyper-annuated wannabee scientist with a lovely wife and a mountain biking problem.
Tags: desserts, frozen, summer, sealtest, comfort, food
Characterizations: funny, well written