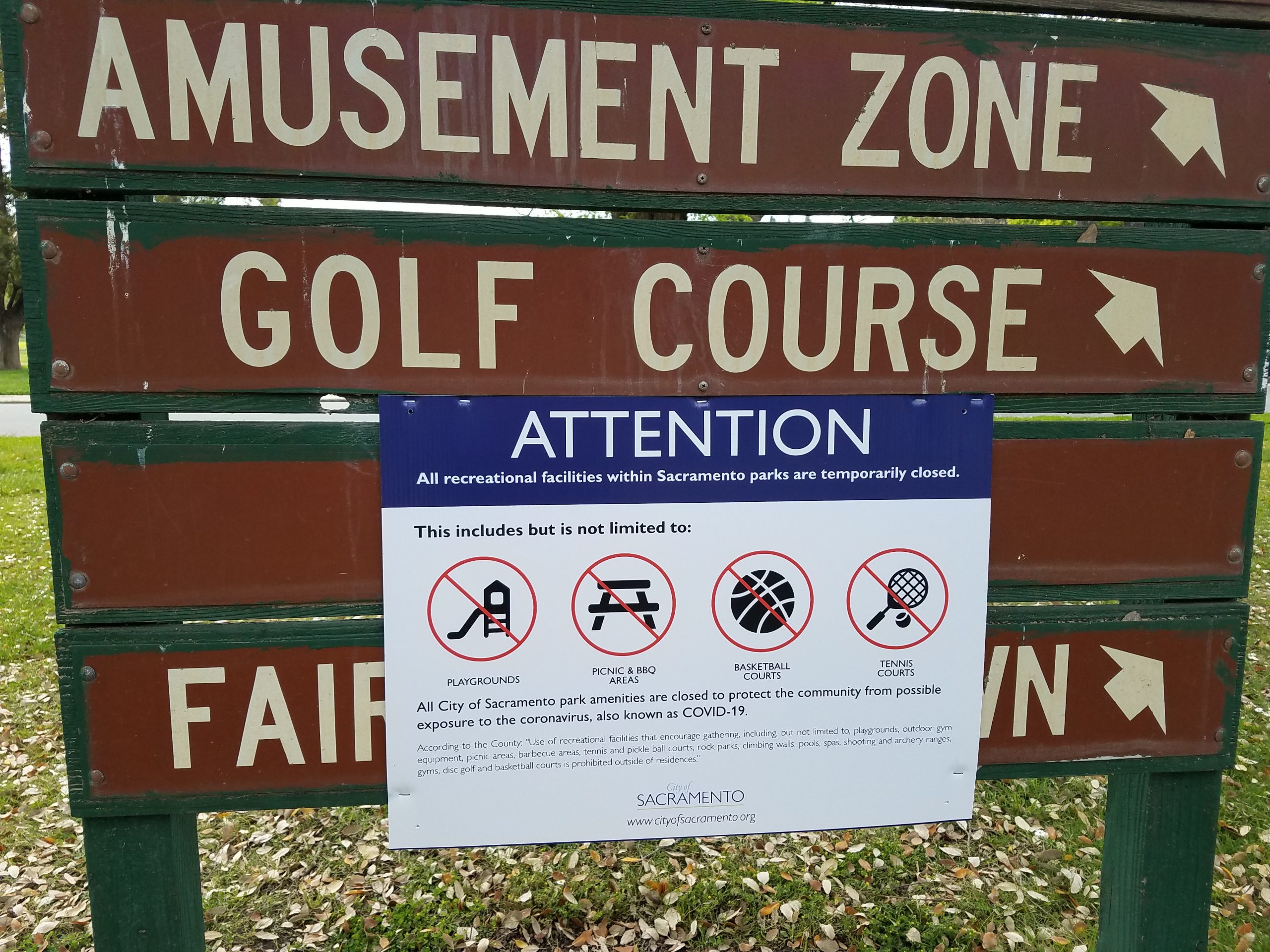 Many of us wrote stories reflecting on the early days of the pandemic for a prompt that went live on March 21st – a mere six weeks ago – or has it been six years? It feels like forever.
Life is weird right now, but not terrible. I'm sad about Molly's graduation being cancelled, and not singing with my choir.
At that time I thought I would still be able to go to my daughter Molly's college graduation on May 15th. I had purchased plane tickets months earlier, and had found an adorable and reasonably-priced airbnb right near the campus (because of course the one hotel near campus jacks up its rates any time there is any big college event, including, but not limited to graduation). It even had an extra bedroom, so if Molly wanted to stay with us for the three days we would be there, there was plenty of space. It was all perfect. Until it wasn't. The college cancelled the graduation a couple of weeks ago, but I held on to everything, because I figured that if it was safe to travel by then, I still wanted to go down to Whittier and see Molly, and also see my son Ben, who lives nearby in LA. But both Sacramento and LA Counties still have shelter-in-place orders in effect for the rest of this month, so it is not to be. I will stay home and watch her virtual graduation online.
For all these weeks I have been taking walks in the park across the street from my house. There are lots of people out walking or bike-riding, but it is still easy to maintain the six feet of distance at all times. I have bumped into a couple of people I knew and had nice conversations while standing six feet apart. Almost nobody in the park has been wearing masks, because it hasn't been necessary. One friend had a mask in her pocket and offered to put it on if it would make me feel more comfortable, but I said no, I was fine talking to her unmasked. Another friend and I have made arrangements to walk in the park together a few times, and it's turned out to be the most time I have spent with her in years, because we are usually both too busy with our "normal" lives.
Around the tenth of April, signs like the one in my Featured Image, saying all recreational facilities were closed, were posted in multiple places throughout the park, including on all the picnic tables. However, that didn't stop people from having picnics at the tables (they did seem to be single households, not large groups), and it didn't stop people from playing basketball.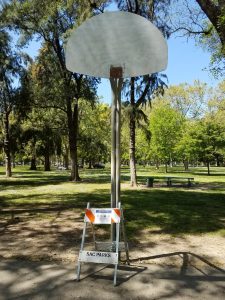 I actually enjoyed walking past the basketball court every day and watching the players — usually teenage boys (probably not from the same household), and once a father teaching his two young daughters to shoot hoops, which was really sweet. Finally, on April 23rd, the Parks Department took down the hoops, and also chained a sawhorse to each pole so that it was impossible to play. The gates of the playground adjacent to the basketball court were chained shut at the same time, but since the fence is only three feet high, intended to keep toddlers from wandering out more than to keep anyone from getting in, I have seen the occasional parent inside with a child or two, obviously having lifted the children over the fence and then easily hopping over themselves.
My husband has been doing all the grocery shopping for the seven weeks since this all started, but then, he has always done most of it anyway. Initially he wasn't wearing a mask, but at some point the stores started requiring it. So now he just keeps a mask in the car. One grocery store put arrows in every aisle, so that all shoppers would walk in the same direction and would not have to pass each other. All the stores have tape marks near the checkout counters showing people where to stand in line so they are six feet apart. Also, people are not allowed to use their own shopping bags any more, the stores have gone back to giving out new bags every time, like in the old days. Since my husband doesn't mind shopping, we have not ordered from Instacart or any other delivery service. We never worry about wiping down the groceries when he brings them home, the way a lot of people are doing, so it hasn't been burdensome at all. He has also been the one picking up take-out orders from restaurants. We try to order from one of a handful of favorite restaurants about once a week, to help them survive this period so they will still be in business when we are back to normal.
On Thursday I went to a local drugstore to get some compression stockings which I hoped would help the neuropathy I am suddenly experiencing in my feet. (On the ten-plague theory, this is now my third plague, after COVID-19 and the ant invasion that I wrote about in my last pandemic story.) I realized that it was the first time I had been inside any building other than my own house since March 13th, when we had our last restaurant meal.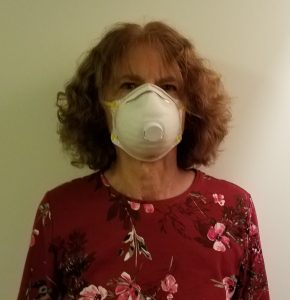 I did wear a mask, and it was the first time I had worn one, other than to pose for the image for this prompt. It felt really weird and hot. Possibly a cloth one would have been more comfortable. I was also very nervous about going into the store. There were more employees inside than customers, and not everyone was wearing a mask, but the one employee who came close to me, who helped me figure out what stockings to get, was wearing a mask, which I was happy about. So all in all it was a good experience, although I don't think compression stockings are the answer to my problem, unfortunately.
For a while it was really hard to know what day of the week it was, because they all seemed the same without any activities to distinguish them. But gradually online activities have filled my schedule, primarily via Zoom. My choir practice night, Wednesdays at 7 pm, has now become choir Zoom night. (It doesn't work to sing on Zoom, because of the lag time, but at least we can visit with each other. Those Zoom choirs you see on facebook aren't really singing together, they each record themselves separately and some tech wizard cobbles it all together.) My temple Sisterhood has Zoom Happy Hour on Mondays at 5 pm. And the Harvard Admitted Students Reception, which I host every year in April, became a Zoom reception two weeks ago. On the bright side, it was the first time that every single admitted student was able to attend the reception. These over-achiever kids always have so many activities that in past years it was invariably hard to find a date when even the majority of them could come. This year, they had nothing else they needed to do on a Sunday afternoon, and no travel was required, so it was easy. The conversation was a little awkward at first, but gradually we got the hang of it.
My mah jongg group that met every Monday afternoon couldn't be replicated on Zoom. Sure, we could socialize, but not play the game. Then we discovered RealMahJongg.com, where you can play with your friends or you can play with bots, or some combination of the two. And it is available 24/7. So now on Monday afternoons at 1:00 we all log on and play together, but many of us also find ourselves playing at other times, either by making dates with each other, or just playing with bots if no one is available. I'm not calling it an addiction yet, but it could certainly become one!
Another problem created by the pandemic is hair care. I had an appointment with my stylist for a cut and color on March 24th, but of course that was cancelled because the salon was closed by then, and I wouldn't have felt comfortable going even if it had still been open. So now it has been another five and a half weeks, and I haven't done anything about the cut OR the color. I know I could go back to box color, which I used for years before I decided it was worth spending the money to have my hair colored professionally, but I don't think I will. I have wondered for a while how my hair would look if I let it grow out. I don't think all of it is gray, but certainly some of it is.
So this is my chance to find out, when nobody is going to see me anyway. For purposes of appearing on Zoom, I have this hair touch-up crayon that I bought ages ago to cover the roots between appointments, which I am now using for large streaks of hair, not just the roots. But I only have to use it when I wash my hair, which I am doing less and less frequently. So it remains to be seen what I decide to do when all this is over.
Finally, I have to admit to watching quite a bit of television in the past seven weeks. In earlier times I was kind of a snob about not watching TV (although that started to change with the advent of Netflix and Hulu), but during this pandemic I have been watching something pretty much every night. Old favorites like Grace and Frankie, and The Kaminsky Method. Much, much older favorites like Cheers, which holds up amazingly well more than three decades later. New discoveries like Unorthodox. And this past Monday, the most exciting show of all, Never Have I Ever, on which my son Ben is a writer and Executive Story Editor. My husband and I are limiting ourselves to just one episode of Never Have I Ever per night instead of bingeing the whole season, so we haven't finished it yet. But it is terrific, and I hope that everyone who reads this story watches the show!
In conclusion, life is weird right now, but not terrible. The biggest disappointments for me are Molly's graduation being cancelled, and not being able to sing with my choir. Additionally, we have a big trip to South America planned for December, to see the solar eclipse and visit Peru, Chile, and Argentina, and I'm worried that seven months from now it still may not be safe to travel and we may have to cancel the trip. That would be heartbreaking!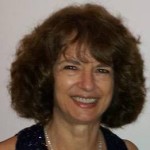 Suzy
Characterizations: been there, moving, right on!, well written