In 1964 our family drove cross-country to see the World's Fair in New York. On our last day in town, my mom and I took the subway to 51st and Broadway to see Funny Girl starring Barbra Streisand. I was 13, starstruck, and thrilled to be in New York. But when we entered the Winter Garden Theatre lobby a grim announcement awaited us at the box office: "This performance sold out."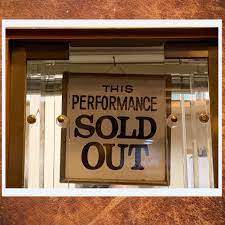 Cue the sad trombone. Now let it fade and move forward 11 years to my first solo trip to New York.
By that point I'd seen touring companies of Broadway shows in Los Angeles, and religiously followed the Broadway scene through the New York Times's Sunday Arts & Leisure section (thank you, West Covina Public Library). Broadway tickets were $16 tops in 1975 — it seemed exorbitant at the time — and I saw Anthony Hopkins in Equus, Rita Moreno in The Ritz, and Bob Fosse's original production of Chicago with Gwen Verdon and Chita Rivera.
In all the years since I've made a theater pilgrimage to New York at least once a year, the exception being these Covid years. I've seen between 350 and 400 stage productions, mostly Broadway and several off-Broadway. In some way, it seems, I'm making up for the bruising disappointment of not seeing Funny Girl that summer afternoon in 1964.
One of the joys of live theater is witnessing a performance in real time, unfiltered and immediate. As a theater-goer, you're a participant, a collaborator. You share the same space, breathe the same air. You wait for those thrilling moments when audience and actors create something together – a kind of magic, a chemical exchange, a perfect dance. For the performers it's called "being in the zone" — when the audience is so alive that you ride the waves of their energy and responsiveness.
I've always loved actors and great acting. I'm grateful for all the pleasure and insight they've given me. Here's are some memorable performances I've seen, not in order of preference.
* Philip Seymour Hoffman played Willy Loman in Death of a Salesman in 2012, two years before his death. He was excellent, but it was Hoffman's painfully raw performance as the alcoholic son Jamie in Long Days Journey into Night that stays with me. I couldn't imagine how someone could spill that much blood, figuratively speaking, for eight shows a week and still survive. It felt like you were watching his heart break and his spirit wrenched dry. What could still be left of him when he walked off stage?
* Audra McDonald is great in everything. She has a powerful soprano that's lush with color and emotion, but she's also a superb actress. I've seen her seven times on Broadway, in Carousel, Master Class, Ragtime, 110 in the Shade, Gershwin's Porgy and Bess, as Billie Holliday in Lady Emerson at the Bar & Grill, and in Shuffle Along. If I had to choose a favorite, I'd go with Porgy and Bess. Bess is a desperate drug addict – that's what drives her and crushes her – but until Audra I'd never seen that aspect of her character realized so vividly. The whole show made more sense as a result. I've also seen Audra in concert two or three times, and she's one of the warmest, most generous performers. She loves what she does.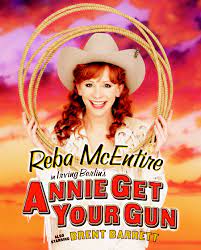 *  Reba McEntire was the original choice for the 1999 revival of Annie Get Your Gun, but when she wasn't available the producers hired Bernadette Peters. A year later when Reba's schedule opened up, she replaced Peters and gave a robust, joyful performance that might be the greatest musical-theater turn I've ever seen. This wasn't a Nashville-hitmaker-slash-Broadway-newbie trying her darnedest to convince us she belonged on a Broadway stage. No, this was a consummate pro giving a fully realized performance, so expert in comic timing and stagecraft that had you not known better you'd have sworn she'd spent her entire career in musical theater. Dazzling.
I was lucky to see her closing night, which is always a good time to see a hit show — the emotions run high. Reba's parents were brought on stage to surprise her, and they were adorably shy and awkward and overwhelmed with pride. The audience was full of Reba fans and theater geeks and Annie repeaters who'd seen her in the show four, five times. Her cast members and half the audience were in tears. Unforgettable.
* Angela Lansbury, George Hearn and Patti LuPone in Sweeney Todd. Stephen Sondheim's masterpiece is the ultimate proving ground for a musical theater performer. The lyrics are sophisticated and brittle, the musical structures complex, the material demanding even for seasoned veterans. Lansbury said Mrs. Lovett was the greatest role she ever played, and if you want a master class in acting please take a look at her stellar rendition of the songs "A Little Priest" and "The Worst Pies in London." You can rent it from Amazon: https://www.amazon.com/Sweeney-Todd-Demon-Barber-Street/dp/B085LVRHPK.
Hearn was equally remarkable. He wasn't the original Sweeney (that was Len Cariou), but I saw him in a touring production in 1980 at the Golden Gate in San Francisco, and 20 years later in a San Francisco Symphony concert with Patti LuPone as Mrs. Lovett. The word that comes to mind when I think of Hearn in Sweeney is "titanic." He harnessed such power, and expressed so viscerally Sweeney's tragic thirst for vengeance, that I could feel his grief under my skin, crawling up my back and down each arm. I remember when LuPone and Hearn had taken their final bows, LuPone took a step back, opened her arms with love and admiration and said to Hearn, "Take another bow." What a pro.
LuPone, you might remember, is the actress who lashed out at an audience member ("Who do you think you are?") who took a photo of her during her big number, "Rose's Turn," in a 2008 revival of Gypsy. Years later she saw someone texting in the first row and snatched the cell phone out of the miscreant's hand. How can you not love her?
* In Terrence McNally's Master Class, Zoe Caldwell played opera diva Maria Callas – not the young Callas but the later-in-life veteran giving a master class in singing. Caldwell, an Australian who worked in England before coming to the U.S., had an extraordinary speaking voice – deep and throaty, supple, musical in its variation and texture.
I always hope when I go to the theater (or to a movie) that one of two things will happen: 1) I'll fall in love, or 2) I'll see something I've never seen before. With Zoe Caldwell, both happened. She was sly, she was diabolical; she was flirtatious, wise and wickedly funny. She encompassed all of that in one performance.
* Spring Awakening. Timing is everything. When I visited New York in the fall of 2006, I heard the buzz about a contemporary rock musical, still in previews, adapted from an 1891 German play about disaffected youth. Sounds strange but it worked brilliantly. My friend and I scored tickets to the last preview before opening night and the ensemble cast – including Jonathan Groff, Lea Michelle and John Gallagher, Jr. – was on fire. The company was so thrilled to be on stage together — in a nascent hit — that you got a contact high from watching them. The energy was electrifying, the audience ecstatic.
There were many more. For these fine performances, I'm also grateful: Vanessa Redgrave in Long Day's Journey into Night, Gabriel Byrne, heartbreaking in Moon for the Misbegotten; phenomenal Lily Tomlin playing 12 roles in her one-woman show, The Search for Signs of Intelligent Life in the Universe; Amanda Plummer and Geraldine Page in Agnes of God; Dorothy Loudon in Annie; Rita Moreno, hilarious in The Ritz and riveting in Master Class at Berkeley Rep; Dorothy Collins, The Sound of Music; Dustin Hoffman, in a 1984 revival of Death of a Salesman.
Judith Ivey, Hurlyburly and the best Amanda Wingfield I've ever seen in The Glass Menagerie; Mary-Louise Parker, How I Learned to Drive, Proof and The Sound Inside; Judi Dench, Amy's View; Patti LuPone, Evita, Anything Goes and Gypsy; Mandy Patinkin, Evita; Cherry Jones, Doubt and The Heiress; Jefferson Mays, I Am My Own Wife; Elaine Stritch, A Delicate Balance; Joan Allen, Burn This; Sandy Duncan, Peter Pan; Natalia Makarova, On Your Toes; Alan Cumming, Cabaret; and John Glover, Love! Valour! Compassion!
Edward Guthmann
Characterizations: been there, moving, right on!, well written