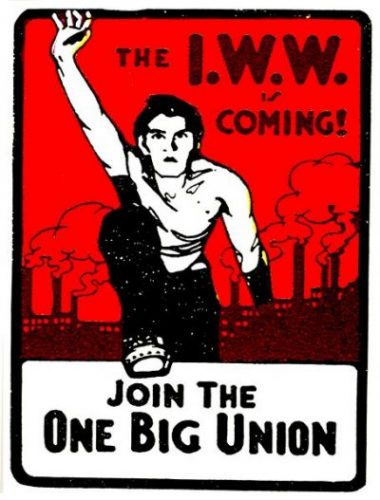 I'm a Virgo. As such, I'm driven to sporadic but powerful calls to order. I sort, arrange, clean and — most enthusiastically — jettison the flotsam that accumulates in the tidal pools of my circumscribed world. Getting organized helps me believe that I own the world or can at least exert a sliver of control over my life. I suspect that these virginal bursts are also symptomatic of a primitive need for ownership. If I clean the kitchen, I own it. Good thing: I do most of the cooking in my universe.
Don't agonize... Organize! — Mother Jones
But I want to talk about a different kind of organize. I learned about history and its unpredictable flow from my father, mother, a ton of books, folk songs, and one extraordinary high school teacher. I learned that I could respond to the chaos of human behavior by learning history and teaching and organizing others. As a young man, my father, understanding the historical, social, and economic forces at work on the planet's living things, spent a decade as a union organizer during the Great Depression. During those years, he worked as a radio operator at sea and, as a union guy, organized for the National Maritime Union.
With a stretch, I can say that the urge to organize my kitchen resembles my urge to organize disparate members of a workplace or a community. A tidy kitchen results in ownership; an organized body of workers results in power against exploitation. A clean counter, a just workplace, an end to poverty, we can all understand the connections, I'm sure.
Beyond my kitchen, I've organized artists, students, and faculty members. I've organized longshore workers in South Philadelphia, antiwar demonstrators in San Francisco, and musicians in Los Angeles. But I don't have the patience and humility that truly gifted and dedicated organizers possess. I know it was the right thing to do, but organizing involves footwork, persistence, and a farsighted optimism that I never successfully developed. But I did get organized once.
I was living in Ward, Colorado, a mining town that had seen better days, high in the Rockies above Boulder with my partner and her two kids. Although the town had seen boom and bust over the decades, when I lived there, it was serving as a combination hangout, hideout, and place of passage for a pinwheel of utopian anarchists, crabby libertarians, draft resisters, recovering Vietnam vets, a criminal or two, hearty feminists, and a steady flow of assorted wanderers.
To make ends meet, my partner took a job as Ward's postmistress.
I tackled an assignment to tear down an old storefront on Main Street, AKA Left Hand Canyon Road with a huddle of little stores and a gas pump on one side and the massive blimp of the Odd Fellows Hall on the other. I used the lumber from the old building, some of the old pine siding rendered into silver and velvet by the wind and the snow to build a community center on the same spot where people could gather, run a food and fuel collective, and repair their trucks in the warmth of a basement heated by an ornately cast coal stove we had dragged out of the Odd Fellows Hall, a furnace called the Chicago Hot Blast, circa 1896.
In the dead of winter, I took a job with a handful of my peers at the end of a ragged, four-wheel-drive trek up to the ghost town of Eldora (now a ski area) where we would open up an abandoned mine shaft within rock-throwing distance of the Continental Divide. We were employed by a Boulder clairvoyant named Richard Sigismunde who had raised enough money to begin the rejuvenation of this supposed mother lode. Sigismunde, who also identified himself as Light of the World, had divined a rich streak of silver still waiting to be harvested from this failed former enterprise. We were gonna dig, blast, and timber our way back down to that streak. That was the plan.
Working in an abandoned mine was novel and exciting but also weird and dangerous. But we were pals and one or two of us actually had a working knowledge of shaft mining. We could feel the mass of the rock pressing in on us as we stood on "the plug," a tangled mass of rock, splintered timbers, plumbing and other detritus that had fallen into the mine shaft after the two former partners had gotten into an argument. One partner left for Boulder to hire a lawyer while the other partner got drunk and lowered a bucket full of dynamite halfway down the shaft. He lit the fuse before lowering his explosive payload and blew the outfit to kingdom come.
We fledgling hard-rock miners toiled away merrily 500 feet down but 10,000 feet above sea level, on top of the world until the soothsayer Sigismunde ran out of money. He wanted us to keep working; we wanted to keep working, but he couldn't promise future pay or cover back wages. Uh uh. Nope. No way. That did it. Time to get organized.
We couldn't join the United Mine Workers. We were just a bunch of guys with carpentry skills except for Eddy and Norman, both miners for a time, and dynamite savvy. So, we decided to join the original miners' union, the famed and notorious IWW, or the Industrial Workers of the World. The IWW got its start right at the top of the violent, progressive 1900s, when loggers and miners and hobos got wise to the class struggle.
The 1908 preamble of the IWW Constitution begins with "The working class and the employing class have nothing in common." Period. End of sentence.
Richard Sigismunde, our mine owning Light of the World had demonstrated to us that the IWW's simple truth endured. Thus began our time as IWW members. We called the old guys who kept the Chicago office and the IWW alive with the aid of a duo of New Left anarcho-romantics who dropped by to help the old guys because it gave them a reassuring reminder of what the IWW had come out of and what it had achieved as an original engine of the industrial union movement.
They got pretty excited, back there in the Chicago IWW office, when a dozen guys sent in applications and membership dues. After a few weeks, we received our union books and badges in packets delivered to the postmistress. But that was before the Internet so, by the time we "got organized," the Light of the World had disappeared out of Boulder. We were not surprised. So, we proudly gathered up our IWW member badges, buttons, and books and headed back down the mountain to town, where life continued apace, and winter turned to spring.
# # #
Author's note: Twenty-five years after I joined the IWW, I wrote A Bowl Full of Nails, a '70s back-to-the-land thriller set in a fictitious mountain town just like Ward.
Charles Degelman
Writer, editor, and educator based in Los Angeles. He's also played a lot of music. Degelman teaches writing at California State University, Los Angeles. 
Degelman lives in the hills of Hollywood with his companion on the road of life, four cats, assorted dogs, and a coterie of communard brothers and sisters.
Characterizations: funny, right on!, well written