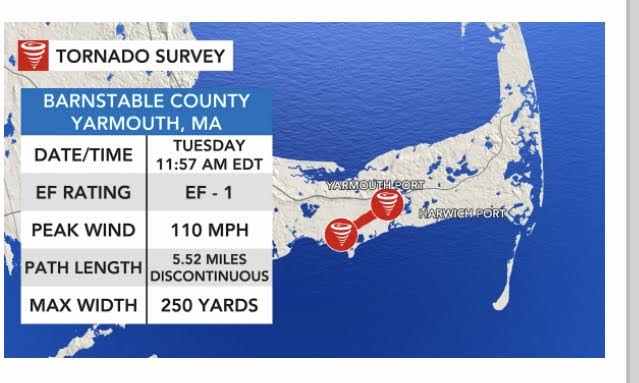 The sky was dark when I came out of Pilates at 11:30am on Tuesday, July 22. Two of the young women who work at the club were standing outside, looking at the sky with dread. "What's up?" "There's a tornado warning for Vineyard Haven". "Oh dear, I had planned to go there to grocery shop. Guess I'll go home first, eat lunch, wait out the storm, then head over." The women thought that was a better idea. The black cloud came over me as I drove the few minutes home, dumping rain on me. I got an alert that the warning was over, but tornadoes had touched down just across the Vineyard Sound on Cape Cod, in Yarmouth and Harwich. Boston.com showed the radar with the debris field. I have friends with homes in both towns. I quickly contacted one; his best friend, who owns a home 10 minutes from his was on his way down to survey the damage. I contacted him and got the good news that both their homes had been spared.
A huge thunderstorm had moved through the evening before, causing a brief power outage in our Vineyard home. When I contacted my friend in Harwich, she described the two days thusly: she had a household full of family from around the country. That thunder storm that caused us to be in the dark on Monday night she felt much more keenly. "Monday night was terrifying – I thought for sure, the emerald city was our next stop! But Ohio-based sister and family are very familiar with tornadoes and knew to take down the pool umbrellas, secure the outdoor furniture. Next day, out of nowhere!!! So many trees down, no power- we finally got a portable generator from someone but no internet- it's a combination of a camping adventure and a series of aggravations! But good news is everyone is fine – no one is hurt."
A day later the National Weather Service confirmed that a third tornado had touched down briefly on Tuesday in West Yarmouth, painfully close to my two friends' homes. As one put it, they truly dodged a bullet. This is extremely rare, according to the National Weather Service. Since the beginning of recorded weather history, tornadoes have hit Cape Cod just three other times; one in Woods Hole in October 2018, one at Hyannis/Barnstable Airport in August 1977 and one near Sandwich in August 1968. The weather is becoming more ferocious. "Once in a hundred year storms" are coming regularly.
The last weekend of July, all of northern Europe had an extraordinary heat wave. London saw its thermometer hit 100 degrees, Paris was 109. These are old cities and not equipped with air conditioning. They don't know how to handle heat waves. July was the warmest month every recorded in Boston. April was the rainiest. Weather records are falling constantly.
We saw it hail one day in Edgartown in late June. No one can remember such a weather occurrence. This is all a result of global warming. The oceans are heating up. The ice caps are melting. There is more carbon in the atmosphere.
I recently heard Juliette Kayyem speak. She is a former Under Secretary of Homeland Security. While her topic was primarily immigration, she took questions. When asked what the greatest threat to our national security is, without hesitation, she said global warming, about which this current administration is doing nothing at all! It will cause MORE immigration, as people across the globe face drought and famine, causing starvation and sickness. Vast populations will be on the move, seeking water and food. Hurricanes will cause thousands of death and trillions in property damage and we will not be able to rebuild on the same locations, causing dislocation. Insurance companies and governments won't be able to cover losses in places like New Orleans, built below sea level, where the levees will not hold and the houses can no longer be rebuilt as they were, wiping out old communities.
A smart government would make planning for this a top priority, but we don't have a smart government. We have a government in the pocket of the coal and oil companies, who are about lining their pockets and short-term wealth, rather than the long-term good of their people and the planet. We will all pay for this eventually.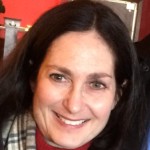 Betsy Pfau
Retired from software sales long ago, two grown children. Theater major in college. Singer still, arts lover, involved in art museums locally (Greater Boston area). Originally from Detroit area.
Tags: Cape Cod tornados, April rain, melting ice caps
Characterizations: right on!, well written