Caitlin, my daughter, spent several months in the Intensive Care Nursery as an infant. She needed open heart surgery and ended up spending several months recovering, having setbacks, and recovering, before she was finally able to come home at around four months of age.
The ICN was full of babies who were too small or too sick to go home right away. The nurses and doctors gave these babies excellent care, but lost track of them once they were discharged from the hospital. So they started throwing a reunion party to see how the kids were doing out in the world. The reunion used to take place around Halloween, so the kids had another chance to dress up and show the nurses and docs how cute and healthy they were. This photo was taken at the last one we attended, since someone was getting too grown up to wear a costume and hang out with a bunch of little kids. During her tenure in the nursery, my daughter was roomies with some very tiny premature babies and others who had major medical issues. It was fun for me to see some of those kids over the years as they grew to be toddlers and then little kids.
On this day, we got someone to take our picture, and it's one that I love: with our matching jack-o-lantern t-shirts and the disembodied arm photo bombing us.
This picture was taken at the reunion in 1989, the year of the earthquake that made part of the San Francisco Bay Bridge fall down. We had to take a cab to the ferry so we could get back home to Oakland. At the picnic, Caitlin got one of those arrow-through-the head things, which she wore into the cab. As we rode toward our destination, I casually said to her, "So, how's your headache?"
"Better," she said. I could see the cabbie's face in the rear view mirror.
"Want some aspirin?" I asked her.
She said, "No, no, I'm good."
Then we both cracked up.
.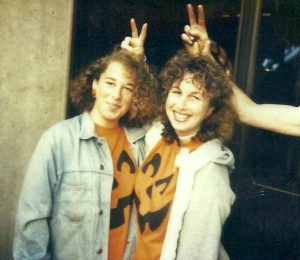 Risa Nye
Characterizations: funny