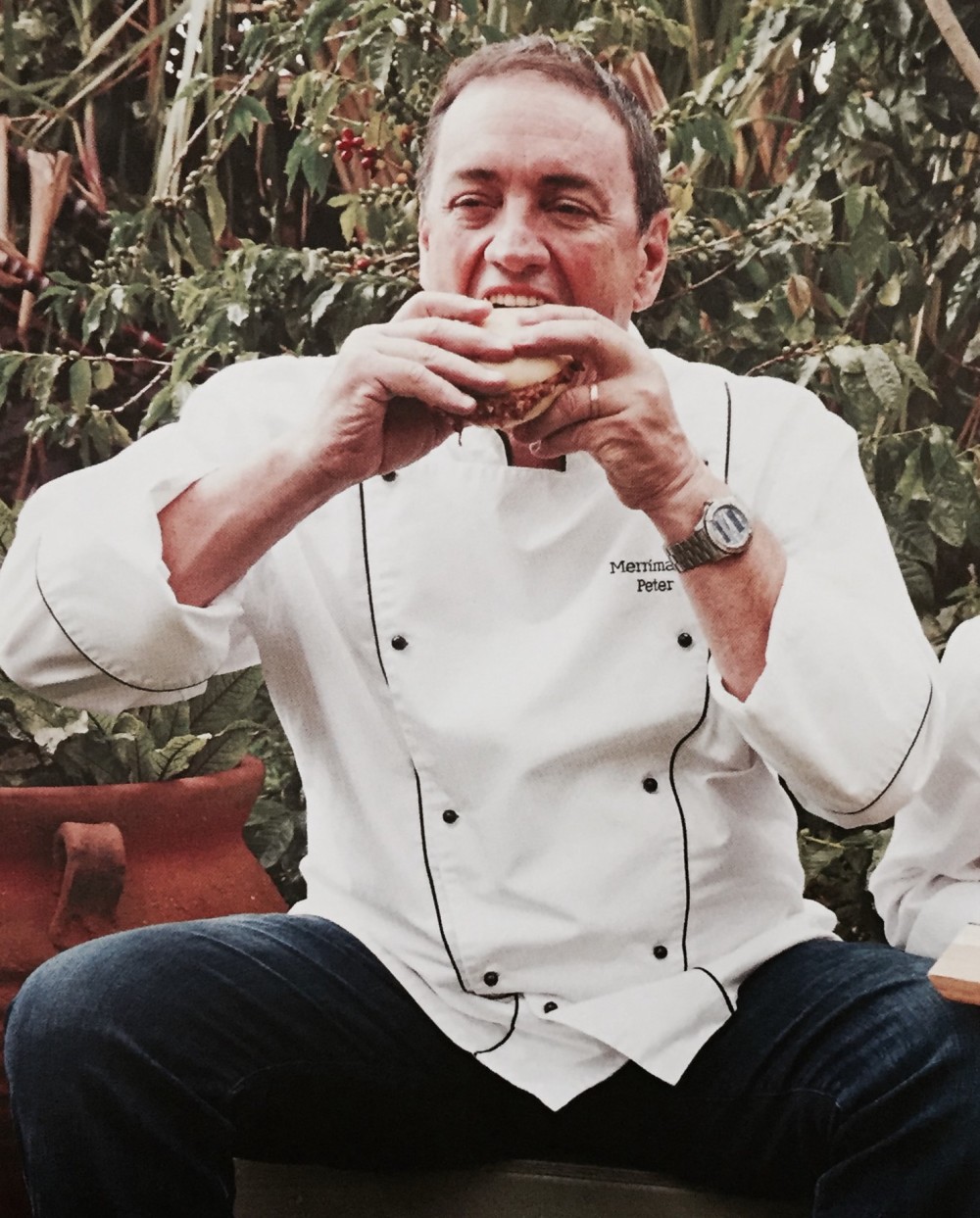 I started cooking because I was hungry. In fact, I'm still hungry—all the time.
I started cooking because I was hungry. In fact, I'm still hungry—all the time.
I grew up in McKeesport, a mill town suburb of Pittsburgh. My father, like most of the fathers, worked for US Steel, and like most kids in the neighborhood, I played football and worshipped the Steelers. Unlike most of the other kids, I was passionate about food and cooking. Remember that lima bean they gave us in first grade to bring home and germinate? My mother swears I planted mine in the backyard and immediately started planning how I would cook and eat the beans when they grew.
My mother, Woody Merriman, was a journalist at the McKeesport Daily News. In the 1960s under her nom de plume of Mary McKee, she covered the household beat, what we used to call home economics. Her column included recipes for the home cook, and every one of them had to be tested. It didn't take long for my smart mother to figure out that she could get her recipes tested, and satisfy my enormous appetite by exploiting my interest in cooking.
When I was 14, I made eggs benedict on an open fire and won the Boy Scout Camporee cooking contest. Man, I was on my way! A couple of years later, I invited my football team to dinner, and I'm pretty sure that was the first time any of those guys had salade niçoise with fresh steamed artichokes.
By 1982, I found myself cooking at the Four Seasons in Washington, DC, but the job wasn't to my liking. I quit on a gray, wintery day and headed home to my brother-in-law and sister's apartment where I'd been bunking. My brother-in-law, Paul, grew up in tough South Boston and is a no nonsense kind of guy. He greeted me with, "You got to start looking for a job—no room for unemployed bums around here."
Before I could even think up a snappy response, the phone rang. It was Chef Hans-Peter Hager offering me a job at the new Mauna Lani Bay Hotel on the Big Island of Hawai'i. I barely knew where Hawai'i was, but I knew it was warm and exotic. I missed the feeling of being someplace distinctive that I'd had in Europe, and I wanted a new adventure. I said, "When can I start?" He said, "Monday." Paul's reaction was unforgettable. "Are you kidding me? You're the only #$@&%*! in the world who is unemployed for just 15 minutes—and you land a job in Hawai'i!"
Within days I was cooking on the line and stunned to find that the cuisine was the same continental style I'd been cooking on the East Coast—steak béarnaise, veal Marsala, poached lobster, and sole almondine using frozen fish! I had to leave the hotel where I cooked for a living to find food worth living for.
Within a month of my arrival, I joined the Kawaihae Canoe Club. Just after dawn every morning, I'd get into an outrigger with Hawaiian, Filipino, and Japanese locals and paddle in the shadow of Mauna Kea, the giant, often snow-capped, volcano. Saturdays were race days, and afterwards we headed to the beach to enjoy a potluck. This food, served out of plastic containers and foil pans, really got my juices flowing—and everything, except the Spam, was local. Japanese members brought homemade sushi; Chinese paddlers made beef broccoli; Filipinos served pork adobo; the Koreans brought kimchi; and the Hawaiian guys brought squid luau, poi and little steamed packages of taro leaf stuffed with meat called lau lau. I started dreaming about how I would bring these flavors to a restaurant setting, but first I had to learn to cook like a local.
---
Chef Pete
r Merriman has been as a culinary pioneer in Hawaii for over 25 years. Known as the original "locavore," Peter is a vocal champion of Hawaii's farmers, ranchers and fishermen. His restaurants on Oahu, Maui, Kauai, and the Big Island showcase island grown and harvested foods through simple preparations that reflect the myriad flavors of Hawaii's multiculturalism. Dubbed the "Pied Piper of Hawai'i Regional Cuisine" by The Los Angeles Times, he is a continuing inspiration to Hawaii's thriving culinary scene. Learn more—and make reservations—at merrimanshawaii.com.
"Island Style" is excerpted from Peter's cookbook, Merriman's Hawai'i, which is available on Amazon. Copyright © 2015 by Peter Merriman and reprinted here by permission.
Retrospect Team
Tags: cooking, Hawai'i, chef
Characterizations: , funny, right on!, well written