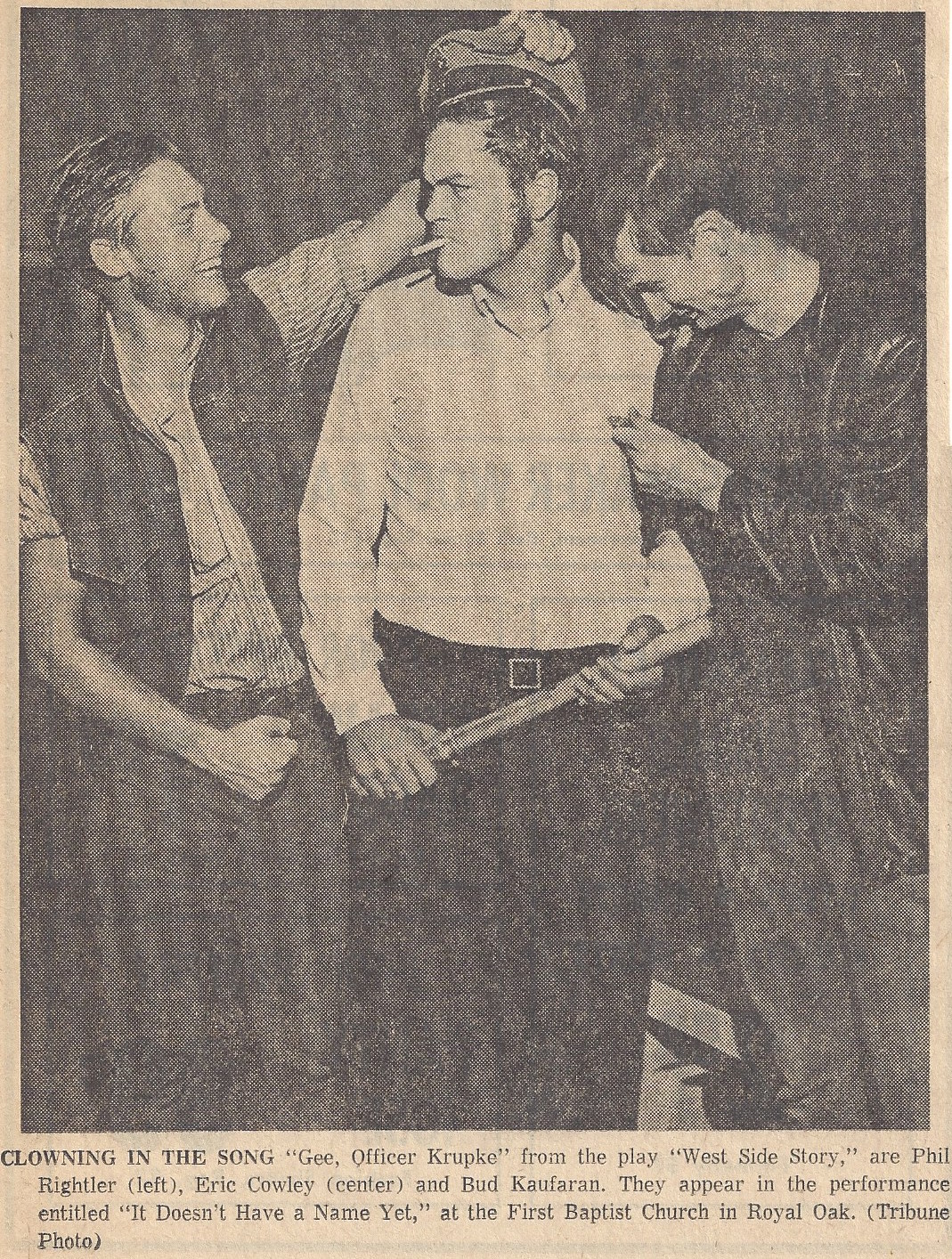 It all started because we'd had too much fun in high school drama club. In the spring of my senior year we put on Bye Bye Birdie, and we had such a good time, and bonded so closely, that we didn't want to give it up when we went off to college.
We wore multiple hats because we had to, but we also thought we could do anything and no one was there to tell us we couldn't.
So the following summer we formed a summer stock company, the Royal Oak Hardluck Players, and put on Oklahoma! in a local church auditorium. We rented scripts, scores, and costumes and recruited our high school drama coach, Miss Levi, to direct. Patti choreographed it and I was the pianist, just like for Birdie. The production was successful and we donated $125 to the church's orphanage fund.
So let's do it again! But what to perform? We didn't want to do another classic—who needs another production of Carousel?—and more recent musicals were either too expensive or too hard for a pickup teenage group to produce.
Someone suggested a musical revue. That was the ticket! We could never pull off West Side Story, but wouldn't it be cool to stage "Gee, Officer Krupke?" We would never produce Fiddler on the Roof, but Pat could don a beard and ringlets and daven his way through "If I Were a Rich Man," as he had done to our delight at parties. We wouldn't do Oliver, but Patty, who had played Laurey in Oklahoma!, could sing "As Long As He Needs Me." Funny Girl was out of reach, but Carol could sing her heart out on "People." We would never do Zorba, but Betsy could settle an argument about the meaning of life by singing "Life is what you do when you're waiting to die," and the villagers could celebrate with a Greek dance that took Patti weeks to teach them. ("Life Is" had extra resonance for us, because in the past year we had lost our friend Keith, just before starting college, to a freak swimming accident. We dedicated the show to him and donated half the proceeds to a scholarship in his name.)
But how to weave the songs together? With our favorite passages from our favorite books, we decided. We would "borrow" the book just as we "borrowed" the music. We quoted from Alice in Wonderland and The Velveteen Rabbit, all the way to Cat's Cradle and The Electric Kool-Aid Acid Test.
We all wore multiple hats, partly because we had to, but also because we thought we could do anything and no one was there to tell us we couldn't. Patti not only choreographed the show, but also co-directed it with Phil. Neither had directed a play before. I arranged the music and played piano—ably assisted by a guitarist and drummer—but I also conceived and compiled the script, and wrote some allegedly humorous connective dialogue that I would now describe as "sophomoric." (Hey, I had just finished my second year in college. If you can't be sophomoric when you're a sophomore, when can you be?) And I wrote two original songs: an upbeat two-step number called "Join Us Now" that Bud sang to open the show, and a delicate close-harmony duet about war and injustice called "Contrasts" (sung by Claire and Kathy) that fit nicely into the second act. They remain my only two attempts at songwriting, and I swelled with pride when our high school chorus teacher complimented me on them after the show.
I also wrote a song parody to the tune of "The Telephone Hour" from Bye Bye Birdie. Instead of "Hi, Nancy!" "Hi, Ursula!" our characters mimed lighting a joint and sang, "I'm high, Nancy," "I'm high, Wilbur!" Instead of the refrain "Going steady!" we sang, "We're unsteady!" I have to confess that, at the time, I had never been high in my life, but the parody was just too rich to ignore.
I was working that summer as a mail carrier, but the show kept me busy when I returned home from my route around 3:30 each day, working on the script, arranging the songs, mimeographing the lyrics. In the evenings we'd rehearse wherever we could. My parents' basement had a piano so we often ended up there.
As we compiled and rehearsed the show, cast members kept asking, "What's it called?" We hadn't yet finished the script, so we'd answer, "It doesn't have a name yet." We gave that answer so often, it became the title.
The show was in two acts. The first was a lark, containing most of the songs I've already mentioned. In the second, we got more philosophical—and more political—with a loose but actual storyline. Several members of the cast are listening to the draft lottery broadcast, and Mark pulls a low draft number. The group brainstorms ways to avoid it—two of them sing Phil Ochs' "Draft Dodger Rag"—but they all know he is likely to be called up and shipped off to Vietnam. The answer, Mark concludes, is not to evade the draft but to stop the war.
At that point the show turns into a peace rally. Bud reads a long passage from Catch-22 about the futility of war, and Mark and Patti sing Peter, Paul, & Mary's "The Great Mandala," which echoes the same themes. The cast takes to the auditorium waving signs and chanting slogans.
But someone heaves a brick through a store window. A police whistle sounds. Cops arrive and chase the protesters. And just as Eric—returning as Officer Krupke for his revenge—is poised to bring down his billy club on Bud's head—
The lights black out. The stage goes silent. It seems interminable—until Bud emerges from behind the curtain and sings Spanky & Our Gang's "Give a Damn." Devastating.
The cast files back in, and for the finale we return to Broadway: "If We Only Have Love" from Jacques Brel is Alive and Well and Living in Paris.
If we only have love
Then tomorrow will dawn,
And the days of our years
Will rise on that morn.
It's an anthem to hope and change and community, and above all to love, which, we sing, will melt all the guns and grow the desert green. It's our anthem, the generation that embraced the Beatles' exhortations that "Love is all you need" and "Give peace a chance."
We start in unison, split into two parts, and finally into rich four-part harmony that I had laboriously cribbed from the cast album. As we sing, we change positions, so that by the time we sing the last verse—
Then with nothing at all
But the little we are,
We'll have conquered all time,
All space, the sun, and the stars!
—we have formed a peace sign on and in front of the stage.
Thunderous applause. We know how to milk an ending.
Idealistic? Definitely. Naïve? Probably. But years later I wrote in a college reunion report that all we are left with, when it comes down to it, are love and art. That summer, we had both.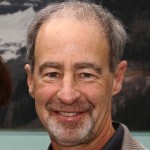 John Zussman
John Unger Zussman is a creative and corporate storyteller and a co-founder of Retrospect.
Characterizations: been there, funny, moving, right on!, well written