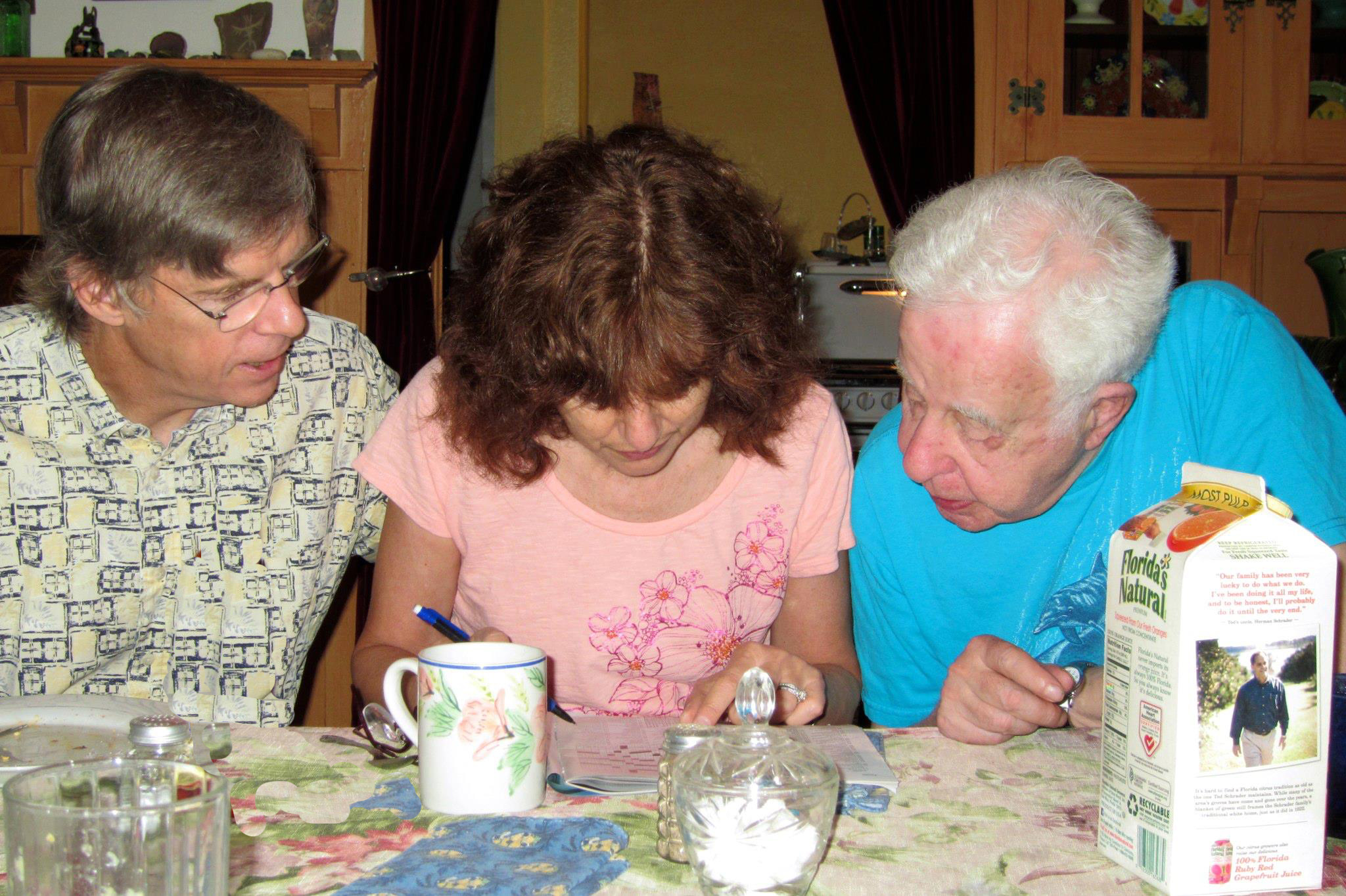 I have always loved playing word games and doing crossword puzzles. But here's the thing – to me they are social activities, done with other people. I don't think it's fun to do a crossword puzzle by myself, unless of course someone else is doing the same puzzle and we are competing to see who can finish it faster.
I love word games and crossword puzzles. But here's the thing - to me they are social activities, done with other people.
From the time I was pretty young, my mother and I would do the puzzles in the Sunday New York Times Magazine together. There were two puzzles on the page. The top one was a standard crossword puzzle, and the bottom one rotated among three different types: double-crostic, puns and anagrams, and diagramless. (I don't know if those three are still in the Magazine these days, and a google search didn't tell me.)
My mother's favorite was the puns and anagrams, and once she taught me how to do it, it was my favorite too. To solve each clue, you either needed to figure out the pun it contained, or rearrange the letters of the clue into an anagram. It seemed that we both thought like the creaters of these puzzles, and we could usually solve them without too much trouble, especially when the two of us working together would play off each other's ideas. Not quite as entertaining but also fun was the double-crostic, which involved writing the answers to clues on lines with numbers underneath them, and transferring those letters into a grid where they made a quote. Then, taking the first letter of each answer, you got the author and book title for the quote, so if you figured that out early on, you could work backwards. Together we could almost always complete those in the course of the day on Sunday. We only ever did the conventional puzzle at the top of the page if we finished the bottom puzzle relatively quickly, or else on the one week out of three when there was a diagramless, because who the heck knew how to do a puzzle when there was no grid to fill in? I still have no idea how to do a diagramless puzzle, although I suppose nowadays one could find instructions on the internet.
In my current life, while I only have a digital subscription to the Times, which does not include the Magazine, I can still do the regular crossword puzzle, both daily and Sunday, because they are printed in the Sacramento Bee, albeit a week later. As most people probably already know, the puzzles get gradually harder from Monday through Saturday. The Sunday puzzle is of only medium difficulty, but a lot bigger. I never bother with the Monday, Tuesday, or even Wednesday puzzles, they are just too easy to be fun. I actually like Thursday's the best, because it generally has some kind of little trick to it, like two letters in one square, or words that wrap around from one side to the other. Once, every other line of the across clues needed to be written from right to left. It seems more witty, almost like the puns and anagrams. Then Friday and Saturday are just plain hard. My husband and I often start out with separate copies of the puzzle, then end up combining forces if we get stuck. But our systems are a little different – he likes to put in guesses, whereas for me, the first time through all the clues, I only like to put in words that I am sure of. If he were not interested in doing it, I don't think I would bother. The fun is in the collaboration or competition as much as in solving the puzzle itself.
Another word game I like is Scrabble, although I got much more enthusiastic about it when I started playing it online rather than in person. I like the fact that online you don't have to complete the entire game at one sitting, you can play as many moves, or as few, as you have time for that day. It can take as much as a week for me to finish a game, and that's okay. I also like the variation called Words With Friends, and I play that one on my phone with friends all over the country. In both games there is a chat box, so you can have a conversation with the other person while you are playing. I only play with people I know, and it's a nice way to keep in touch.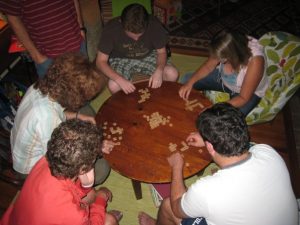 This picture is from our 2008 family reunion, playing a game called Take Two.  I am on the left in the pastel striped shirt. On my right is my mother, who is just watching, then, counterclockwise, my nephew, his sister, and my son. Standing between my son and me, also just watching, is my husband.
As you can perhaps tell from the picture, Take Two uses Scrabble tiles, but no board. All the tiles are placed face-down in the middle of the table and each player takes a certain number of starting tiles. From their starting tiles, each player tries to make a grid of connecting words without using each other's grid or tiles. When someone has used all of those starting tiles, s/he shouts "take two" and every player takes two more tiles. This continues until all tiles have been taken. The person who has the fewest tiles left over is the winner. It's fun in a different way from Scrabble or Words With Friends, because speed is emphasized. But it's still the same basic principle of taking an assortment of letters and turning them into words.
All of the puzzles and games I like involve words. I have tried Sudoku, but I find it both difficult and boring. Even when I figure out which numbers go in which boxes, I feel no satisfaction from it. As I continue to look for ways to keep my brain sharp, it's only words that will do it for me.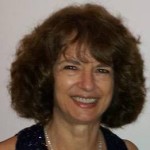 Suzy
Characterizations: right on!, well written