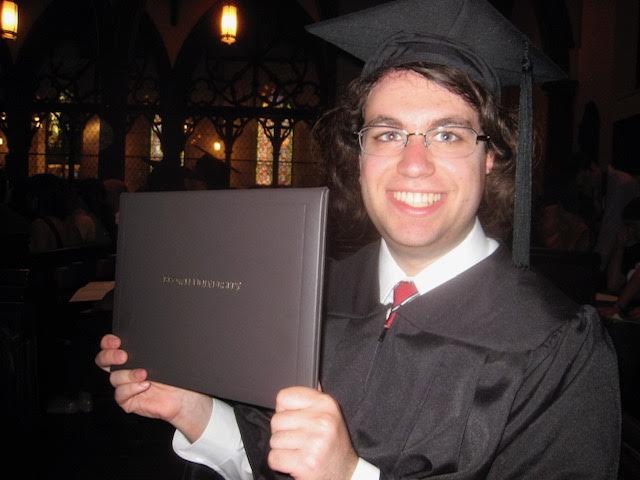 Among the many things we liked about Brown for Jeffrey were the accommodations made for him. (Jeffrey transitioned to Vicki about eight years ago. The trans community does not want to be called by their previous name, called their "dead name", so I know I am being disrespectful to my child when I refer to her in this story as "Jeffrey", but she was still Jeffrey, with no hints of the coming transition, when this all took place. Her diploma says "Jeffrey", so that is the name I will use here.)
Given the stress that came with workload, he was allowed to take a lighter course load. He just didn't graduate in four years, but that was fine with us. Thus, he finished his degree requirements in December of 2011, as did about 100 of his peers. Brown staged a nice little ceremony for those students on December 3 with speakers and a reception. Each student was called up onstage and given a pin and certificate (though not a diploma, that would only be given out at Commencement, which only happens each May). Our immediate family came and enjoyed this ceremony.
Since it was the end of a semester and the offices were closed for the break, we had to wait for his credentials to come through from the registrar. He had to provide his final transcript to Apple as part of his accepted job offer. Getting that was a bit of a scramble. We also went out and helped him buy his first car, which he got at a discount because he was a new college graduate. In the few weeks before he moved to California (his job was at Apple Headquarters in Cupertino; they paid all the moving expenses, including relocating that car), we worked on his driving skills. He was very nervous getting on and off highways, so that's what we worked on.
But I still wanted to see him in cap and gown, with diploma. He had worked SO hard for all that he had accomplished. He graduated with a 3.7 average and had to take a course that demonstrated writing proficiency. That would have been close to impossible four years earlier, but now he did it with ease. He was even a TA for a favorite teacher. I wanted him (and us) to celebrate all of that with the full ceremony, beyond the little December event.
Brown's Commencement is always Memorial Weekend and I begged Jeffrey to come home for the long weekend and participate. I thought that rite of passage was worth celebrating. He listened to me, the ticket was booked and our family gathered, including Dan's aging, beloved mother, Gladys. We didn't know at that time that it would be the last time she would travel to Boston. She learned that she had leukemia a few months later.
Jeffrey flew in, David came up from NYC where he was doing his PhD at Columbia. Knowing that Gladys could no longer walk long distances, I contacted my friend Andrea, a Brown Trustee, about how to navigate the day. She gave me instructions about where to park and to get there early to claim seats. There is a chapel service just for the graduating class early in the day (Providence is an hour drive from our home), then everyone, including alumni, in town for their reunions, line up for the processional, which takes a long time for everyone to enter the quad and be seated.
We got our seats saved and waited. I wandered a bit and saw Jack Nicholson, whose daughter was graduating, being led by a staff person, getting VIP treatment. He looked like he had just gotten out of bed. A large family group sat next to and in front of us, led by a friendly mother, with adult children and their spouses/significant others. She had bags of bagels and coffee to hand around while they waited. I chatted with the young man next to me. He looked so familiar. Much later I realized why. He was actor Joseph Cross (I checked the program and saw his sister was graduating), who later that year would appear in the movie Lincoln as the President's young secretary John Hay. Ironically, the real John Hay, who went on to have a distinguished career beyond being Lincoln's junior secretary, went to Brown and has a library bearing his name, housing his papers, on the quad where we were seated that day.
Eventually, everyone in cap and gown got in and was seated. The program commenced, speeches were given (which no remembers, universally true of commencements). Then we all found our graduates, took photos and continued to the diploma ceremonies for the individual programs. Jeffrey's was Computer Science.
As it happened, my friend Andrea had been a CompSci major at Brown and actually handed Jeffrey his diploma, which made it even more special. We've known each other for years on Martha's Vineyard and discovered that she and Dan are step-cousins on the Pfau side of the family (Pfau was my father-in-law's stepfather, but Andrea is actually related to Erv's step-brother, which is a pleasant coincidence). We belong to the same club and see other throughout the summer.
We went to a little reception for the Computer Science department, then drove back to Newton. The day had been long, but hugely satisfying. We rested, changed our clothes, then took Jeffrey out to his favorite restaurant: the Capital Grille, to complete the celebration. I think he was happy that he came home to receive his diploma, wear a cap and gown, march with his friends and bask in his accomplishments. I know we were.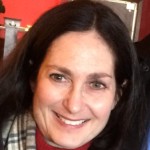 Betsy Pfau
Retired from software sales long ago, two grown children. Theater major in college. Singer still, arts lover, involved in art museums locally (Greater Boston area). Originally from Detroit area.
Characterizations: moving, right on!, well written