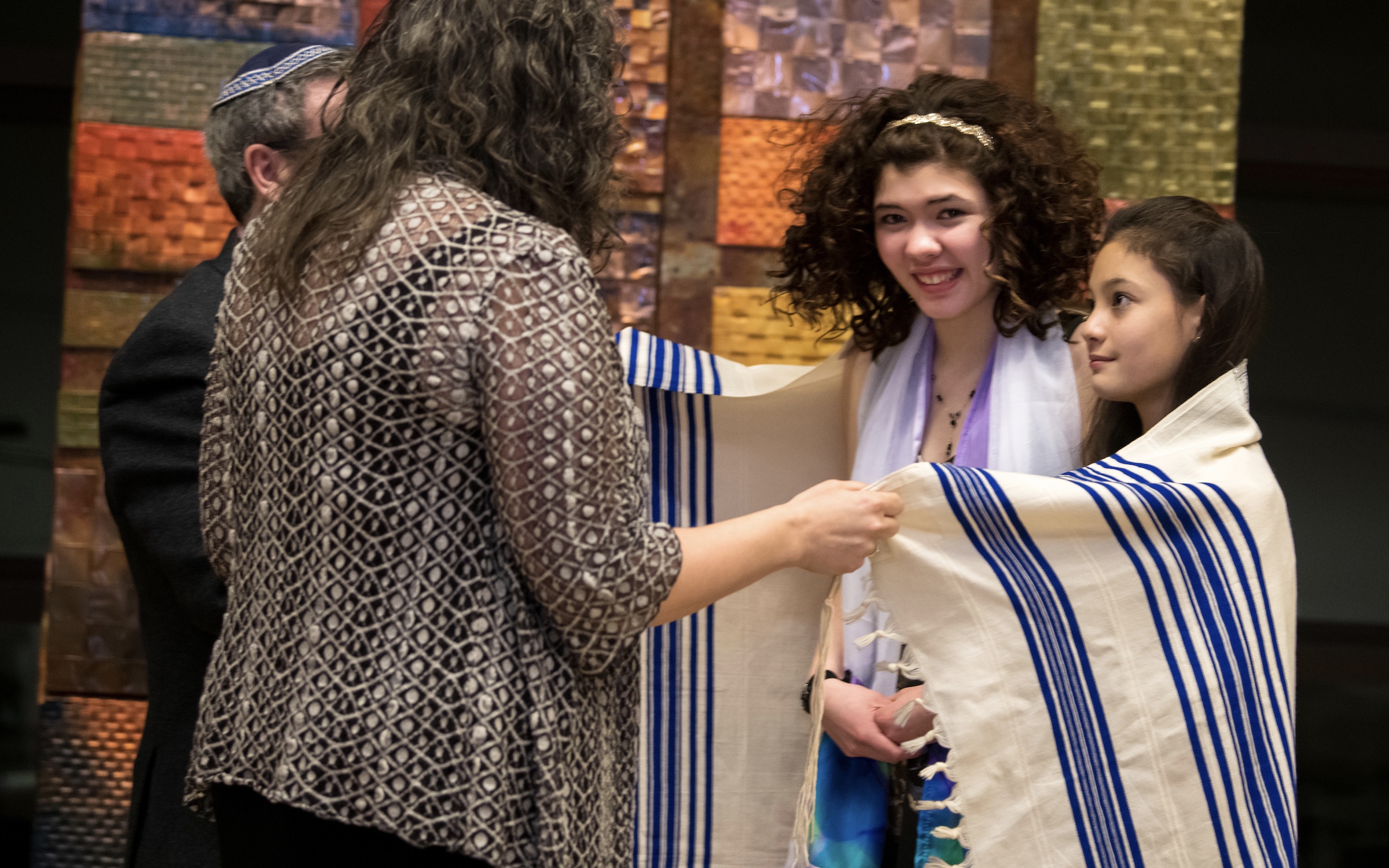 A Bar or Bat Mitzvah is a sacred rite of passage for Jewish children who are thirteen, marking their transition into becoming an adult member of the congregation. When my twelve-year-old granddaughter started preparing for her Bat Mitzvah, her fifteen-year-old sister, who has a significant language disability and is anxious in front of crowds, requested to have one as well. She claimed she wanted to be on the stage, and her little sister generously agreed to share her big day.
I have been part of and attended many ceremonies in my lifetime, but on February 23, 2019, I experienced emotions I cannot find words to express.
My daughter cautiously broached the topic with Rabbi Rachel Weiss of the Jewish Reconstructionist Congregation (JRC) in Evanston, Illinois. In the past, at other congregations, including her older child was a big deal. There was a painful Sunday School experience many years earlier in which she sat in the corner coloring with a teen volunteer, ignored by the teacher and other children. When I asked if there was a better way to include her, I was told the congregation didn't really do that.
At JRC, becoming part of the religious community was simple. We brought her to services meant for everyone, regardless of differences. All were truly welcome. If she focused on her phone or sat when she was supposed to stand or drank water during the Yom Kippur fast, no one cared. Perhaps it was the feeling of belonging plus her love for all of the music in the service that made her comfortable. She started following the service in the prayer book, and then came her big ask. She wanted to have a Bat Mitzvah like her little sister.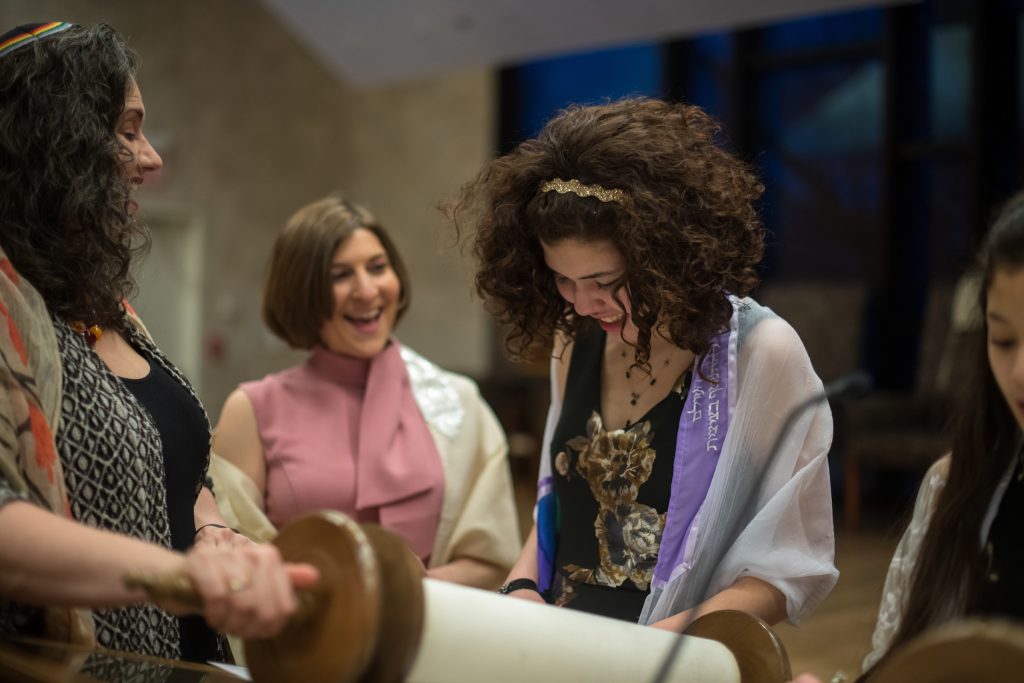 Turns out, if one is flexible and accommodating, technically all she had to do was to be called to the bimah (raised platform used for reading from the Torah) to recite the blessings before and after the Torah reading. She practiced those blessings but we had no idea if she would recite them in front of a congregation. To our amazement, she did, but she did much more.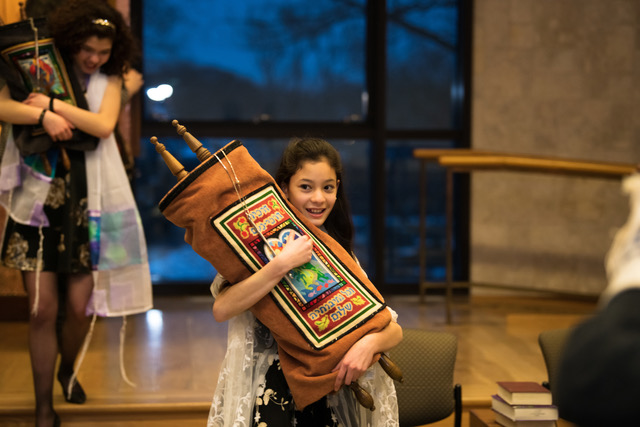 Rabbi Weiss and Cantor Howard Friedland respectfully asked her if she wanted to carry a Torah. She did. She danced with joy as she proudly carried hers next to her sister. Each time there was an opportunity to participate, they asked if she wanted to try it. Would she let her grandfather wrap her in a tallit (prayer shawl)? She did. Did she want to come up so her parents could tell her how proud they were of her. She did. Would she like to join her little sister on the bimah to receive the priestly benediction? Yes, please.
It took so much courage for Daniella to stand in front of all of our family and friends and to read and chant. Her beautiful singing voice was no longer our special family secret. And we were so proud that Maya was not only willing but excited to have her sister join her for this special ceremony. She even agreed to take on a few extra lines of Torah learning to make this day possible for Daniella. The B'not Mitzvah (plural) was made possible because of Maya's loyalty, love, and kindness as a caring little sister.
I have been part of and attended many ceremonies in my lifetime, but on February 23, 2019, I experienced emotions I cannot find words to express. This photo says it all.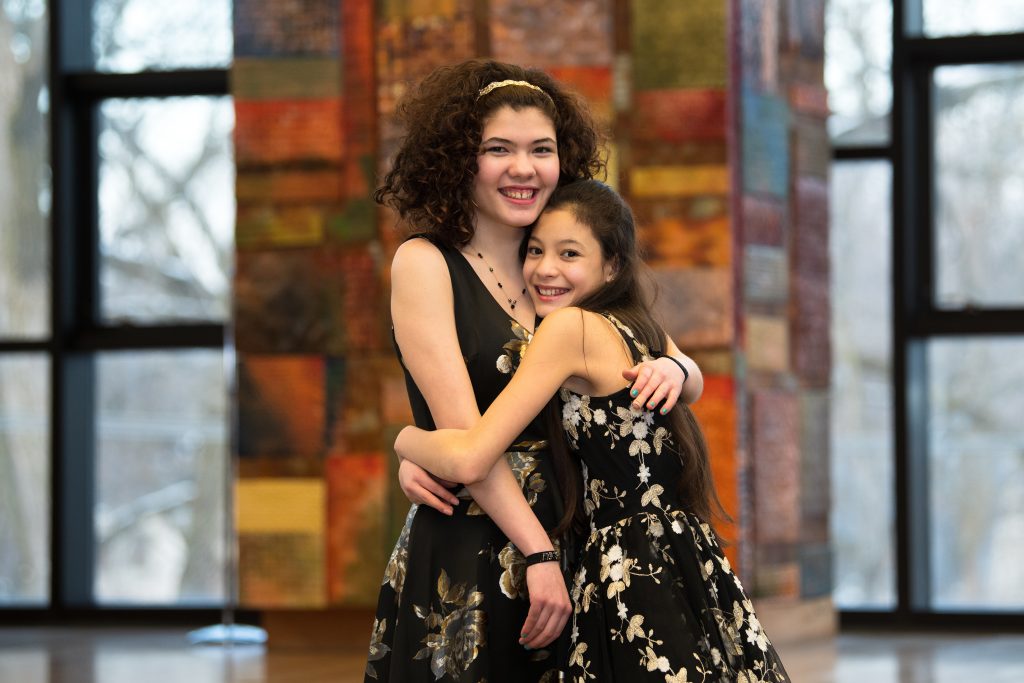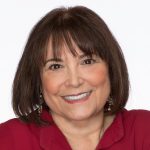 Laurie Levy
Boomer. Educator. Advocate. Eclectic topics: grandkids, special needs, values, aging, loss, & whatever. Author: Terribly Strange and Wonderfully Real.
Characterizations: moving, well written