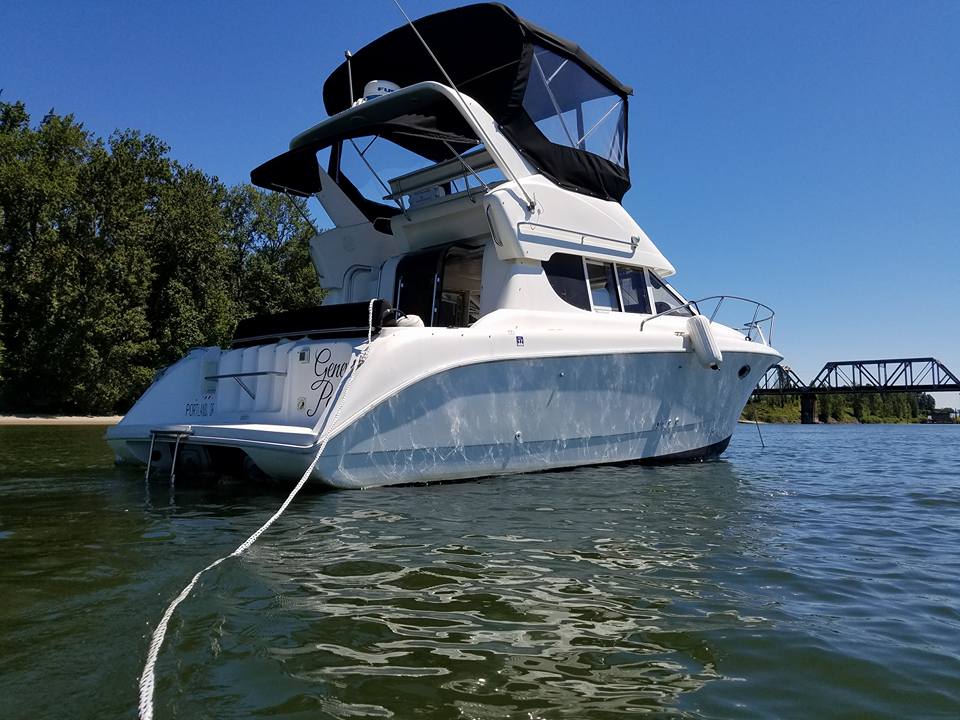 This is a snow story. It starts out sounding like a summer fun story. But trust me: this is a snow story…
Have you ever had one of those times when something was supposed to be really straightforward and easy, but then it turned into… an experience?
Several years ago, Brian and I realized we both have a true love of boating. We started doing excursions on the Columbia River with friends who had their own boat, but soon decided we wanted to have the freedom to spend time on the water ourselves, to go where we wanted to go on our own schedule. We purchased a 26-foot used boat—a "cutty cabin"—that we used almost every day on weekends. We stored the boat at the Sundance Marina on Hayden Island. While the boat was large enough that we technically could have overnighted on it—and could have done so with the boat tied up at the dock where it was kept overnight, and where there were restrooms and showers—the logistics of doing so would have been awkward. So we drove home each Saturday night and drove back to the boat each Sunday morning.
We lost that first boat on leap-day in 2016, in the massive Sundance Marina fire—you can read an article about it here—and we discovered to our relief that we had very much over-insured that boat. We were able to receive back the full amount that we had paid for it. Now, armed with experience in how we liked to go boating, we went looking for another boat.  This time we wanted one that was a little bit bigger and that had both a head (i.e., a bathroom) and a galley (i.e., a little kitchen), so we could comfortably spend multiple days and nights on the boat on weekends.
Enter a 32-foot 1986 Silverton which we christened "Geneva Pearl". (Geneva was the name of one of Brian's grandmothers, and Pearl was the name of one of mine.) We had a camper canvas added so that we could enjoy the boat year round, even in the Pacific Northwest's rainy, chilly winters. We rented a slip for the boat at the Jantzen Bay Marina on Hayden Island, conveniently located across the street from a Safeway with an inside Starbucks. We often referred to "GP" as our "RV on the water", as it had a dinette, a galley (with a microwave and a pair of electric burners), a head, two bunks, and a "v-berth" at the bow. We even got a TV and a DVD player so we could enjoy movies overnight. We purchased an electric kettle for making coffee, and a little space heater to keep the cabin cozy on cool nights.
Now we found ourselves leaving home sometimes even on Thursday or Friday night, returning after a final day of weekend boating on Sunday. We usually just returned to our slip at the Jantzen Bay Marina each night we were boating, but we still didn't have to drive all the way home just to sleep. The marina has power, WIFI, restrooms, and even showers, so it made for more comfortable accommodations than just the boat. We also discovered how soundly one can sleep on a boat, with the gentle rocking and sounds of water lapping gently against the hull.
In the first days 2017, we were concerned about the weather forecast for the night of Tuesday, January 10th, predicting that the temperatures would get down into and stay in the teens (Fahrenheit) overnight, and about an inch of snow was expected. We worried that the heat we were providing in the engine compartment might not be enough to keep the engine warm for a sustained period of below-freezing temperatures. At that time, Brian had a commute to work, and since I worked from my home office full time, we decided that I would go spend one night on the boat, making sure that the engine compartment stayed safely warm to protect our investment. I packed up my laptop and a set of clothes for the next day and drove the 30 minutes to the marina.
That night, after briefly running the engines and checking the heating we had set up for them, I donned my comfy pajamas and thick winter socks, and climbed into the berth, nestling myself under two or three layers of fluffy blankets. As always, I slept deeply and comfortably.
Early the next morning, I snoozed and luxuriated in the warm, cozy berth. I knew I would have to get up soon, and my plan was to use the marina showers, do some work from the boat, and drive home after rush hour had passed. I rolled over to peek out the "port" porthole to see if there had been any accumulation of snow—after all, even a little bit of snow in the Portland area is an event. Well, I could not believe my eyes: instead of seeing a light dusting of snow on the dock, there were several inches. 
Expletives flowed abundantly from my mouth, along with deep wells of denial, as I rapidly pulled on jeans and a jacket over my pajamas and slipped my shoes over my thick socks. "No, no, no, no, no," was all I could say (at least all that I could say that is suitable for printing) as I stepped out of the boat and surveyed the scene at the marina. Not just one inch, but about fourteen had fallen on Hayden Island. Stunned and still disbelieving, I took my phone out to snap photos of the beautiful but dreadful snow scape.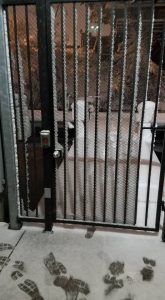 Now many readers in different parts of the country or the world will wonder what could be so awful about a foot or so of snow. Allow me to explain. Portland, while in the Pacific Northwest, has a very temperate climate. In terms of growing zones, Portland, Oregon is just a single zone cooler than central Florida! It very seldom stays below freezing for more than a couple of days at a time, but it does happen once in a while. Because of this paucity of heavy winter weather, the greater metropolitan area has practically zero infrastructure in place for dealing with snow. If even an INCH of snow is going to "stick", the city pretty much just shuts down until it thaws.
I WAS TRAPPED! I knew there was no way I was going home that day—or maybe not even that week.
I trudged up the ramp and through the snow (in just trainers, definitely NOT snow boots) across the street to the store. Fortunately, the Starbucks lady had made it in that day somehow, so I got as big and as chocolatey a mocha as they offered. Everybody who worked there was as shell-shocked as I, all talking about how amazing it was and how rare.  I contemplated what groceries I was going to buy in order to feed myself at least for that day, but also knowing that I'd probably need to stock food for "the long haul".
As the day progressed, I spoke with Brian. He had thought that maybe he could get to the marina to pick me up in his car, since it had better traction than mine. No such luck: he couldn't even make it off our own street!
Another concern expressed to me by the folks in the marina who live full time on their boats was the fear that the snow would sink the marina docks. So much weight on the roofs of those floating structures could push the docks right down to the bed of the river—and could even tilt and capsize boats tied to them by pulling down on the mooring ropes. After a little while feeling concern about this, I decided that unless it snowed again, the docks were not likely to sink, but that our boat did need to have its ropes loosened so it wouldn't be sitting at an angle, pulled down a few inches by the docking ropes.
And so it is that I spent the next three days mostly sitting in the boat's dinette, wearing pajamas as if they were thermal underwear under my clothes, doing my work using the laptop and the marina's barely adequate WIFI. The stormfront and snow had changed the forecast so that the daily temperatures were going to mostly stay below freezing for days. Even with the space heater running all out, the thermometer in the cabin probably never topped 55 degrees that week, even in the middle of the day. I even tried using the kettle to "steam up" the inside of the boat to make it warmer, but that mostly just fogged up the windows.
There are restaurants on Hayden Island, but I couldn't imagine trying to drive even a quarter of a mile using my little Ford C-Max in those conditions. I definitely wasn't going to be in any condition to walk through snow and still be comfortable getting to a restaurant, cold and with snow-filled sneakers. So stocking up at Safeway was it.
One bright moment of the week was on Friday morning when my friend and client, Jim McVittie, invited me for breakfast on his boat, Papillon. He had her moored on Hayden Island, just a very short drive away, and by Friday, the streets at least had ruts made in the snow. For the sake of company and a change of scenery, I felt I could carefully drive that far. Jim's boat has a full kitchen, and he made a great, warm breakfast for us both that day.
Finally on Saturday, Brian braved the drive to Hayden Island (bringing with him some fresh clothes as well). Usually just 30 minutes, it took him considerably longer, even days later. There was still a dangerous amount of snow and ice on many of the roads, as the snow would melt some during the day but then just re-freeze each night. That night, I enjoyed a much better meal. (Brian is an amazing cook, and can work wonders even with just a toaster oven and an electric range!)
That Sunday morning we had yet another surprise as the water in the marina had iced over about a half inch. Any amount of ice forming on the Columbia River near Portland is extremely rare, and that was another oddity to add to the week.
Having lived in Ohio, Illinois, and Iowa for some years of my life, I would never have expected that my life's most interesting snow story would end up happening in Portland, Oregon, or that it would have anything to do with our favorite summer activity, boating! But just like that "one night on the boat", sometimes a story you think is going to be about one thing, turns out to be about something else entirely.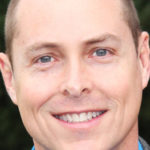 Arthur Breur, Composer
Arthur Breur is a composer and web developer currently living in the Portland suburb of Durham, Oregon. He recently completed a commission to compose a military "theme" march for the US Army's 44th Air Defense Artillery. His web development company, FireSpike LLC has been in business since 2001.
Characterizations: well written