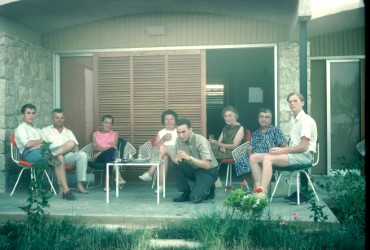 I am a fair bit late to the prompt this week, having just returned from a three-week vacation in New Zealand.  Talk about First World problems.  But this has also given me the opportunity to read others' stories first — is that cheating? — and allowed me to experience a #MeToo moment, albeit in a good way.
I too have always loved snail mail letters: the inherently personal nature of them (especially handwriting), the tactile nature of them and the sheer anticipation of them.
In short, and stealing copiously from other Retro writers' well expressed views, I too have always loved snail mail letters: the inherently personal nature of them (especially handwriting), the tactile nature of them and the sheer anticipation of them. To be sure, the immediacy of email is terrific, and I like to think that one can still express one's poetic soul in them, but still…
The  correspondence that I had with my girlfriend Susan the summer of my junior year of high school still stands as the apotheosis of my letter-writing enjoyment, to put it in the loftiest of terms.  We were both off to Europe for the better part of that summer: I was going to Italy and Greece with my family and another family we were very close to, and Susan was going to various parts of France with a Putney School group.  We had mixed emotions; excited about our respective adventures but also miserably anticipating missing each other in that usual high school angst/agony of such relationships. Plus, I was convinced that Susan would meet some incredibly cool preppy guy, probably smoking Gauloises, and dump me for him. But we both had clear itineraries for our trips, so were hopeful that we could write back and forth the whole time.
And our correspondence that summer was wonderful in every way.  Sadly, I don't have the letters from Susan anymore — though I doubt I would share them anyway — but the featured image is a photo of our two-family group relaxing on the patio of our beachfront villa in Greece; I am Joe Cool (albeit not preppy cool) on the far left. And here is a stock photo of the kind of lightweight air mail envelopes we used back then to mail our (equally lightweight) letters in: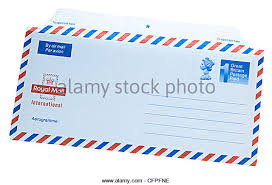 Remember?
Even with itineraries, the logistics were complicated, as both Susan and I wanted to make sure that our letters did not arrive at a destination after the other had departed.  Plus, it was difficult to carry on a "conversation," as opposed to a continuing narrative, never being sure if the last letter had arrived or the current letter might cross with another one. But I cannot overestimate the joy I had of receiving a letter from Susan — or, on occasion, a couple at once — and then immediately repairing to some private space to read it/them.  And it made the anticipation of the next new venue that much more exciting, knowing that the hotel might already have a letter or two awaiting me when we checked in.
And the contents were delightful.  Both of us considered ourselves keen observers and writers — indeed, we had first met when we were both asked to give speeches for the opening of our new junior high school —  and so we really tried to describe our respective adventures brilliantly and wittily. I am sure that, in retrospect (ahem), they would now read as pretentious high school puffery, but cut a couple of smart 60's high school kids a break.
Moreover, as if by some unwritten rule, we both dedicated at least one paragraph of each letter to expressing our thoughts for each other.  It was undoubtedly tame by today's sexting standards, but still thrilling. I remember one particularly amusing exchange where Susan indicated a desire to send me a perfumed letter, which was delightfully flattering, but we both admitted that we had no idea how to go about doing so without soaking the letter and probably blurring everything written in it. But, as they say, it is the thought that counts.
The last week of our family trip, we all broke up for separate destinations, and my mother permitted me to fly to Paris alone, where Susan's group was then decamped.  I decided to make it a surprise, so I didn't mention it in my letters — I think I suggested I was going to go to Tel Aviv with my mother and grandmother.  The surprise worked perfectly once I tracked down the right hotel, and I was delighted to learn that there was no preppy boyfriend on the scene (indeed, I now realize that a lot of the boys on the trip were likely gay) and less delighted to realize that Putney, despite its highly progressive reputation, took its chaperoning duties on the trip very seriously. But perhaps most importantly — at least for this story — our exchange of letters, written carefully and lovingly, allowed us to continue, and even to grow, our connectedness, even while far apart. And isn't that the whole point of letters?
John Shutkin
Characterizations: funny, well written