I accepted and adjusted just fine in the past seven weeks. I stayed in touch with pals, kept active with online exercise videos and organized closets, drawers and files.
Now…as a few restrictions are lifted in my state, it feels like another adjustment. Have you noticed how normal and comfortable staying home has become?
Yesterday I rode my bike to a friend's house. We sat in her driveway, well apart…laughing and talking all afternoon. Today I went to Meijer's garden entrance and bought a basket of flowers. Feels like I should say "yay me!"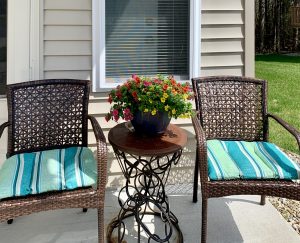 Next week I want to try the early morning hours to get my groceries…no more ordering online. (They put things in your cart like black cherry ice cream. Or red wine. Or chocolate chip cookies…oh my! 🤨😉)
We can be safe and wise with our masks on and keeping 6-10 feet distance apart as we get what we need and get home. It feels hopeful. It's not time yet to wander Target, nor gather at our favorite taverns, but days of browsing will return as will Girls' Nights Out.
Sharing wine with friends via Zoom or FaceTime may soon move to driveways or large enough decks where spreading out will feel normal. Small steps and protecting others will get us there. And then we can applaud!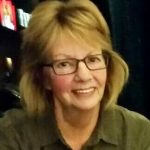 joan stommen
Retired reporter, teacher and principal. A grandma, traveler and blogger who still writes and substitutes when I'm not off on adventure.
Characterizations: right on!, well written