A Modest Proposal to Address the Problem of Homelessness in the Modern World
By Jonathan Swift's Ghost
I am Jonathan Swift, and I have returned from the dead to address the most pressing issue of our time: homelessness. I am not here to offer a serious solution, but rather to satirize the absurdity of the problem and the inadequacy of our responses to it.
In my day, homelessness was a serious problem, but it was nothing compared to the scope of the crisis today. In the United States alone, there are over 550,000 people who are homeless on any given night. And yet, our politicians and policymakers seem content to do nothing about it.
One of the most common excuses for inaction is that homelessness is a complex problem with no easy solutions. But is it really that complex? Isn't it simply a matter of providing people with a place to live?
Of course, there are other factors that contribute to homelessness, such as mental illness, addiction, and poverty. But these are all problems that can be addressed with the right resources and policies.
The real reason why we don't end homelessness is because we don't care enough about the people who are homeless. We see them as a nuisance, a burden, or even a threat. We dehumanize them and make them invisible.
If only homelessness was a problem that could be solved by looking away rather it is a problem that is staring us in the face every day.
So, here is my modest proposal for addressing the problem of homelessness:
We should start by rounding up all of the homeless people in the country and putting them in camps. We can call these camps "Homelessvilles."
The Homelessvilles would be self-contained communities, with their own housing, schools, hospitals, and businesses. Residents of the Homelessvilles would be required to work, and they would be paid a small stipend for their labor.
The Homelessvilles would be funded by a tax on the wealthy. After all, the wealthy are the ones who have benefited the most from the economic system that has created homelessness.
Once the Homelessvilles are up and running, we can start to think about ways to transition people back into the mainstream society. But for now, the important thing is to get them off the streets and into a safe and supportive environment.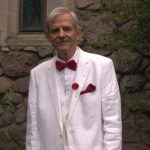 Kevin Driscoll
(Mostly) Vegetarian, Politically Progressive, Daily Runner, Spiritual, Helpful, Friendly, Kind, Warm Hearted and Forgiving. Resident of Braintree MA.
Characterizations: funny, moving, well written