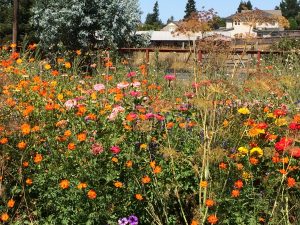 Our Garden
You, the ruthless pruner,
who fears not the bend of limb and tearing of tissue
Somehow reflect a greater faith in the Divine plan
and the blooming of Life.
Me, the timid intruder,
who observes and reveres
the struggle to survive-
Ever too aware of the pain and trials
of growth and death.
We, the pair of gardeners
of internal and external motion,
Coming from such distant points
to join our endeavors.
You, the total acceptor of what is,
Expectation unfolds at turns and corners
Me, the dreamer of what could be
Surrenders not to the current vision
We, the polar ends in this magnet,
pull toward each other's infinite truth
And repel each other's wounded, flawed illusions
You, the receiver of given,
the demander of focus,
Sees that stability
is not a symptom of health
Me, the treasurer of wonder,
the follower of intuition,
Hears the forever yearning
in all things,
living and not
We, the learners of Now,
the rememberers of Then,
the discoverers of Yet,
Can sometimes see and hear
beyond our bodies,
and other times become blind and deaf.
You, the model of detachment,
allowing no energy to be drained by other
Except the piercing my soul
does through your heart's wall.
Me, the model of compassion,
give wisps of myself to earth
in endless thought,
Except where the strength of your soul
holds me still.
We, in the green of our peaceful garden,
nurture miracles
and grow tender sustenance
And in joining our separateness,
create vulnerability to the human part
that must fail
In order to learn,
must let go
in order to move on,
must die
in order to be reborn.
January Handl
Characterizations: moving, well written