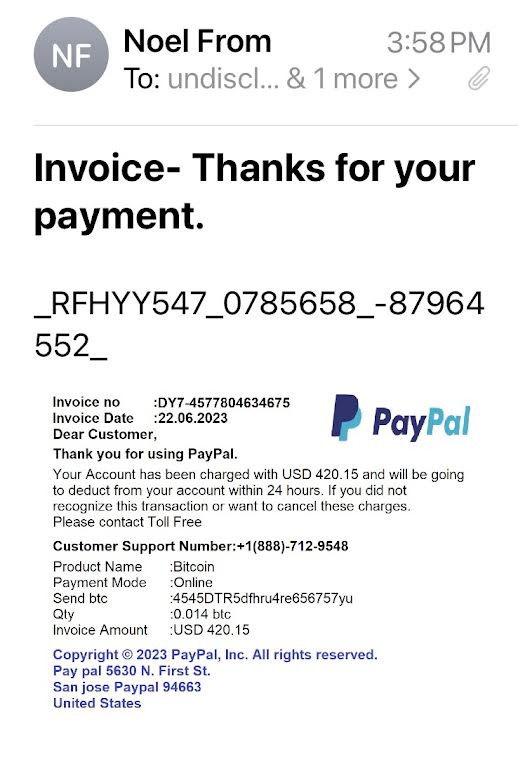 Just a few weeks ago, a good friend put a warning on his Facebook page: "Do not accept any friend requests from me; I've been hacked!" This is unfortunate but routine these days. The Messenger app of Facebook is notorious for this (and many people no longer use it because once it is corrupted, your entire friend list has also been hacked). I know to not open any link from a friend that reads, "look who died", or "is this you in the photo?" Always a scam and once the link is open, you are cooked.
I can't begin to tell you how many emails or texts I get like the Featured photo. The only problem is I never use PayPal, so I know it is fraud.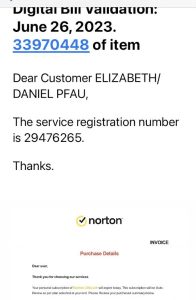 I had to ask my husband about this one. I get it all the time (of course, I've never given out my credit card, so I don't know how they are going to charge us). My husband points out that we only have Apple computers which do NOT use Norton anti-virus products – another scam! These now go into the spam folder immediately.
A few years ago, I lost my Instagram account. There was a message that I had violated their terms and gave me specific things I could do to recover the account. This made NO sense to me at all, since I only post family photos. I was given a 5 digit code and instructed to write on a piece of paper the name I use on Facebook (interesting that there was an assumption that I HAD a FB account), that 5 digit code, and my Instagram account name, then take a selfie holding this paper with part of my hand showing and post it to the account I was given. I did all of this, assuming that whomever I was communicating with already knew all this information through Instagram and Facebook. I was told I would hear back within 24 hours. After a few days, I gave up and opened a new Instagram account with a new name, then texted or emailed people to please accept me as their "friend" since my account had been shut down and please follow me back (though I suspect it had actually been hacked).
Last winter I had a weird credit card scam situation, which I was able to resolve (and got a new credit card). It is a convoluted story regarding making a service appointment for my car through a phone number ON MY cell phone, but at least it was all eventually resolved with no lasting damage. One has to be very alert and wary these days.
Anyone else NOT buying Bitcoin through PayPal? I got this email on July 5…right into the spam folder after taking a screenshot to include in this story. I have gotten it at least three more times since then.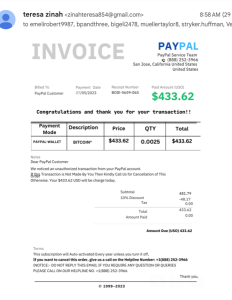 How annoying is this? And scary that so many scammers have my email address. Am I right?
Seeing on the news that former senator and basketball Hall of Famer Bill Bradley turned 80 yesterday reminded me of a time when I almost fell for that old "Nigerian prince" scam. The great Carl Belz, Director of the Rose Art Museum for 24 years, my friend and mentor then and for years after his retirement, had been a championship basketball legend in his days at Princeton. He was just a bit older than Bradley, but was working on his PhD there, playing semi-pro ball and practicing at Princeton, so got to know Bradley well; they became lifelong friends. Bradley and his wife donated a valuable painting in Carl's honor to the Rose (it is on view now) and sent a letter to be read at his retirement party (which I had the honor of reading).
We remained close friends for the remainder of his life despite various challenges he faced. Carl had health problems at the end of life and had his left leg amputated below the knee. So it surprised me when I awoke one morning to a desperate email, saying he had suddenly traveled to Spain but his wallet was stolen and he had no money, could I please send money quickly. My first impulse was of course to come to the aid of my good friend. But I hesitated for a moment and thought logically. Getting around was not easy for Carl. It seemed unlikely. I called him. His world was topsy-turvy. Of course he was not in Spain! His email had been hacked, but some people HAD sent money in response to that email, including Senator Bradley's office (the Senator was actually traveling and had not verified with Carl the veracity of the claim).
Scams are too easy to pull off. Verify first and be wary!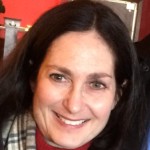 Betsy Pfau
Retired from software sales long ago, two grown children. Theater major in college. Singer still, arts lover, involved in art museums locally (Greater Boston area). Originally from Detroit area.
Characterizations: been there, funny, well written