I grew up in New Jersey, which is called The Garden State, although the area where I lived was very urban and industrial. Still, the soil was good for growing things. My father, who was a doctor almost 24/7, and had no other hobbies, grew tomatoes and was very proud of them. I didn't like tomatoes as a child (although I think I came to that conclusion without ever tasting them), so I can't say whether they were exceptional or not, but I bet they were, because anything he did, he did perfectly. We also had beautiful roses growing up the side of our garage, which made it the go-to spot for taking pictures.
I am always delighted to enjoy any garden, as long as someone else does the work to maintain it.
As for me, I have never been much of a gardener. As an adult I have had the occasional indoor houseplant, but even that seems like a burden rather than a pleasure. So I leave the gardening to my husband, who enjoys tending to his tomato plants and his citrus trees. Luckily, as an adult I discovered that I loved tomatoes, so I enjoy the fruits of his labors, literally. Delicious tomatoes in the summer and fall, fresh-squeezed grapefruit juice in the winter and spring, and lemons ready for picking any time we have fish for dinner.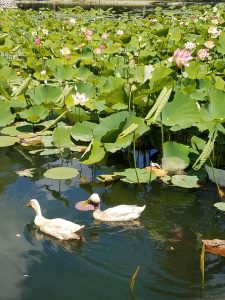 We live right across the street from a beautiful park, and from our living room, looking out the big picture window, the park appears to be our front yard. I always say that it is the perfect garden, because we get to enjoy it, but other people take care of the mowing and raking and pruning. It is a huge park, with baseball and soccer fields, a golf course, a kiddie amusement park, and the Sacramento Zoo all contained within its boundaries. It also has several duckponds. This year, in the largest duckpond, there has been a profusion of lotus flowers, which have almost entirely crowded out the ducks. Apparently in other years the park staff has pruned them back, but this year, because of the pandemic, nobody has done anything.
When the lotus flowers suddenly bloomed all over the pond in June, there were mobs of people showing up to take pictures of them, because they were so beautiful and so unexpected. My friend Margarita came over to my house one Saturday for a socially-distanced walk and she said "Have you seen the lotuses in the park?" At first I thought she meant Lotus, the British sportscar, because there are often gatherings of car enthusiasts in the park on weekends. They are usually Chevy lowriders, but I thought maybe Lotus drivers decided to show up for a change. I was not that excited about looking at cars. But then she explained that she meant the flower, so I eagerly went off with her to see and photograph them. Here are two of the dozens of photos I took in addition to the one with the ducks.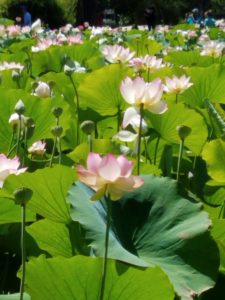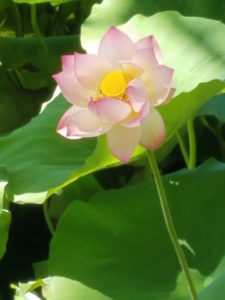 I also enjoy visiting public gardens in my travels. When I took my Girl Scout troop on a four-day trip to San Francisco at the end of their high school years and before the troop disbanded, we spent almost an entire day in the Japanese Tea Garden in Golden Gate Park. It was so beautiful and serene, and the girls never tired of taking pictures of each other and of the arched bridge, pagodas, lanterns, and koi ponds that make you feel as if you could be in Japan.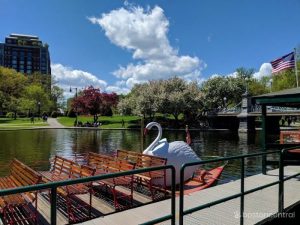 From my years living in Cambridge, during college and especially afterwards, I came to know and love the Boston Public Garden. In the summer of 1970, when I had a job at Houghton Mifflin on Tremont Street, I would sometimes go there to eat lunch. When my children were young, I always made sure to take them there when we visited Boston and Cambridge. The swan boats, which have been around since 1877, are so much fun to ride in. I always thought it would be a kick to drive them too, sitting on the back of the swan. The shipbuilder who designed them was inspired by the finale of the opera Lohengrin, where the hero crosses a river in a boat drawn by a swan. Although as you can probably tell from the picture, since the swan is located at the back of  this boat, it is pushing it rather than pulling it.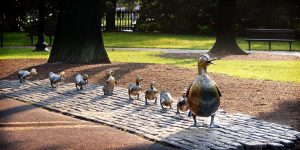 Another great attraction in the Boston Public Garden is the Make Way for Ducklings statues, which were installed in 1987, after my time living there, but perfectly timed for my children to enjoy. The mother duck is big enough for an older child, or even an adult, to sit on, and the eight little ducklings (Jack, Kack, Lack, Mack, Nack, Oack, Pack, and Quack) are the perfect size for little kids. Somewhere I have pictures of my kids sitting on the various ducklings, and if I find them, I will add them to the story.
I am always delighted to enjoy any garden, as long as someone else does the work to maintain it. If I ever go back to Europe again, on my list of places to go is Monet's garden in Giverny.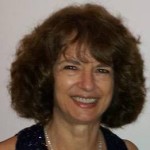 Suzy
Characterizations: right on!, well written