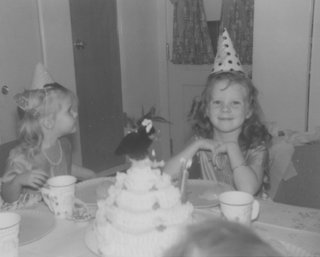 Even as a youngster I wasn't a big fan of formica. But, like so many kitchen tables in the 1960s, our family meals were served on a gray formica table. The formica looked to me like it was trying to be a modern art painting, even though I didn't really know what modern art looked like back then. I just knew it looked fake somehow.  The tomato soup colored plastic chairs, however, were pretty. They weren't trying to be anything but chairs. It was at this kitchen set that Mom served the first meals I remember.
Mom was a good cook and would later become a really good cook after traveling the world.  My dad probably barbecued every summer day of his life until he passed away at 82.  As a young couple my parents shared cooking chores for our family: Besides grilling, Dad cooked weekend breakfasts — usually pancakes and often bacon and eggs. In his fun made-up language for my sister and me, he called bacon "basin" and eggs were "egglets".   The most frequent dinner was barbequed beef patties, corn on the cob, good old Campbell's pork and beans and a relish dish – usually pickles and green onions.  Sitting in a booster seat on those plastic red chairs at dinner, I watched Mom dip her green onions in a bit of salt next to the beef patty on her plate. Of course, I tried it and liked it. It was the beginning of a lot of salty snacks down the road.
But the very best "meals" were the birthday cakes. Likely a neighbor or McCall's magazine was the source of a recipe for using dolls in birthday cakes. Mom positioned a doll maybe 6″ tall or so in the center of a bundt cake and frosted the cake to look like a big hoop skirt. We loved it!  The hats on these dolls were works of art, and the tiered skirts were a little girl's dream.  Again, the beginning of a lot of mouthwatering desserts…and somehow mixed with fashion! And beyond the cake, Mom decorated the house. Boy, did she decorate.
Looking back, those were wonderful years. The memories of breakfasts, dinners and parties around that kitchen table with my family are among my favorite. Even if it was a formica table, which is blessedly covered by a tablecloth in the attached photo of my sister's 6th birthday party.
Deb Reno
Characterizations: groovy, moving, well written