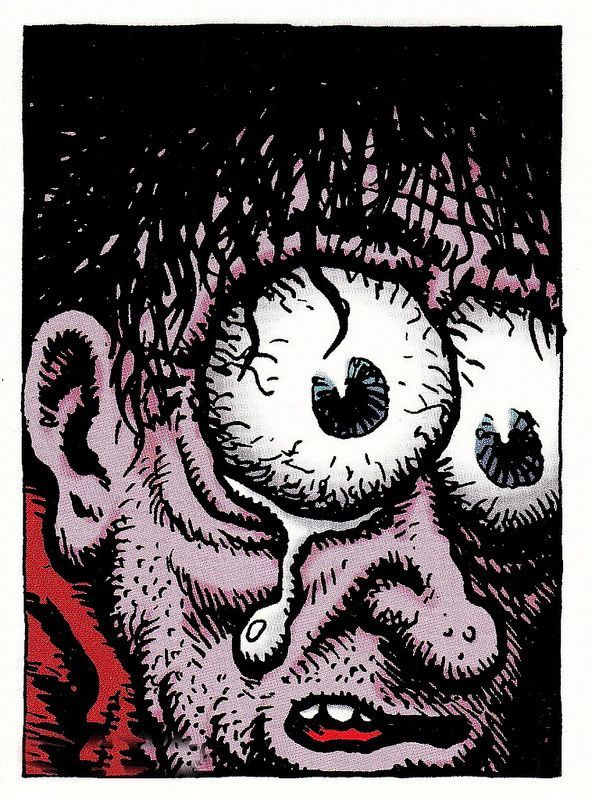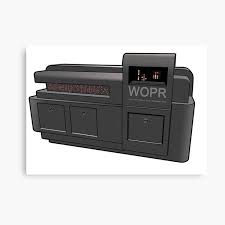 1962 — Wonder. Worked a summer job in the meteorology department at MIT, entering delicately penned weather data from 1876 to 1954 onto punch cards. I would then take a stack of cards to Wes, the wry, sarcastic grad student who studied with Tom Lehrer and was assisting my neighbor, Professor Hurd Willett, a world-renowned authority on long-range weather forecasting, in tabulating the minutiae I had gathered. Then he would fire up a large, gray IBM computer the size of the WOPR in "War Games," feed the cards into the machine, generating a shuffling racket at the decibel level of a textile mill running at full capacity, and adding another statistical line on a graphic.
I can't stand the sight of my cell phone...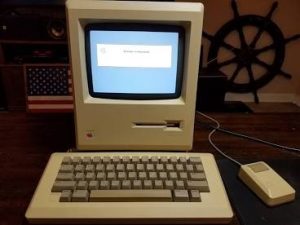 1984 — Intrigue. I returned from a tour playing jazz to meet my first Apple computer, a Macintosh 128 K. It was booted up by a floppy disk that would load a word processing program. On the tour, I had begun to write short stories. I had moved to Hollywood, so the screenplay had to follow. Now I could write fiction and dialog onto a glowing screen and copy, cut, and paste words and paragraphs and outlines. Then I could print my writing with a dot-matrix printer. I also bought a music notation program that fit on several floppy disks. Once you loaded the program, you could peck out music notation and print it out on a dot-matrix printer. It could also beep melodies and even harmonies.
1988 — Awe. A screenwriting partner named Ray and I used something called a modem that turned one end of a telephone line into a binary stream to invade the card catalog of the Santa Monica public library. We felt sneaky. The modem made a funny, cartoon-like bouncing noise as it connected with the Universe.
1991 — Deviant behavior. I sent a 1000-word assignment about the first landfall of Christobal Colon to my producer at Philips Interactive. It took 45 minutes for the document to download, byte-by-byte over what was called the World Wide Web.
1993 — Pride. Although the world had divided in two — there were Mac people and PC people, I learned DOS to use the linked computer system at my new job as a curriculum writer and editor at a civic-education organization. Soon I was able to operate on a need-to-know basis in DOS, then go home and write on my new Mac SE. The SE featured two floppy disc ports.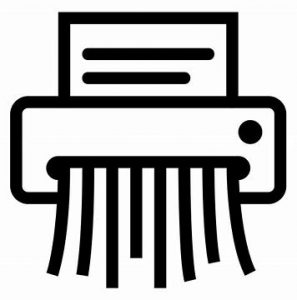 1993 — Horror. I listened to a terrible grinding sound as a fatal combination of keystroke commands destroyed the first draft of a long short story. Grim with tears of determination, I found that rewriting the whole story from scratch produced better work.
1996 — Reluctance. An aggressive nerd, son-of-a-board member at my civic-education organization urged us to develop a web site that would connect to the world-wide web, now commonly known as the Internet. We couldn't see the use-value. Besides, it sounded like a time-consuming experiment that would demand a steep learning curve. We learned. Fast.
1998 — Surprise. One day, I noticed a guy standing on the sidewalk talking to himself. He looked pretty well-dressed for a lunatic. When I drew closer, I saw that he was speaking into a small cell phone. It fit into the palm of his hand and didn't even have an antenna.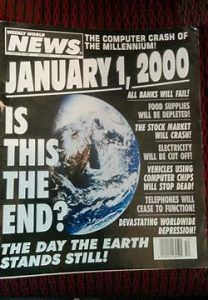 2000 — Embarrassing irony. First off, no Y2K. Duh. I wasn't scared of the Cuban missile crisis, either. Besides, it wasn't the Cuban missile crisis, it was the Soviet missile crisis and it only happened because Eisenhower didn't like Cuba's revolution and neither did our beloved Camelot hero, Bay of Pigs liberal JFK. I digress. I'll begin again.
2000 — Embarrassing irony. I was editor of a service-learning newsletter we put out quarterly. I tackled desktop publishing to help out our swamped layout and tech guy, Andrew. I was constantly baffled by the technical demands of the program. So, I'd call in Andrew. All he had to do was stand over me as I demonstrated my unsolvable problem. Problem solved. This happened too many times to be a coincidence.
2006 — Full circle. Fast forward from 1998. Walking to Wilshire for lunch, I noticed a homeless woman with a shopping cart screaming into her cell phone. She sounded intense, pissed off at somebody. As I approached, I saw that she didn't have a cell phone.
2012 — As a faculty member at California State University, I had to learn Microsoft Excel, PowerPoint, and a constantly shifting set of student-interface programs like Moodle and Canvas. Despite the limitless possibilities these programs threaten me with, I stick with a Need-to-Know approach.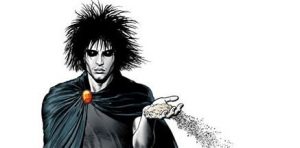 2021 — Delirium tremens. I can't stand the sight of my cell phone, but I feel naked without it. My eyes ache from near-sighted focus on a relentless series of screens glowing with cyber oscillation. I refuse to read instructions for the digitized machinery that overwhelms my covid-entrenched home. I fight daily for survival against the chairs that afflict my mind, body, nervous and circulatory systems and joint flexibility. As in Oscar Wilde's portrait, [cyber] technology has decimated me. Nevertheless…
As a person who stubbornly maintains that I have stuff to say, I remain intrigued by technology's wondrous reach.
# # #
Charles Degelman
Writer, editor, and educator based in Los Angeles. He's also played a lot of music. Degelman teaches writing at California State University, Los Angeles. 
Degelman lives in the hills of Hollywood with his companion on the road of life, four cats, assorted dogs, and a coterie of communard brothers and sisters.
Characterizations: funny, well written