At age 43, I made a brazen attempt to use my perch as a newspaper columnist to find myself a date for Valentine's Day—or even perhaps something much more than a single date.  I had moved from Massachusetts and returned to my native Midwest the previous year for graduate school. After two semesters at the University of Illinois at Urbana-Champaign as a Ph.D. student in Special Education, I found myself enthralled to be a student again but lonely in the social sphere.
Why not put aside issues of public concern and instead use my column for a private purpose: to advertise my availability as a single man?
I had successfully auditioned to become a weekly opinion columnist for the student newspaper, The Daily Illini, which gave me complete freedom to choose my own topics. I had written on subjects such as gays in the military, the death of an African-American man while in police custody in East St. Louis, and the removal of Madonna's photo book Sex from the shelves of the local public library. As Valentine's Day approached, I had an idea: Why not put aside issues of public concern and instead use my column for a private purpose: to advertise my availability as a single man? If I could craft the right stream of words, I could surely entice at least one anonymous woman—if not a whole lineup of them—to take an interest in me. Yes!  The question was, what words and phrases would be so powerfully seductive as to bring about the Best Valentine's Day ever?
I couldn't just use the column to write a "personal ad." But my goal was to find a way to convey the same kinds of information one finds in a personal ad; namely, to identify some of my own qualities and interests as well as the qualities and interests I was hoping to find in a potential mate. As it happened, I had filled out and mailed in a brief survey from a company called Make-a-Match just a few weeks earlier. A company representative had then followed up with a telephone call. Regrettably, it had turned into an awkward dialogue and ended with a mutual understanding that I was not a good candidate for their matchmaking services. As I pondered how to craft my column; however, I realized that a recap of that conversation—with just a bit of editing–would make a great framework for my Valentine's Day column.
Here are the opening paragraphs of that column, only slightly abridged:
The flier from Make-A-Match, Inc., arrived in the mail a few weeks ago, just at the right time. I had been hoping that by Valentine's Day, there would be someone in my life I could call my sweetheart. Maybe a professional dating service would succeed where other methods had come up short.
I earnestly filled out the questionnaire supplied by Make-a-Match and mailed it in. A week later, the phone rang.
"Hi, this is Kimberly from Make-a-Match. I wanted to go over the questionnaire you sent in, all right?"
"Go right ahead, Kimberly."
"Now, Mr. Fink. On the item asking about the religion of the person you'd like to meet, am I reading this correctly? I think it says, 'Spiritually Evolved.'?" 
"That's what I wrote, yes."
"No one at our company is familiar with that church. Can you tell me where it's located?"
"Kimberly, it's on the read between Calvary and Nirvana."
"It's in the state of Illinois, right?"
"Most people around here think so."
"OK, I'll make a note of that, Mr. Fink. Now, where we asked for important physical features such as height, weight, and coloring, you wrote androgynous. I looked that up in the dictionary and it says, 'someone with both male and female characteristics.' Do you mean you're looking for a bisexual?"
"I just meant someone who didn't look totally masculine or totally feminine."
"Ok, I'll make a note of that, Mr. Fink. Sometimes it helps if we get an idea of a celebrity you'd be attracted to. Could you give me the name of an actress or someone famous you think is attractive?"
"Sure. Hester Prynne."
"Let's see. Did she used to be on 'One Life to Live?'"
"No. She appeared in The Scarlet Letter by Nathaniel Hawthorne."
"OK. I'll make a note of that. Now, we didn't ask you this next one, but you wrote in your own question, "Who are some of your personal heroes?"  Then you answered it…so who is this Marshall Thorogood? Is he related to George Thorogood?"
""I think you misread it, Kimberly. It's Thurgood Marshall, the lawyer who won the case overturning racial segregation in the schools and then later became a member of the U.S. Supreme Court. Haven't you heard of him?"
"I don't pay attention to stuff like that. How will this help you find a match?"
"The fact that I like Thurgood Marshall—as opposed to, say, Oliver North—might give someone a sense of my values."
Just to be clear, nothing in the foregoing paragraphs was fictionalized. She next asked me about my other "personal hero," but she pronounced it Roberta instead of Roberto Clemente. I had to explain that he was a male and that he had played rightfield for the Pitts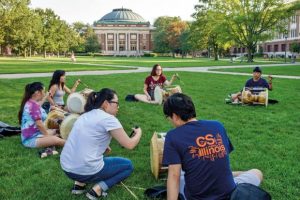 burgh Pirates.
"So you'd like to meet a lady who's a baseball fan?"  I told her that would be a plus, but it wasn't just his athletic skills that made Clemente a hero of mine. The dialogue was becoming increasingly awkward!
"You do say—answering another question that we didn't ask—that knowledge of conversational French, Spanish, or Italian would be desirable. Why is that important, Mr. Fink?"
"They might want to know what I'm saying when I whisper in their ear, Kimberly. Il manque quelque chose dans la tete, mon petit chou."
"That sounded good, Mr. Fink. What did you just say to me?"
"You are a sweet little cabbage."
"No!"
We touched on a couple of other points in the survey, and then, she focused on one that puzzled her.
"You would like her to know the ingredients in curry powder?"
"Yes."
"What are the ingredients in curry powder, Mr. Fink?"
"Hey, Kimberly, if I knew that, why would I be looking for a partner who can tell me?"
"Ok, Mr. Fink. You want someone spiritually evolved, androgynous, possibly a baseball fan who speaks French, Spanish, or Italian, a physically fit, funny, outdoorsy feminist who's adventurous, knowledgeable about cooking, and thinks Oliver North is a dick-head. Does that sum it up pretty well?"
"I think so, Kimberly."
"Mr. Fink, have you ever actually met anyone who fits this profile?"
"Yes. My friend Pamela, for one."
"Not to pry, but why aren't you going out with her?"
"She's a lesbian."
"I see. Well, Mr. Fink, here's my suggestion. You keep your money, and we won't try to find a match for you. Happy Valentine's Day."
Sure I was hurt. I wouldn't find a match in time for Valentine's Day. But I wouldn't give up. I could put a personal ad in The Daily Illini. Or better still: instead of paying for a personal ad, I could just pass it off as a column!
That's how my column ended. My editor, an undergraduate student, appended an italicized note, stating, "All sincere replies will be answered."
There was no queue of women seeking to meet me in response to my column. One unknown woman left a voice message, offering just her name and phone number, but I figured if she were truly interested, she would put something in writing, or at least tell me a bit more about herself. I didn't call her back.
One letter arrived at the Daily Illini right after my column was published. This seemed like a good sign, because in spite of staking out sometimes controversial positions on issues, my columns had heretofore stimulated almost no mail from readers. Unfortunately, this one wasn't from a potential woman of my dreams but from an angry man. "That girl on the phone was just trying to help you," the short note read. "Why'd you have to act like such a know-it-all?" This response made me wonder if I should have fictionalized Kimberly's name. Could this be someone who knew her? Maybe even her boyfriend?
Two more handwritten notes arrived within the next few days, each enumerating the ingredients in curry powder. One was from an Assistant Professor in Educational Psychology, and the other from within my own cohort of Ph.D. students in Special Education. I was already well acquainted and interested in both of them, and it was great to have evidence that the interest was reciprocal. But in the end, I cannot credit the column for helping me to meet these two women, or anyone else.
It seemed like my great Valentine's Day journalistic venture was an epic fail. But of course, it wasn't really a fail at all. My ultimate Valentine's sweetheart—a spiritually evolved, fit, funny feminist who loved the outdoors and could handle conversational French–was not a reader of the Daily Illini. The stars were not yet aligned for us to meet.  We would have to wait a few more years, until that day when I went looking for a friend named Mike, who had shipped me a silkscreen. It was a photo-quality rendering of Roberto Clemente, at bat during the 1960 World Series. This would be a girl who would never mistake the batter for a Roberta. And who would advise me I could find the ingredients for curry powder in my own copy of The Moosewood Cookbook. But all that is a story for another day.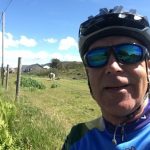 Dale Borman Fink
Dale Borman Fink retired in 2020 from Massachusetts College of Liberal Arts in North Adams, MA, where he taught courses related to research methods, early childhood education, special education, and children's literature. Prior to that he was involved in childcare, after-school care, and support for the families of children with disabilities. Among his books are Making a Place for Kids with Disabilities (2000) Control the Climate, Not the Children: Discipline in School Age Care (1995), and a children's book, Mr. Silver and Mrs. Gold (1980). In 2018, he edited a volume of his father's recollections, called SHOPKEEPER'S SON.
Characterizations: funny, right on!, well written