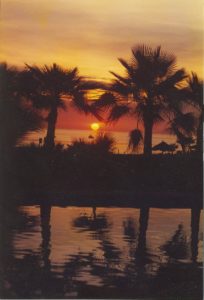 Many years ago when I was a very young man, I was in Mexico fulfilling what was then one of my greatest bucket list dreams; trying to catch a giant Marlin. As a boy, many times while laying in the tall cool green grass waiting for a Rainbow trout to take my bait I closed my eyes and dreamt of fighting the big marlin in The Sea of Cortez, not at all unlike the many tales I had read by Steinbeck, and Hemingway.
On this particular morning the sky over The Sea of Cortez was darker than normal and the seas looked rough as everyone at breakfast seemed overly cautious, quietly talking amongst themselves. But I kept asking myself "What if… What if this is the morning. What if this is the day and just what if the weather cleared up after the cruiser left the beach? Just imagine the advantage I would have on the other fisherman. But more importantly what if rough seas excited the big ones?
I was the only fisherman who chose to go out that morning and my captain and cabin mate had huge smiles with teeth gleaming as they helped lift me from the small dingy that had rowed me from the beach to their sport fishing cruiser in rough seas. As the dingy bounced up and down I saw the look in the captain's eyes that said, "Now THIS guy is a serious fisherman!"
What's interesting is that I typically do not enjoy rough seas but it seemed the trade off might be worth the effort and the truth is I didn't have a doubt in my mind that morning that I was doing the right thing even though some had told me only a fool would go out into those seas and everyone else watched from the beach as we motored away. Little did I realize at the time how happy I would be as we pulled away and I thought to myself, "Good riddance."
That decision turned out to be one of the luckiest I ever made. I will spare the amazing adventure that took place that day which led to an amazing battle with a record book Blue Marlin but there was another memory from that morning's adventure which has captivated and haunted my soul all these many years and had I not chosen to leave all the others behind I would have missed out on. Shakespeare so fittingly wrote; "There is a tide in the affairs of men, which taken at the flood, leads on to fortune. Omitted, all the voyage of their life is bound in shallows and in miseries. On such a full sea are we now afloat. And we must take the current when it serves, or lose our ventures."
In bad weather with a good captain my dream came true when all hell seemed to break loose as my rod doubled over and the battle that ensued was one not intended for a beginner. The seas were violent as the captain had to gun the twin diesels to make the climb up the face of each monstrous wave, then requiring him to back off as the cruiser started the slide down the backside of each wave in order to prevent too much tension on my line that was hooked into the giant that had erupted from Neptune's depths.
The battle that ensued was worthy of a book unto itself but something else took place that day while under dark skies with the captain perched at the controls in the high bridge. As the cabin mate stayed by my side trying to keep his balance he shouted up to the captain as to how my line was doing. I didn't speak Spanish but seeing what was happening to the line on my reel and feeling the unforgiving tension on my already sore forearms I knew he was telling the captain that the giant was tearing all the line off at an alarming rate and if he didn't turn the boat to chase the fish it would be lost for sure.
It was then while bent over my reel and pulling hard at my rod that the cabin mate excitedly tapped me on the shoulder and pointed across to my right while trying not to distract me but still trying to tell me something in Spanish that I saw the two Pacific Marlin side by side leaping entirely out of the waves right beside our boat much in the same way as a school of playful dolphin might do. It was as if they were masterfully performing the Tango with our boat. It was breathtaking seeing them seeming play in what were waves of death to any untrained mariner and for a brief few moments in time the cabin mate, the captain and I shared a bond of sorts with our two amazingly graceful and beautiful host. As fast as they appeared they were gone and my attention was quickly collected back to the battle at hand.
A story within a story? Not at all. More like the gleam that is found within a quality diamond when the light hits it just right…. For a moment my mind was whisked away to those childhood fantasies I had as I lay along that tranquil trout stream in Oregon dreaming of someday fighting giant marlin. Now here I was fighting a giant marlin ironically remembering that boy who had this very dream many years prior.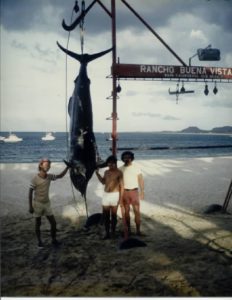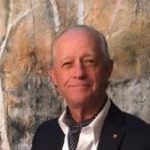 Gary Faules
Gary Faules is a former Oregonian who still holds records as a former Olympic skeet shooter, racecar driver and team owner and competed in the world famous 2007 La Carrera Panamericana. He has traveled the world as both a big-game hunter and angler and has been a freelance writer for both racing and automotive as well as sport shooting publications not to mention his latest book I Slept In Africa made The Forbes Book List. Seeking adventure is only second nature as he continues his dream of living life to the max since almost being left blind as a child due to a freak accident. Gary has been the recipient of numerous awards, several being congressional recognition awards for helping others. A once retired CEO of his own corporation, Gary continues to work and lives near San Francisco, California, where he spends much of his time enjoying the love of his life and waiting for the next adventure so that he can continue the journey.
Characterizations: moving, right on!