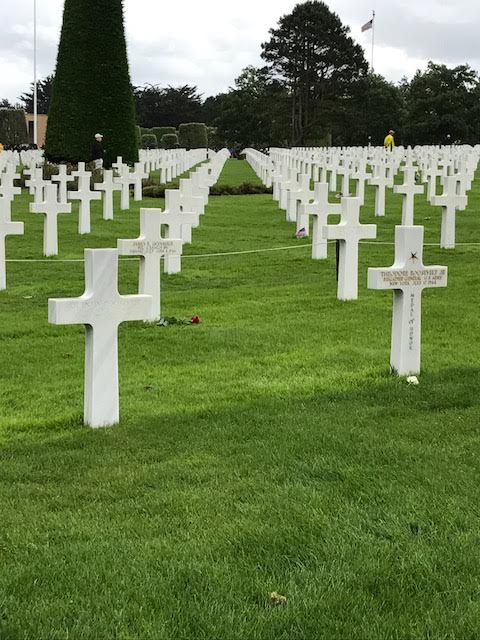 I like history. When I read (now I have eye problems that limits my ability), I read biography. So my husband and I always wanted to tour Normandy and better understand what happened during the beginning of the liberation of Europe. The Americanization of Emily is one of my favorite movies and we agree that the opening of Saving Private Ryan is among the best depictions of the horror and heroism of war ever committed to celluloid.
So we looked forward to our trip with a high-end company that specializes in golf cruises. Dan gets to play some of the great golf courses in the world and the touring is top notch. We have traveled with the company twice before and eagerly signed up for this trip more than a year before the actual dates. It fills quickly and is a small cruise; about 120 people, serviced by a staff of about 60 on the ship and perhaps 8 from the golf company. Everything is top drawer from accommodations and food to the people who provide the history and tours.
We began on May 28 in a beautiful chateau in Chantilly, France. Spending two days there, Dan played golf while the non-golfers did various tours of local sites. The next day we toured the gardens and home of Monet in Givenry, where he painted his famous water lilies. The gardens remain glorious. We were overwhelmed by their beauty.
.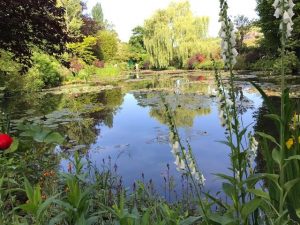 We continued on and took a quick tour of the historic port town of Honfluer, boarded our ship, unpacked and crossed the English Channel, arriving in Dover the next morning, crossing into a different time zone in the process.
Over the next few days, we went from port to port in Southern England. In Dover, I saw the tunnels where the evacuation of Dunkirk was planned and executed, as well as Canterbury Cathedral, seat of the Church of England and the spot where Thomas Becket was murdered (another favorite movie). Southampton was a highlight, as we had a private tour of Highclere Castle, the actual site where Downton Abbey was filmed. We were greeted in the Great Hall with tea and biscuits (so refined), then broken into two groups and taken on a small private tour. In rooms where filming took place, large photos from the show were on easels. But most interesting were the real, family photos, showing close relations to the royal family (the Queen at a family christening, Diana at a baby naming, and so on). Just fascinating. The furnishings were more plentiful and more beautiful than in the TV show, as much had needed to be removed to make room for the large cameras. We were not allowed to take any photos inside (they had a wonderful gift shop and I bought the guide book to remember everything). We all took photos of ourselves outside.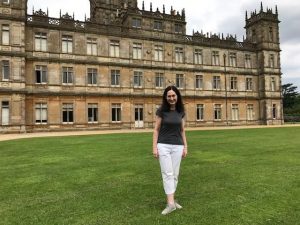 Portsmouth led us to Stonehedge, which was crowded, with endless lines. But in the afternoon, we went to the historic port and saw a Tudor era ship, the Mary Rose, brought up to the surface and restored. It was fascinating, a modern museum depicting life during the time of Henry VIII.
We went back across the channel that night and began our tour of Normandy in earnest the next day. In all, Dan and I spent four days touring various sites associated with the invasion (the French refer to it as the Liberation and remain grateful to us for our sacrifice and efforts to save them from the Nazis, even 73 years later).
It was now June 2, 2017. We began with Utah Beach, which has a museum. Since we had the time (and Dan chose to not play golf on one day), we saw several British and Canadian landing beaches as well. All have some sort of markers, flag poles, monuments, but there is little to let one know that monumental struggles happened here. The beaches are quiet now.
On nights before we would see something of great significance, our on-board historian, Alex Kersaw (a British ex-pat, now living in the US and author of several books about episodes that take place during WWII) would tell us what we would see the next day and give us hand outs to orient us. His books are well-researched, honing in on personal stories, giving a personal face to the war.
On D-Day eve, a large group decided that we wanted to be on Omaha Beach at 6:32am the next day, just as our own troops actually put boots on the ground. Dan and I decided we had to experience that, so we got up at 4:30am, grabbed the little breakfast provided (our tour people were fantastically accommodating), got on a bus and arrived on Omaha Beach at 6:28am. There was one jeep of re-enacters. It was raining and windy, just as it had been 73 years ago. We stood on the site where our troops landed and observed a moment of silence. Alex led us up the beach, had us form a line, holding hands. He told us how many of us would have been mowed down by German guns at that point. I am not sure I have ever been so moved or grateful for our servicemen in my life. Eventually, everyone on our tour would get to Omaha Beach, but being there at that moment felt sacred.
Ponte du Hoc was a German long gun battery pointed at the American landing beaches. It needed to be bombed before the invasion could begin. The bunker remains, as do the craters in the ground from the huge bombs that fell. The bombing was successful, though Army Ranger had to scale the sheer cliffs, grappling ropes to throw grenades into the bunker to wipe out the remaining Germans, so D-Day could commence. We visited this during a wild wind storm, walking out on the sheer cliff to look over and marvel at our Rangers' amazing feat. Our group was afraid the wind would take little me right over the cliff and someone held onto me! The next day, we visited Longues-sur-Mer, which has the last surviving German canons. The Americans did knock them out of commission, but left them as a reminder of what we faced. On June 5 and 6, we came across a British and a Canadian veteran at sites, come over for the anniversary. They were both in their 90s. We shook their hands, thanked them for their service. They wore their medals proudly and were amazingly spry. The Canadian told us he fought from Normandy all the way to the Rhine. Amazing.
Later in the day, we went to the American Cemetery, where those who fell in the invasion are buried. My featured photo is of the grave of Theodore Roosevelt, Jr, a Medal of Honor winner (hence his cross has the gold star), buried next to his brother, Quentin, who died overseas during World War I. The rows go on forever. My reaction was similar to that of seeing the Vietnam Memorial…it drives home the terrible loss that occurs during war. The cemetery also has a lovely chapel and statue. There was a ceremony going on, since we were there on D-Day, with many wreaths being placed. Our group had also brought a red, white and blue wreath. Our tour leader asked all veterans to come forward and place the wreath at the foot of the statue. Again, I was very moved. Both my father and father-in-law fought in World War II and were very proud of their service.
Alex led us to Ranville on June 7. It holds the British cemetery. His grandfather is buried there. He was on a ship, sunk on D-Day by a German U boat. Alex's grandmother was 7 months pregnant with his mother at the time. He told us she never got over it. The grave had a card from his mother with a prayer for the father she never knew. More tears from me. I well up even now as I write this, the terrible price of war. We found the British cemetery much more moving than the American cemetery. Instead of long rows of marble with just name, rank and date of death, these graves listed ages and personal messages from loved ones, "We'll never forget you, Johnny", "Known only to his maker". We were particularly struck by the youth of the deceased.
We saw Pegasus Bridge, a strategic point, captured and held by the British for hours so that the troops coming off the beaches could march on into the heartland, battling all the way to liberate Paris, eventually. Of great interest to me was the Caen Memorial, now housing a library, excellent exhibits and a movie, showing the run-up to the war, the reasons, what happened. A very good take. We came away feeling like we learned much about what had gone into the invasion and liberation of Normandy from many perspectives. We continued on to London and a wonderful visit with our son David. It was a great way to start the summer.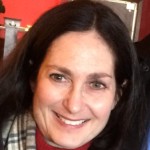 Betsy Pfau
Retired from software sales long ago, two grown children. Theater major in college. Singer still, arts lover, involved in art museums locally (Greater Boston area). Originally from Detroit area.
Tags: Normandy battle fields, Highclere Castle, Givernery
Characterizations: moving