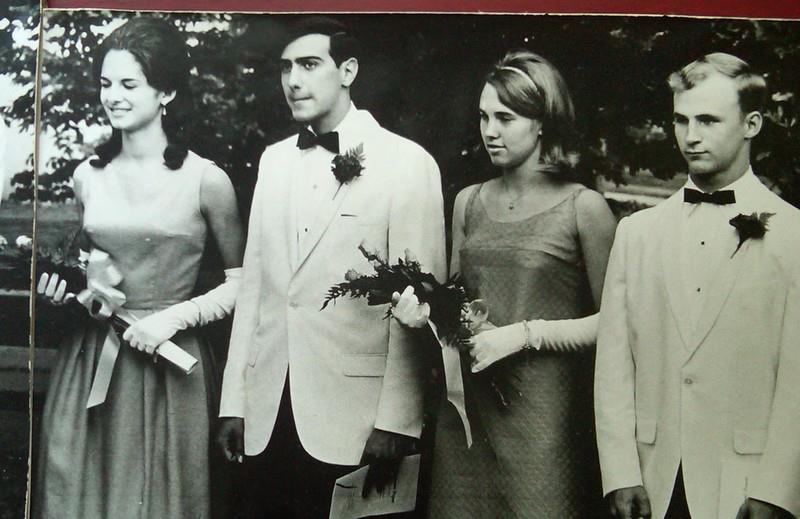 There were so many unforgettable things about my high school graduation, which took place on June 4, 1968. I almost wrote about it under the Prom prompt, because while I remember almost nothing about my prom, except for the dress that I wore and the identity of my date, I remember everything about my graduation night. And as you can see from the photo, we looked like prom-goers.
The girls wore long gowns and white gloves, and the boys wore tuxedos. The girls also carried bouquets of long-stemmed roses in colors that were coordinated with our gowns.
First, a bit of explanation about my high school. It was a "selective public" school, a demonstration school on the campus of a state teachers college. It took students from all over northern New Jersey, and you had to take a test to get in. We were taught by the college professors, and we were (or thought we were) much smarter than the college students who sat in the back of our classes observing as they prepared for their teaching careers. Every year 15 girls and 15 boys were admitted to the 7th grade class, and most students stayed for the entire six years. We got one new boy in 8th grade, to replace a boy who moved to Indiana, but after that we got no more new students.(He was always thought of as "the new boy.") By senior year my class had only 24 members, 11 girls and 13 boys, as a result of kids moving or deciding to go back to the regular public schools.
Our graduation ceremony took place in a lovely outdoor amphitheatre on the college campus. The girls wore formal gowns and long white gloves, and the boys wore tuxedos with white jackets. The girls also carried bouquets of long-stemmed roses in colors that were coordinated with our gowns. (It's too bad that the picture I have is black and white. I am on the left. My gown is coral and so are my roses.) We sat in a line of chairs on the stage of the amphitheatre, and all the families and friends sat on the hard stone benches that extended back in semicircular rows. Between the stage and the first row of benches was the area where our small high school orchestra sat to play the obligatory Pomp and Circumstance. As we marched onto the stage at the beginning of the ceremony, we must have been a breathtaking sight to behold.
I gave one of the two graduation speeches. There was always one girl and one boy speaker. They were elected by the class, it had nothing to do with grades. I had never been in the popular crowd, and could not have gotten elected to anything else, but once I got in to Radcliffe (the only girl going to an Ivy, although most of the boys were), that made me worthy to be a graduation speaker. Traditionally, the girl gave the "microcosm" speech and the boy gave the "macrocosm" speech. However I really wanted to do the macrocosm, and Jim (who would be going to Brown) didn't care, so we flipped the gender roles and he did the microcosm. Since the graduation was taking place on the evening of the New Jersey presidential primary, I gave a rousing speech about the election, and the Vietnam War, and how, even though we were too young to vote, our generation was already starting to get out there and change the world. I put in some plugs for my hero, Gene McCarthy, and some digs at that other candidate (unnamed) who had stolen his antiwar platform after New Hampshire when he saw how popular it was. 
After the graduation was over, the 24 of us, still in our formalwear, piled into four limousines to go into New York. Nowadays there are stretch limos that are so big that we could probably have fit the whole class into one, but at that time there was only room for six people in a limousine, so we needed four of them. We had reservations at the Royal Box of the Americana Hotel, where the Fifth Dimension was performing. When our four black limos pulled up on 7th Avenue in front of the Americana and we all emerged, everyone on the street stopped to stare, trying to figure out what celebrities we were. We smiled and waved and floated into the hotel. The show was incredible. We weren't the only ones there, but we might as well have been, because the Fifth Dimension was singing directly to us. We ordered drinks and felt very grown up. (The drinking age in New York was 18 at that time, and most of the group had already turned 18, so they were legit, but there were 3 or 4 who hadn't had their birthdays yet and were only 17, and two of us who had skipped a grade and were still only 16. However, checking IDs wasn't a big thing in those days.) We kept ordering more drinks. Life was beautiful.
While writing this story, I sent a note to all of my classmates to solicit their recollections of the occasion. One of them reminded me of two details I had actually forgotten. First, "the use of limos was meant to be quite cheeky on our part. However, this plan was greeted with applause by parents and school administrators alike, as we would not be drinking and driving. We were ahead of our time." Second, in our 9th grade Business class (a required course), when we were studying the stock market, we used the money in our class treasury to buy some stocks. Three years later, "the proceeds of our stock sales underwrote the entire evening. We were ahead of our time yet again."
The show ended well after midnight, and the four limousines picked us up and took us back to the house of one of the girls, where many of us were spending the night. The plan was for all of us to go to the Jersey shore the next day to continue the celebration with a beach day. However, around 3 a.m. somebody decided to turn on the radio to find out the results of the New Jersey and California primaries. Much to our dismay, we heard that Bobby Kennedy had just been shot in a hotel kitchen in California. We were all in shock. How was it possible that there could be another assassination? We cried and hugged and talked and maybe even slept a little, and when morning came we all went home. Nobody could bear the thought of a beach day any more. In a mere 12 hours we experienced the full range of emotions from ecstasy to despair. We had graduated. Welcome to life.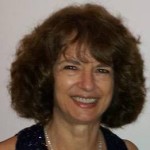 Suzy
Characterizations: moving, right on!, well written