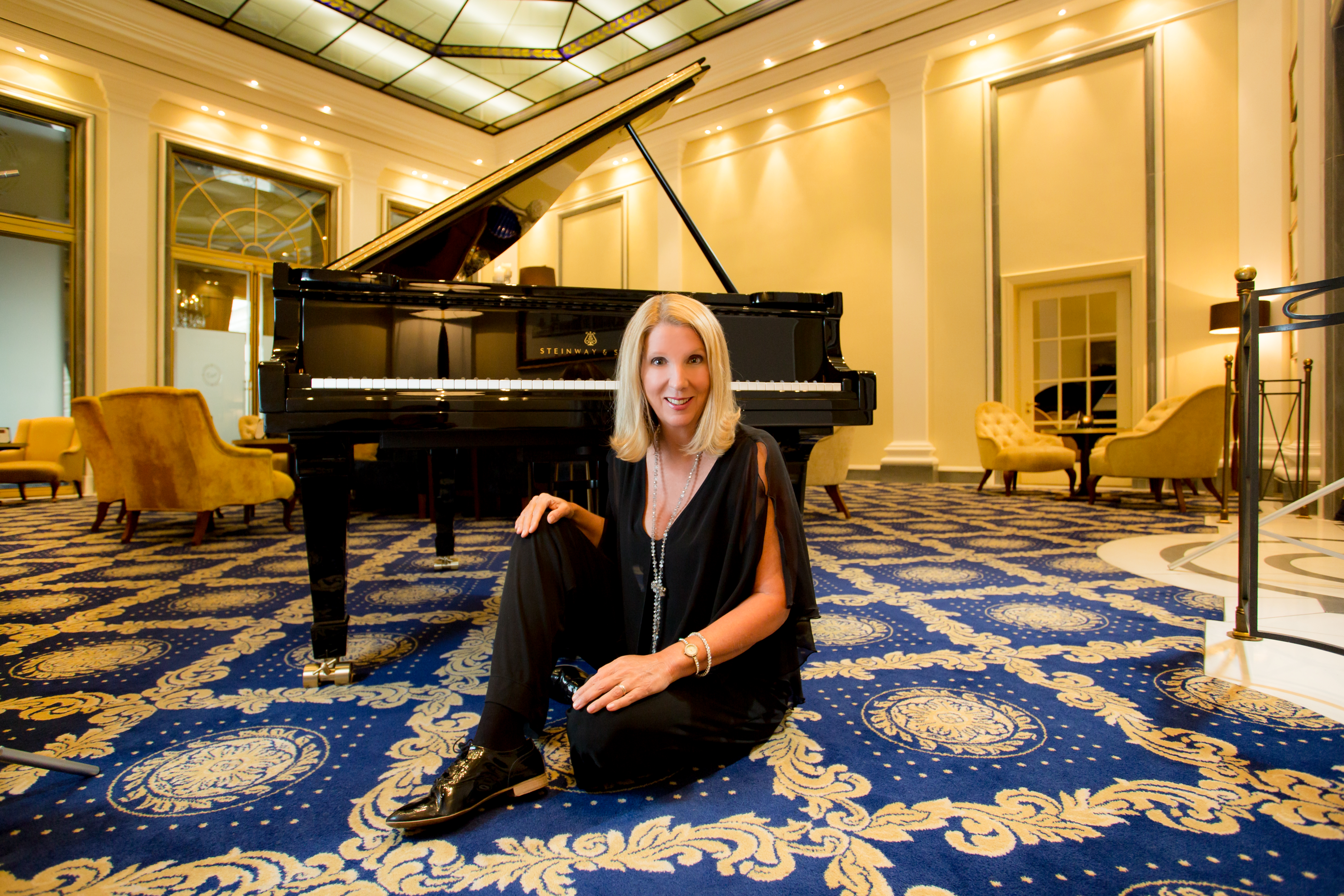 A middle-aged American woman playing the piano at a castle in Germany has legitimate wardrobe concerns. Most cocktail dresses and evening gowns are designed for chichi events that involve nothing more strenuous than posing in a corner with a tilted head, a shy-sly Princess Di smile, and a fluted champagne glass. They are cut of silk and velvet, feature beaded panels, and often include ruching that slips, slides, and snags if the wearer dares to inhale, laugh, or eat a meatball.
I favored one dress—an electric-blue sateen-spandex thing—that was cut down to here and up to there. It threatened to expose my left breast every time I reached for the bass notes.
It might look easy, but playing the piano for hours at a time involves an athletic prowess more often associated with trapeze artists and archers. We swing and sway, we remain statue-still while we focus our minds and bodies, we stretch, and we leap without a net when necessary. Imagine one of the Flying Zucchinis performing in high heels and a full-length evening gown with a fishtail skirt and a jewel-encrusted top that chafes her underarms. Treacherous. Or what if William Tell had been forced to shoot that apple from his son's head while an annoying puffed sleeve with seed-pearl embroidery slipped from one shoulder? Poor little Walter would have wound up with an arrow in his thigh. Or worse.
It might be a niche market, but really, someone should come up with a line of gowns for performing female musicians. Something with a little pizzazz, a little Lycra, and a lot of draping.
"Well," says my friend Amy. "Except for the pizzazz part, that would be a burqa." She plays the guitar and has her own wardrobe issues.
I pause for a moment and think about a cocktail pianist wearing a burqa.
"A burqa with bling," I say.
"Perfect," she says.
My Wardrobe: A Brief History
Nantucket
Back in the seventies I loved to dress like Barbie. When I was eighteen I wore tube tops and Dolly Buster halters combined with see-through chiffon skirts so short they had matching panties. They were called Sizzlers. Bad enough to go to school like this, but I was showing up for cocktail piano gigs in these getups. Because I was eighteen and on a budget, I also wore secondhand prom dresses to work—not the prim and proper Little Bo Peep gowns popular with the nice Catholic girls, but hooker-hottie designs intended to make a perfectly healthy teenage pianist look like one of Gangsta Fatboy's groupies ready to take on the band.
I wore frosted lip gloss and a drugstore fragrance called Wind Song by Prince Matchabelli because my high-school boyfriend saved his money and gave me a bottle for graduation. I decided it would be my signature scent. Forever.
Everything is forever when you're eighteen.
New York City: The Early Years
In the eighties I dashed from one Manhattan location to another, covering lunches, cocktail hours, and late-night piano shifts in hotels that catered to tourists wearing swollen white tennis shoes with lightning bolts on the sides. When I got to know a high-class call girl named Jennifer who worked the hotel bar sporting a stretchy blue dress similar to mine, I dropped the Happy Ho look and entered a new era of Piano Girl fashion—a makeover inspired by my newfound ability to buy dresses made by companies other than JCPenney.
I developed a fondness for Betsey Johnson, Calvin Klein, and Isaac Mizrahi. I hardly ever paid retail for these beautiful things—I bought them from a member of the Marriott Marquis housekeeping staff who set up shop in a hotel ladies' room in the toilet stall for the handicapped. She sold her hot-off-the-truck garments by hanging them on rails inside the stall. I shopped at Stall for the Handicapped on my breaks. Maria was a stellar saleswoman, and it was hard to beat the prices.
I remember a bright yellow silk coat I bought from her. It fell to the floor in fragile layers and made me feel like a butterfly when I flitted across the cavernous Marriott lobby. But at the piano the fabric tangled around my elbows and twisted around my knees. I looked like a crumpled piece of birthday-party gift wrap with a head and hands.
Although I hadn't yet succumbed to support hose or underpants with stretchy tummy panels, I did begin to wear a well-constructed bra. Strap 'em down. During this phase I began searching for the perfect strapless bra, a mission that continues to this day. Structural engineers know how to hold up multiple floors of a building with one set of well-placed suspension cables, so you'd think they could design a comfortable strapless bra for a pianist. But structural engineers don't have to sit at a Steinway playing arpeggios while wearing an armpit-exposing camisole in a delicate shade of taupe. I doubt that many of them even know what taupe is, which is okay because they have more important tasks.
The thing is, no one forced me to dress this way. It was a choice. I loved dressing up, I loved shopping, I loved leaping out of taxis in my jeans and sneakers and running to the ladies' room with my gig bag strapped over my shoulder. I never carried music or set lists or sound equipment. Instead, I brought along a collapsible evening gown in a festive color—raspberry! mango!—and a tissue-thin scarf I could throw over my shoulders when the meat-locker air conditioner kicked on in the middle of my second set. I also carried two pairs of high heels, knowing that my pedal foot would start to ache a few hours into the gig and I would want to change shoes. One pair of golden sandals, purchased on sale at Bergdorf Goodman in 1984, has been with me for twenty-five years. They still hurt. They're still in my gig bag. They are the only things from that part of my life that fit, so I cling to them, thinking they'll march me back to my twenties if I ever need to return. They are the Piano Girl version of Dorothy's ruby slippers, twin metallic talismans that remind me of home.
The accessory pocket of my gig bag held glittery barrettes, rhinestone clips, and sparkly pins and necklaces from Grandma Curtis, all of them offering a pain- and risk-free way to smarten an outfit while reminding me of her. Before she died she had packed all of her costume jewelry in a white cardboard box. "These things are for Robin," her note said. "She's the only one crazy enough to wear them." After she was gone I would play her favorite song—"Theme from Love Story"—and feel the weight of her fake-topaz bracelet circling my wrist. Shalimar was my fragrance. Spicy, flashy, a little too expensive, but very grown-up. Grandma Curtis would have loved it.
New York City: The Final Years
For several years my closet resembled a black hole. I became a reverse negative of myself—blonder hair, darker clothes, skinnier body. I was nobody's trophy wife, but away from the piano I looked the part—half artiste, half social X-ray. I entered my minimalist stage, favoring gowns that didn't deviate from the color palette of, say, a bruise.
New York City was full of paper-thin women in black crepe dresses. I wanted to be one of them and blend into the gallery-going museum-hopping chic-but-trendy kir-sipping crowd—but, with a grand piano in front of me, I never quite fit in. I hid behind my hair and accessorized my outfits with items from Grandma's cardboard box. I discovered her clip earrings with dark stones—polished hunks of jet and deep-blue faux sapphire that suited my wardrobe and my mood.
I wore Chanel No. 5 because it smelled the way I felt. There, but not really. I didn't believe in forever anymore. I tossed the scarves. They were driving me crazy, the way they kept slipping off and falling into fabric puddles at my feet.
I learned to despise hyphenated fashion terms like peep-toe, demi-cup, semi-gloss, push-up, and sling-back when I discovered that all of these things not only looked tacky-tacky, they hurt-hurt. I rearranged my closet, getting rid of anything with ruffles, sequins, bright colors, or feathers. I wanted plain and simple. I wanted people to stop looking and start listening. I wanted loose and light and noncommittal, preferably in a medium-weight silk shantung, with sleeves. I wanted to disappear into a midnight-blue piano mist.
Then I fell in love, an event that called for a new look. I bought an Anna Sui bridal minidress that I could also wear to piano jobs, minus the giant veil. Color returned to my wardrobe. I stopped disappearing and decided it was okay to be both seen and heard.
Forever made a comeback.
Bergisch Gladbach, Germany
Long before I began playing at Schlosshotel Lerbach, I spotted a ball skirt in the window of the Cologne Laura Ashley store. I dragged my family into the store so I could touch the skirt. Pale pink roses were embroidered on the rich crème silk, and three underlayers of silk and tulle gave the garment a gentle poof. It was the perfect skirt for, say, a lunch date in eighteenth-century Versailles. Not exactly optimal for a day trip to the Cologne Zoo, which was the extent of my social life in the late nineties. I had taken four years off from piano gigs in upscale hotels, opting instead for babies and writing at home. Rewarding, but lonely. My glamorous wardrobe, a size too small and several years out of style, sat in the back of my closet. I claimed not to miss the dress-up routine, but I couldn't explain the sadness I felt whenever I caught sight of all those pretty things, gossamer souvenirs of a past I was happy to have escaped.
In an act of kindness I shall never forget, my husband waited for the end-of-season sale, sneaked back to Laura Ashley, and bought that skirt for me. Two weeks later, the Schlosshotel Lerbach director invited me to play at the castle. It was almost as if he knew I had the right outfit. I wore the skirt, and the maître d', a lovely man named Monsieur Thomann, tossed pink rose petals on the piano. I've been there ever since. I still have the Laura Ashley skirt, along with a large collection of formal dresses purchased on sale over the last decade. They are beautiful things, but decidedly uncomfortable.
My pianist friend Robin Spielberg told me that a grand-piano pedal once ate her ball gown. I never really believed her until it happened to me. The bottom half of a full-length gown can easily become prey to a piano's pedal system. One moment you're fine, the next thing you know—schwoop!—you're being sucked into the piano. And the more you pedal, the further in you go. The only choice is to rip the skirt out of the pedal, accept the damage, and soldier on with the music.
The older I get, the more I consider how nice it would be to get away from all of this twisting, pinching, and gapping and wear, say, a bathrobe to work. Or at least a ball gown cut like a bathrobe. I remember one pianist in New York City—let's call her Sandy—who got in trouble for wearing a Statue of Liberty outfit, complete with headpiece. It was hard to make a bad wardrobe choice in mid-1980s Manhattan, but Sandy's caftan and spiked crown caused a minor uproar with the Marriott management. The other Piano Girls and I laughed at the time. What was she thinking?
Now I wonder if Sandy was on to something. I play at a castle. I could, if I wanted to, wear a tiara, preferably something tasteful with very large emeralds. It would draw attention away from my body, which I could then drape in a velvet cape or an ermine-trimmed robe. I'd wear relaxed-fit pants under the cape, along with an expensive support bra capable of sequestering the twins during those bass-note lunges. So far, my fear of looking like Queen Elizabeth has stopped me from following through on this idea. Even Grandma Curtis, lover of all things sparkling and bright, drew the line at wearing tiaras. Plus my teenage daughter would never talk to me again if I started wearing a crown to work.
Fact: I now spend more money on undergarments than I spend on dresses. Ball gowns, with their nipped waists and tight bodices, require major foundation help. Do not get me started on Spanx, those flesh-colored medieval instruments of torture meant to smooth out the mature figure. Other women swear by them. They make me feel like a stuffed sausage—a very mature stuffed sausage—and that's not a great thing when I'm trying to make music. "If you look good you feel good" does not apply to a fifty-year-old woman who plays the piano for a living. If I feel good, I am probably wearing my Ultimate Pajamas, a sweat suit, or a potato sack. Nobody feels good sitting at the piano in a skintight satin dress with a boned corset—unless, of course, she is eighteen, oblivious to pain, and wearing Wind Song eau de toilette.
Which leaves me with my present-day wardrobe dilemma. Shall I chuck the fancy gear and start dressing like a man? A reliable tuxedo would be a welcome relief after so many years of death by evening gown. I can feel it coming on, another wardrobe makeover—this one, finally, focused on comfort.
Grandma Curtis will continue to provide her glitter-girl accessories. But I shall wear lovely suits in lightweight wool, with loose-fitting pants and non-clinging jackets. I'll select silken blouses in jewel tones and lingerie that's soft and non-constricting.
And the Bergdorf Goodman golden sandals? They will stay in my gig bag, polished and ready to go, just in case I have another change of heart. They'd even look good with a burqa.
***
Robin Meloy Goldsby is a Steinway Artist. She is the author of Piano Girl; Waltz of the Asparagus People: The Further Adventures of Piano Girl; and Rhythm: A Novel.
New: Manhattan Road Trip, a collection of short stories about (what else?) musicians. Go here to buy Manhattan Road Trip!
Sign up here to receive Robin's monthly newsletter. A new essay every month!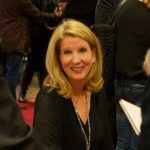 robingoldsby-de
Robin Meloy Goldsby is the author of Piano Girl; Waltz of the Asparagus People; Rhythm; and Manhattan Road Trip. She has appeared on National Public Radio's All Things Considered and Piano Jazz with Marian McPartland. Robin is a Grammy-nominated lyricist and has received a Publishers Weekly Starred Review for her book, Piano Girl.. A Steinway Artist and cultural ambassador with artistic ties to both Europe and the USA, Robin has presented her reading/concert program for numerous women's organizations and embassies worldwide.
Characterizations: been there, funny, right on!, well written