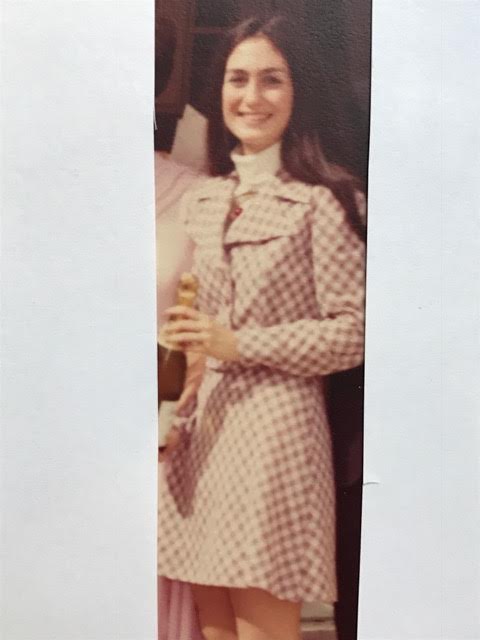 Being a Boomer, I have lived through all the style changes through the years. I wore pretty organdy dresses with patent leather Mary Janes to birthday parties in my youth. I had a dress coat with matching hat each season as I grew. I remember the introduction of velcro into the wardrobe (it made a funny crunching sound and we weren't sure how it worked at first; did it really stick to itself?). We were awestruck, since it came from the space program. It was on the belt my mother wore to my brother's bar mitzvah party, a fancy party at a downtown hotel. I wore a pretty pink organdy dress. I was 8.
We only wore dresses or skirts to school. Pants were verbotten. They would either rot our brains or somehow drive the boys crazy, no doubt. Hemlines rose, I grew my hair long, but some emulated Twiggy and cut it very short and painted on twig-like eyeliner. We liked the Carnaby Street look, brought over by the British Invasion musicians and their "birds". We were sent home from school if our skirts were more than 3″ above the back of our knees. Dresses were A-line, sometimes with a Mondrian-style print and shoes had a clunky heel. We wore Mary Quant make-up, white or orange lipstick and a line of white above our regular black or blue eyeliner. I spent time putting on my make-up every morning before school. I got contact lenses in 9th grade, so my eyes were visible to the world.
Pants became hip-huggers with wide bell-bottoms. Tops were ribbed poor boys and we wore long beads. I wasn't a hippie, but sometimes I looked like one (much less messy, though). Skirts were mini or maxi, equally acceptable and by my college years (1970-74), coats were midi. We wore crocheted caps to look like Ali McGraw in "Love Story" (and had posters on our dorm room walls that said "Love Means Never Having to Say You're Sorry"; we were pretty untutored in romance). I loved going to school dances and developed a uniform: hip-hugger, bell bottom jeans worn with a hot pink long-sleeved Danskin leotard with a velvet ribbon that could cinch the decolletage, revealing better cleavage. I had lots of freedom for movement. I wore tie shoes with a little heel and danced the night away. I loved to dance. We drank Moose Punch, a concoction specific to Brandeis, made by a guy a year older than me. It tasted good, but had a kick. Guys sat on the side of the stage in the Levin Ballroom to watch me dance. I had a following.
Campus clothing was functional, but as I look at the better clothes I wore at the end of my school years, one style was particularly flattering. The Eisenhower Jacket had come back into vogue; that short, fitted jacket made popular by the head of the Allied forces during World War II, then our president during the staid 50s. I wear a plaid pant suit with big legs but the short jacket in my senior photo (an informal shot taken by a student photographer, outside at my favorite spot on campus). The Featured Image shows me in my "going away" suit at the end of my wedding. Obviously a group shot, I have blocked out the others around me. The dress is one piece, though the top is a poor boy, ribbed fabric and bottom matches the short jacket with wide lapels. I hold a bottle of our wedding champagne that we would take to be opened for some later celebration. This was June 16, 1974. We opened it a few months later on the day Nixon resigned.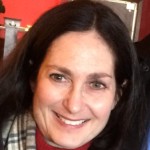 Betsy Pfau
Retired from software sales long ago, two grown children. Theater major in college. Singer still, arts lover, involved in art museums locally (Greater Boston area). Originally from Detroit area.
Tags: mini, midi, maxi skirt, Eisenhower jacket, Carnaby Street, Twiggy
Characterizations: been there, well written