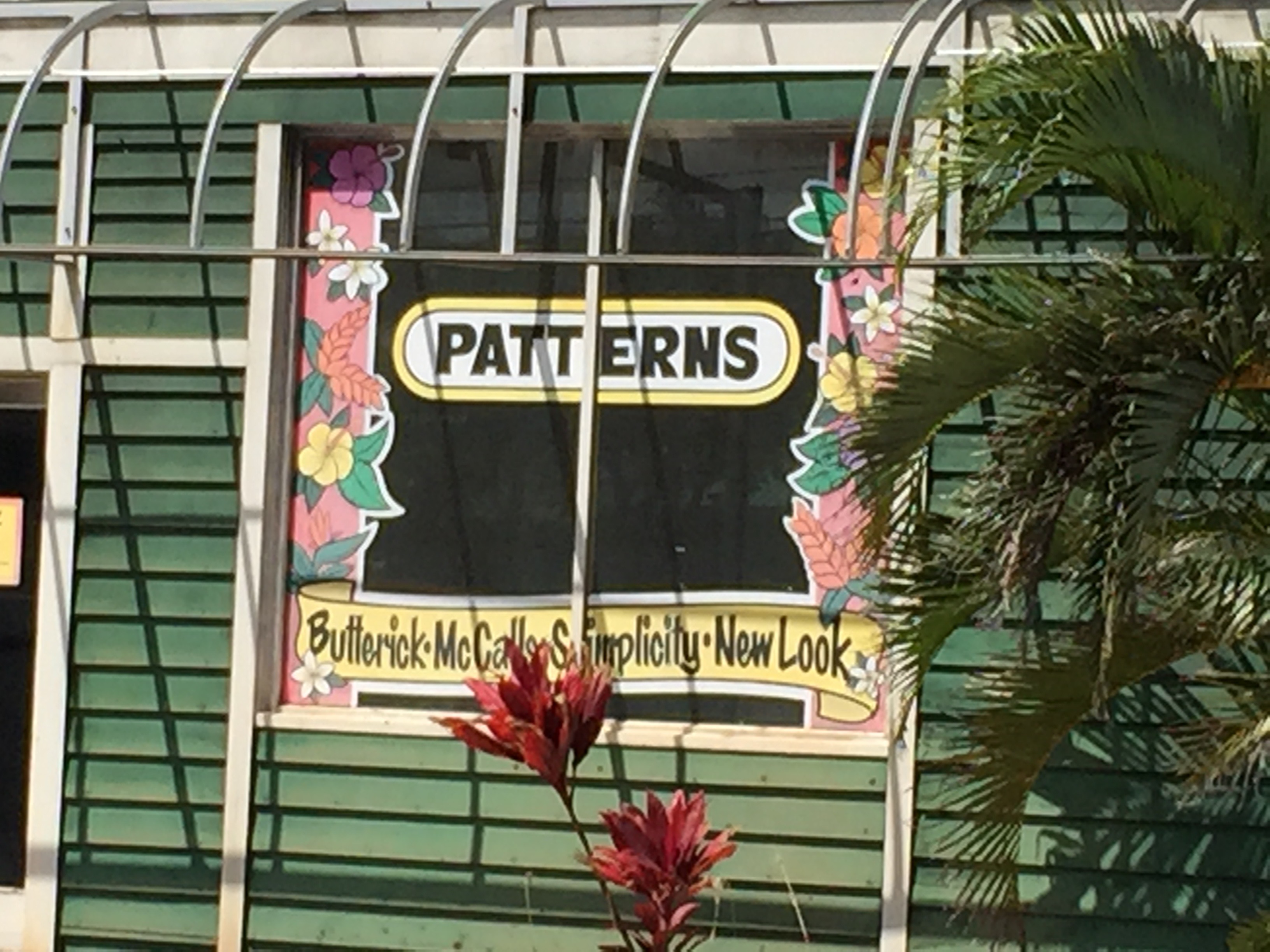 Both of my grandmothers were accomplished seamstresses. I still have the incredible wedding dress they made for my mother, ivory satin with a long train that for some reason she let us play dress-up with as kids. My mother, however, could barely sew on a button. So she was determined that her two daughters learn to sew. Be careful what you wish for—my sister and I took to it like ducks to water.
It was a time of experimentation and self-expression, and self-express we did.
It's hard to remember now, but everyday clothes were expensive once. Fabric was much less so, and it was readily available. Even small towns had at least one fabric store; these days I'd have to Google where to go to buy a zipper, let alone quality fabric. But since an outfit could be made for a fraction of the store price, that meant—more outfits! We spent countless hours perusing the pattern books—Simplicity, McCalls, Butterick, and the designer holy grail, Vogue—and trolling the store aisles looking for the perfect bolt. Our house was littered with the detritus associated with the constant hum of the sewing machine: fabric and pattern scraps, and stray pins on the floor waiting to stab the unwary.
When we first began, a big focus was the yearly Easter dress. This often included a "spring coat" and (I am not making this up) a matching hat for church. It also often included a late night when something needed to be finished for its debut the next day. Later we progressed to tailored suits, dresses for prom, chorus, bridesmaid, and ultimately our own wedding dresses.
The downside of being your own designer is the inevitable failures. As we got older and the times changed with the hippie look, all bets were off. I still cringe at some of the "statements" I made that, in retrospect, didn't quite hit the mark. But it was a time of experimentation and self-expression, and self-express we did.
Years later this obsession seems like a monumental waste of time, but I actually learned a great deal from it, besides the obvious craft. There's a fair amount of geometry involved, or at least spatial reasoning. Patterns come with a layout, which includes a calculation of how much fabric you need to make each piece. It varies depending on the width of the fabric and the size of the garment. My sister and I learned early on to consider these layouts "suggestions," and it became a challenge and a point of pride to tweak the layout to save fabric and therefore money—sometimes a substantial amount. Knowing how a garment is put together is a real joy. I still have a love affair with fabric.
There is a joke in our house that I have the ability to go into a clothing store and walk right up to the most expensive item in the place. But it's no accident; quality is visible if you know what to look for: cut, drape, and fabric "hand." But because I can really tell the difference, it also means I buy expensive clothes. I haven't made anything in decades. I wonder if I really ended up saving any money in the end?
Patricia
Patricia is a co-founder of Retrospect, and generally can be found two standard deviations from the mean on most issues. Lover of chef's tasting menus, cute shoes, and the music of Brahms.
Characterizations: been there, funny, moving, right on!, well written