Neither of my children has a landline, nor network TV. One doesn't own a TV. If he wants to watch a streaming service, he has a projection system hooked up to his computer. He projects the image on a wall or screen opposite the projector. My other child uses her TV for gaming, watching movies and such. The notion of network TV is far-fetched, antiquated for them.
We have lived in our home for 36+ years, so of course we had phones in most rooms when we moved in. There was no alternative at the time. In fact, we installed a phone system, which ties into the doorbells. It rings through the phone. This was very modern at the time, but now would require us to tear out the whole system (embedded in our walls, so a major renovation). We even had two lines – one for outgoing FAXs and also used for business calls. We dropped that line long ago.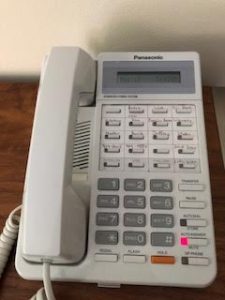 Our cable provider is Comcast and we have their "triple play" service, that is- we get our phone, internet and cable service from them. My husband has looked at dropping one of the services, but it is MORE expensive! We also live in a rather large stone house and there is virtually no cell service in certain parts of the basement (which is finished and has a large TV in one room), so relying just on our cellphones isn't practical. Also, we have been in the house so long, we still have certain accounts that are tied to the landline phone number.
My husband is an early adopter of technology and we bought TiVos (for three of the TVs in the house, and they are linked, so we can watch shows recorded on one from other TVs) years ago, and have upgraded them as they wore out. TiVo is the brand name of a type of DVR. All our TV is run through the TiVo, which runs through the Internet. When the Internet goes down (which seems to happen frequently these days) we lose the program guide for the TiVo, which programs about 10 days ahead, so we can set up shows to record that far in advance. We set up a "season pass" for series that we want to record over and over again, like "Jeopardy", which we watch every week night, whether we are home or not. We can go back any time and catch up.
We can record on multiple channels at a time, have access to various streaming services, etc, though we do have to pay for each, so we do NOT have Paramount+, for example. We subscribed to Disney+ for a while, but found we weren't watching much on it, so unsubscribed. We do not have Peacock, so cannot see the NBC shows after they initially air. But we usually record what we wish to see. We did invest in an Apple TV+ device a few years ago. I HATE the remote control and find it very difficult to control, but do enjoy many of the shows on that service.
So we are somewhere between modern and not, streaming more and more shows, but not giving up on that landline (though I never answer it these days). The only person who still uses the landline is our Martha's Vineyard caretaker, who still doesn't call on our cellphones. I know if someone calls on the landline, they don't know us and I won't answer.
Still, we won't cut the cord.
Betsy Pfau
Retired from software sales long ago, two grown children. Theater major in college. Singer still, arts lover, involved in art museums locally (Greater Boston area). Originally from Detroit area.