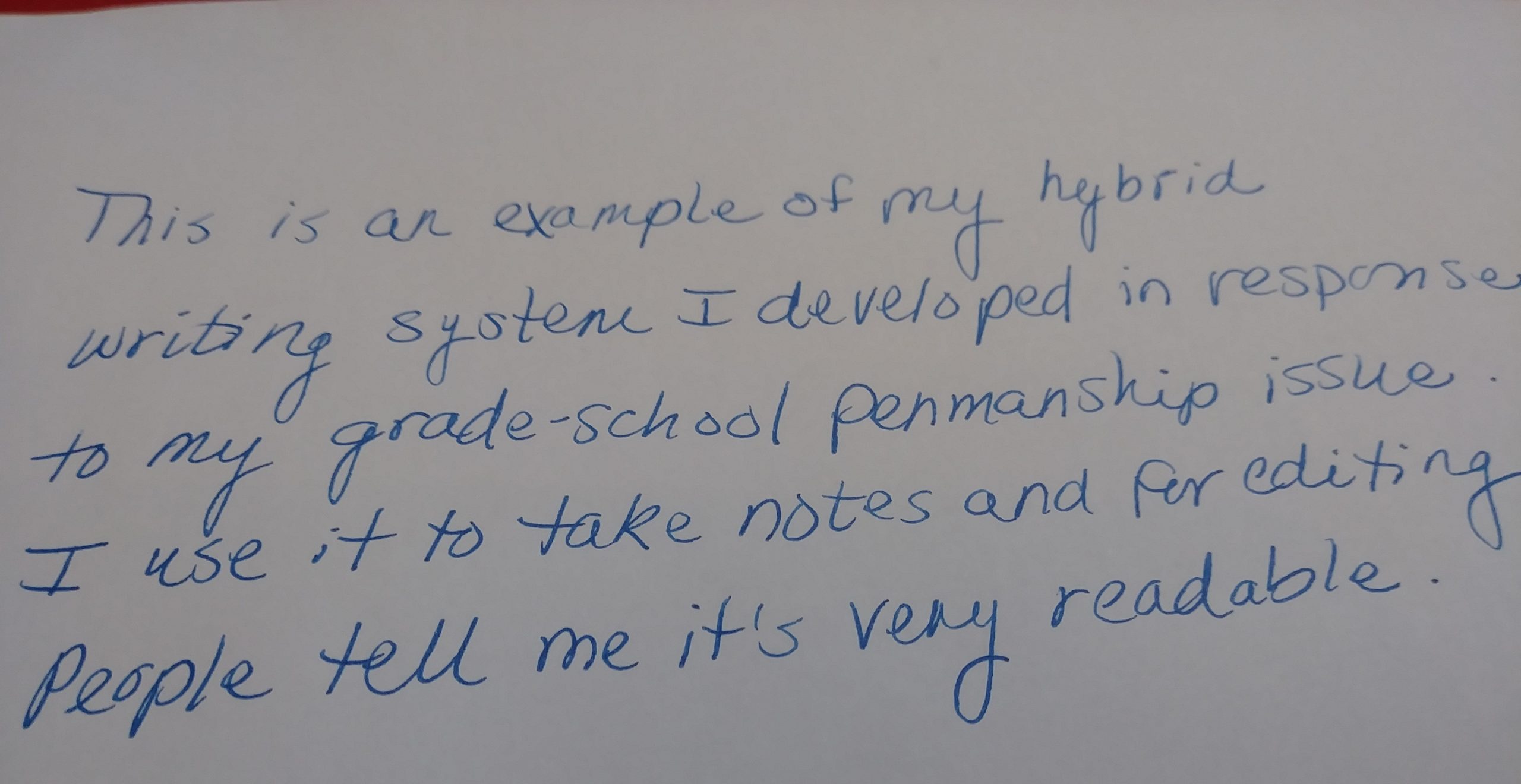 In elementary school, I did very well, with a notable exception: penmanship, as they called it. As a child my small muscle coordination was late to develop, and I struggled with sewing, knitting, and the like, always feeling as if I had ten thumbs. When I learned to print in first grade, it wasn't too bad. But by second grade, the hours of practicing cursive were agonizing and as I look back now, mostly a waste of time. All the time spent writing swirls on that crazy lined paper–what else could I have been learning instead?
Unless my penmanship improved I could be held back and not go on to sixth grade.
OK, there was some value in the practice. I had to learn persistence, for one thing. Cursive was good for the pathway of kinesthetic learning, although today I couldn't write cursive if I tried.
By the time I got to fifth grade, I'd hit my stride academically and was writing stories and enjoying most of the other subjects in class. However, my penmanship? I got a D. The teacher wrote a note to my parents saying that unless my penmanship improved I could be held back and not go on to sixth grade. (Can you imagine that happening today? I'm not even left handed, so my heart goes out to all those southpaws in years past who struggled as well.) Fortunately my family moved after the school year and I was enrolled in a new school for sixth grade.
What to do about penmanship, though? In this new school, the teachers didn't insist we write cursive, just that whatever we wrote had to be legible. My printing had been decent, I thought, so why not try that instead? At first I was really slow, but over the summer between sixth and seventh grade I practiced hard, and my printed letters began to flow together appealingly, with a few cursive elements that worked their way in.
This hybrid writing you see in the photo is what I've done ever since, and it has served me very well. Even though most editing work has moved to digital methods, I still pick up a red pen to edit from time to time, and the authors can read my marks. I often will hand write notes during and after meetings, especially because there are studies that show we remember more when we hand write it down. At this age, any help with remembering is good!
In graduate school I learned that English writing systems have changed over time. The italic cursive we've used was the domain of educated women in the 17th century. Male authors and scholars wrote in a different hand called "secretary," which is wickedly difficult for us in the 21st century to read. So, there is precedent for abandoning a writing system. But what to teach kids today besides typing? I'm not sure about that. There is great value in writing by hand, but maybe not in cursive exclusively.
Marian
I have recently retired from a marketing and technical writing and editing career and am thoroughly enjoying writing for myself and others.
Characterizations: right on!, well written